The tsunami is upon us. With February marking fifty years since the original miracle happened, the media's own backward-looking Beatlemania is now flooding unstoppably through every platform.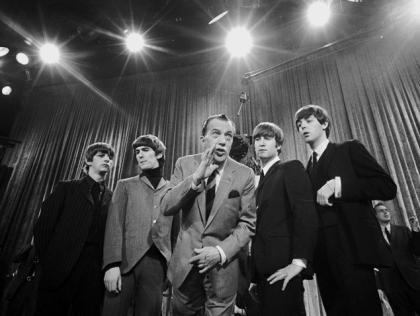 And inescapably it's just beginning. February 7th 1964 was indeed when The Beatles first landed on US soil, for a short trip dominated by their Ed Sullivan Show appearance ... but they came back. The substantial US tour of 1964 was still to come, and there will this year be more and more commemorations, as every city on that rolling extravaganza gets to recreate its role in the ongoing and building excitement.
The American media's initial rush, as it has centered on my hometown of New York, has demonstrated an all-too-typical mix of 'we-got-It-first' crowing - together with a slapdash disregard for facts. The New York Daily News, for instance, headlined a familiar kind of story (replicated across every medium in the last week or so) with "Fans Reminisce on Brush with Fab Four" ... and neatly enough it gives us some evocative memories from then-teenage Bronx girls Joanne Rubino and Nina Tornabene who got to meet John Lennon and Paul McCartney.
The trouble is, these memories actually date from 1968, a full four years after the subject of this week's celebrations - and indeed 2 years after the Beatles had ended all their US touring (they were visiting their US manager when the girls met them). It makes a reader - how can I say it? - doubt the intentions of the Daily News, when it trumpets its story: "On the 50th anniversary of the Fab Four's first U.S. visit ..."
The petty shell-game being played here with historical detail is only compounded by a photograph affixed to the News' story. In a bid, I guess, for authenticity a ticket-stub is shown for what the paper calls "one of their [the band's] first performances". The trouble is - once again - that The Beatles' performances on that first trip comprised only their February 9th television debut, then a Washington DC stadium gig, a Carnegie Hall concert and finally a Miami ballroom show. The ticket in the News photo dates from the group's very last concert in the later, much longer 1964 tour - a Paramount Theater charity performance on September 20th.
It would hardly be difficult reporting to find the genuine articles - women who recalled the actual February fever, and tickets to the very first band appearances.
For true authenticity - and I have to say for a lot more besides, like sheer artistry and a totally enveloping historical mood and style - I have been turning to contemporaneous photography.
In this case, camerawork as practiced by a master - the now octogenarian Harry Benson. His new book The Beatles On The Road 1964-1966 (from Taschen publishers) includes an unalloyed and rambunctious record of that stunning first landing in New York, and also the succeeding three massive tours, finally ending in San Francisco's Candlestick Park, toward the end of August 1966.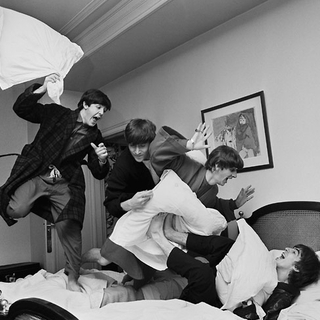 His embedding with the band also included their European tours - thus giving us that iconic series of pictures that captured the Four's pillowfight (pictured left) in the George V Hotel in Paris (Ah, the sweet charm of innocence, before The Who fully refined the rockers' art of hotel-room destruction!)
Benson originally comes from Glasgow, which like The Beatles' home of Liverpool, is a gritty port city, and it was only apt that it should be he who got the assignment - incidentally, one that pulled him off some pre-arranged coverage of a crisis in Africa.
He and the band got on well, of course - well enough to ensure his continuing close access - and that was unsurprising considering Benson's own winning mix: both down-to-earth and impish.
The quality of Benson's contribution to this slice of 20th century cultural history essentially stems from his photographer's keen sense of occasion and character, in interaction with each other. Witness his studies elsewhere - of every US President since Dwight Eisenhower.
And there is, perhaps most surprising of all, his candid, surprisingly warm portrait of the awe-inspiring (and often somewhat forbidding) 1960s prophet who spelled out our communications revolution, Professor Marshall McLuhan.
The Understanding Media author's daughter, my friend Stephanie McLuhan, chose that portrait as the cover to her tribute compilation "Understanding Me".
And the younger McLuhan is still amazed by the alchemy Benson wrought on her father, bringing out the largely hidden inner man. She says: "He told me it was simple. - 'I just asked his to roll up his sleeves' - something we never saw Dad do in public."
* * * *
Read more of David Tereshchuk's media industry insights at his regular column, The Media Beat, with accompanying video and audio. Listen also to The Media Beat podcasts on demand from Connecticut's NPR station WHDD, and at iTunes.