'The Lonesome Road': A Playlist for the Late Great Andy Griffith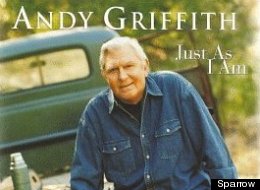 Andy Griffith's impact on our world has been remarkably positive and enduring. As Andy's good friend Brad Paisley tweeted today, "Andy entertained the world." Recently, I wrote a book with Brad called Diary of a Player in which Brad expressed his profound respect for this great man.
It is worth remembering today that Griffith's influence extended powerfully into the music. Imagine how many millions more were exposed to the timeless beauty of bluegrass music thanks to massive primetime exposure on The Andy Griffith Show. He sang not just on the classic show that bears his name, but in A Face In The Crowd and on Matlock too, and over the years he cut many deeply felt gospel recordings. And let's not forget that Griffith's comedy monologue What It Was, Was Football was one of the biggest comedy recordings ever and helped make him a big star in the first place. Griffith even received a Grammy for Best Southern, Country, or Bluegrass Gospel Album in 1996. Even more recently, his appearance in Brad's "Waitin' On A Woman" is one of his last great performances. Here's a playlist that puts the spotlight on Griffith as a musical force. Please add your own songs below for this American treasure whose heartfelt legacy will outlive us all.
THE FISHIN' HOLE -- Andy Griffith
WHOA MULE -- Andy Griffith & The Country Boys
SHADY GROVE -- The Darlings
WAITING ON A WOMAN -- Brad Paisley with Andy Griffith
THE LONESOME ROAD -- Rafe Hollister
WHAT IT WAS, WAS FOOTBALL -- Andy Griffith
FACE IN THE CROWD -- Tom Petty
THE ANDY GRIFFITH SHOW -- The Bellamy Brothers
MAYBERRY -- Rascal Flatts
ANOTHER MAYBERRY -- Big Head Todd
THE CHURCH IN THE WILDWOOD -- Andy Griffith
GO TELL IT ON THE MOUNTAIN -- Andy Griffith
Follow David Wild on Twitter: www.twitter.com/Wildaboutmusic