Last week the McCain campaign acknowledged that McCain could lose in his home state, Arizona, in November. Remarkably, the McCain campaign has yet to open an office here. (The campaign headquarters is in Virginia outside of Washington, DC.) In fact, there is almost no McCain campaign activity in the state, no real meetings, no organizing events, little coordination for volunteers. Last month, McCain was forced to move a Phoenix fundraiser from a reception hall to a private residence because so few people were showing up. This month's polls put McCain up by only 11 points. In his home district, he leads by a mere 5 points, within the margin of error.
The Obama campaign likewise has yet to open a state office or hire paid staff here. But Obama grassroots supporters are not waiting. Volunteers are mobilizing ahead of staff operations. In the last two weeks, they have organized fundraisers, voter registration events, canvassing, and phone banking across the state, and they are now beginning to collaborate with local candidates.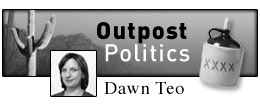 Last Saturday Obama supporters teamed up with Democratic congressional candidate Bob Lord as part of the Obama campaign's national Vote for Change program. They registered new voters in McCain's home district, which Lord is running to represent. The incumbent, Republican Rick Renzi, is Rep. currently under indictment for extortion, wire fraud, and money laundering.
On Wednesday, more than 60 Obama volunteers gathered with local Democratic candidates at a coffee house in Mesa, Arizona, one of the country's most conservative cities, to get organized for the general election.
A couple of locals organized the event using the social networking software on the Obama website. The aim, they said, was to marshal Clinton supporters, Independents, and even Republicans for local ground operations. They also wanted to introduce local down-ticket candidates who could benefit from the exposure of a coordinated campaign and who, once in office, would support the policies being advanced by Obama.
"If you had told me one year ago that I would attend, much less organize, a political event, I never would have believed it," said one of the organizers. She asked for a show of hands. "How many have you have never attended a political event before?" Roughly one third of the crowd raised their hands. Yet, soon, the first-timers and the former-Clinton supporters alike were enthusiastically voicing the Obama grassroots rally chant: "Fired up! Ready to go!"
More than half a dozen local Democratic leaders spoke to the crowd about volunteer opportunities with the national, state and local campaigns and about the campaigns' coordinated efforts. Elizabeth Brown of the GemDems (Greater Eastern Maricopa County Democrats) talked about volunteer efforts and coordinated Democratic ground operations in conservative Eastern Maricopa County, where changing demographics are dramatically altering the political landscape.
A representative from the Harry Mitchell re-election campaign explained the value of the coordinated efforts. Each candidate, he said, brings in a number of voters and, working together, the larger pool of volunteers can cover more ground, knock on more doors, ring more phones, and link support up and down the ballot. It is a symbiotic relationship, he said. The celebrity of popular national candidates brings focus and energy to the state and local campaigns; and the state and local candidates provide support to enact shared policies. The value of collaboration cannot be overstated.
Ed Hermes reminded the crowd how important local office-holders can be, especially when it comes to issues that affect everyday lives. He is vying for one of the five seats on the Maricopa County Board of Supervisors, the local legislative body that manages planning, zoning, air quality, water conservation, and transportation for Maricopa County (Phoenix Metro), currently the fastest growing county in the nation. He reminded the crowd that the County Board specifically controls funding for Sheriff Joe "Tent City" Arpaio's controversial programs, including both his immigration enforcement activities and his outdoor jails. Like Obama, Hermes is an example of grassroots success. He has raised thousands of dollars from local citizens, while the current seat holder hobnobs with developers and lobbyists.
While McCain supporters did not come out even for a personal appearance by Senator McCain and President Bush, Obama grassroots supporters are not waiting to ramp up for the general election. Countless events have been organized in cities and towns across Arizona since the Obama campaign's paid staff left the state after the primary election. On June 28th, the Obama campaign's national day of unity, Unite for Change volunteers in the Phoenix metro area alone have planned nearly twenty events.
Obama grassroots waits for no man or woman -- not even for Obama.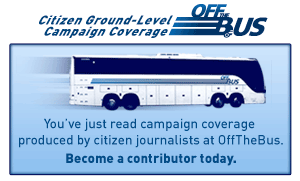 SUBSCRIBE AND FOLLOW
Get top stories and blog posts emailed to me each day. Newsletters may offer personalized content or advertisements.
Learn more