When Emily and Walter Smith, Sr. launched their family business in 1946, the concept was simple. They geared their small rowboat with a borrowed outboard motor and puttered off to share Kauai's rich cultural heritage via cruises up the tranquil Wailua River.
Over four Smith generations -- through floods, droughts, hurricanes and adrenaline-junkie vacationers visitor drawn to recreational slanted toward wild rather than mild -- Smith's Fern Grotto Wailua River Cruise shines brightly as a 64-year tradition. From its modest beginnings, the icon attraction has flourished to a fleet of 12 open-air river boats, and a 30-acre botanical and cultural garden homing a colorful luau.
A quarter century had passed since I last journeyed with Smiths, so I decided to revisit the Fern Grotto and scope out the changes. In doing so, I discovered the simple secret to the longevity of this family business. It's all about a natural, authentic Hawaiian experience that's geared to all ages -- nothing fancy and nothing fabricated.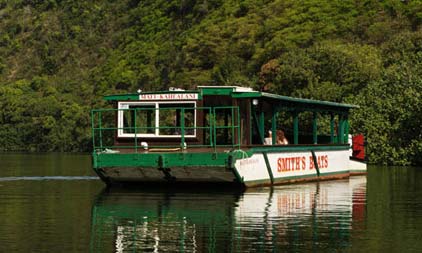 While Smith's scope has broadened over time, the presentation has remained steady. "I don't think the experience has changed or that we should change it much," said Kamika Smith, general manager and grandson of Walter and Emily.
"Visitors look for Wailua's history and legends, and that stays the same," he said. "They enjoy the opportunity of discovering this through Hawaiian music and dance performed by locals who are a part of the area."
As our eclectic group plied along a gentle two-mile journey up Hawaii's only navigable river, we were treated to tunes and tales of ancient Hawaii. Our host, Uncle Kimo, explained that lands along the river were once the sacred capital of ancient Kauai and the birthplace of the island's alii, or royalty.
He also warned that since Wailua merges with the salty ocean, the water becomes brackish at its mouth. "We see fish like silver mullet, tilapia, papio and even man-eating sharks here. But since the sharks are man-eating, the water is safe for the ladies." Uncle Kimo had quite a sense of humor. Truth be told, the river is shark-free.
After a 20-minute voyage, we disembarked for a pleasant trail hike through a lush rainforest to the famed Fern Grotto. It was just as beautiful as I recalled. The only difference was that visitors could no longer enter the cave as in the past.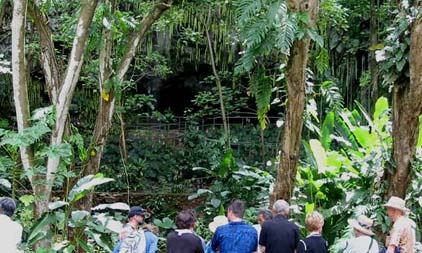 A month of heavy rains and flooding in 2006 forced operations to cease for roughly a year while safety measures were implemented. Viewing is now from a platform just beyond the cave opening. Despite the alteration, the Fern Grotto remains among Kauai's most memorable settings.
Here, a trio of musicians who were likely Smith family members continued to share the Fern Grotto's magical past. And as a fitting finale, they performed their rendition of the "Hawaiian Wedding Song" -- a romantic tune immortalized in 1961 through the Elvis Presley hit Blue Hawaii.
"Between our gardens and the grotto, we see around 200 weddings and vow renewals each year," said Smith. "We'll have couples married here 25 years ago who return every five years to renew their vows. It's a beautiful, romantic backdrop for ceremonies."
During our return, Uncle Kimo and crew teamed up on popular tunes as passengers chimed in. Cousin Piilani danced hula to "Blue Hawaii," while Uncle Willie strummed his ukulele. Then everyone jumped in the act as Cousin Piilani staged a quick hula lesson to "The Hukilau Song." Swaying much less fluidly than our graceful instructor, our awkward moves generated more laughter than applause.
The Wailua Marina State Park site is also home to the 30-acre Smith's Tropical Paradise and Rhythm of Aloha Smith Family Garden Luau with its Polynesian extravaganza. "We start by sharing our family story since guests always ask how the words 'luau' and 'Smith' came together," said Smith. "My great grandmother was Hawaiian and my great grandfather came from England. And that's how our Hawaiian luau got the name Smith!"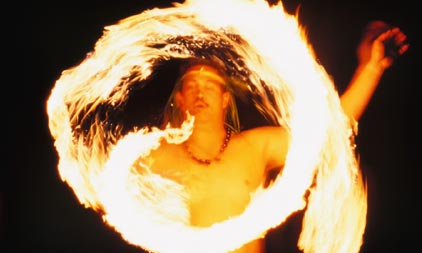 He added that the buffet-style feast has remained an island favorite for its imu ceremony revealing the kalua pig as it's removed from the underground oven. "Ours is a longstanding tradition with a family feel -- especially since so many of our family members walk around talking story with the guests," Smith said. "We always insist they try the poi and eat, eat, eat. After all, that's the real spirit of a luau."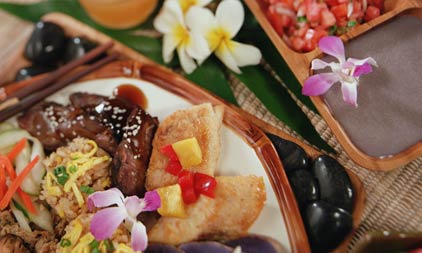 It just makes sense that Smiths sees such loyal repeat business generation after generation. It feels like a familiar friend you can rely on and reconnect with no matter how much time has passed since your last visit.
Located off Highway 56 at the Wailua River State Park in Kapaa, Smith's operates its one-hour -twenty-minute River Cruises daily at 9:30am, 10:00am, 11:30am, 1:30pm, 2:00pm and 3:30pm. On-line rates are $18 for adults and $9 for children 3 to 12. Tropical Paradise entry is $6 and $3 respectively, while the Rhythm of Aloha luau runs $78 for adults, $30 for juniors 7 to 13 and $19 for children 3 to 6. For those who already have dinner plans, show-only rates are $15 for adults and $7.50 for children 3 to 12. Luau dates vary depending on the month, so check out details on line or call (808) 821-6895.
SUBSCRIBE TO & FOLLOW LIFESTYLE
HuffPost Lifestyle is a daily newsletter that will make you happier and healthier — one email at a time. Learn more