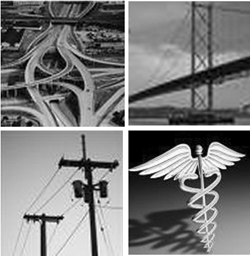 What is infrastructure? Bridges, tunnels, and roads; telephone lines, T-1 cables, and satellites; money itself, credit cards, and financial systems; etc. Infrastructure is the underpinning of a modern society that facilitates production of goods and services.
Health should be considered a form of infrastructure. Any nation that seeks to produce (and consume) goods and services needs producers and consumers who are healthy and live a long time, just the way a nation needs long-lasting roads and reliable telephone lines.
Do we maintain and repair our bridges, roads and telephone lines? Of course! When we put that off, we pay for it in the long run. Not paying for roadwork slows ground travel. Failure to upgrade bridges promotes disasters during floods and earthquakes.
Health is infrastructure. Health care is the maintenance and repair service for this key element of our productive capacity. As a nation we need to treat the health of our people just like repaving a road - as an investment in our future.
Should infrastructure generate profit? The answer should be a resounding No! Do you want the bridge toll collection, the road use fees or the subway fare to be in the hands of for-profit companies? Imagine what they could do to the price of your daily commute?
Infrastructure itself should not be a profit generator. Infrastructure is the foundation on which others produce goods and services and make money.
Infrastructure is an investment in our future.
Health care is infrastructure.

SUBSCRIBE TO & FOLLOW LIFESTYLE
HuffPost Lifestyle is a daily newsletter that will make you happier and healthier — one email at a time. Learn more