"The Lorax is coming, the Lorax is coming!" So speak the boys in my home (ages 7 and 3.5). They're pretty excited about the furry guy's pending debut on the big screen.
If you're not familiar with the story of The Lorax, get yourself a copy pronto and read it with your kids.
In a nutshell, it's an ecological warning handed down by Dr. Seuss that puts the fate of our planet's future smack dab in the hands of a child. All wrapped up with witty rhymes, creative creatures and funny words, of course.
While I've seen plenty of Lorax-themed arts and crafts ideas popping up all over the blogosphere now that the film is ready to debut, I haven't seen much about how to help your kids connect with the natural world...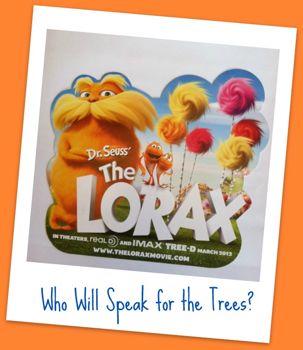 ...something I think that is an absolute requirement if you want to create caring, concerned and committed stewards for the planet in the future.
Whether or not you decide to see the film -- Dr. Seuss's original message seems all but lost amongst the many corporate sponsorships, mass marketing and product promotions -- The Lorax's appearance on the big screen can be an opportunity: your opportunity to help the children in your life make a real-world connection with the planet.
Here are a few ideas to help you do just that.
1. Read the book outside -- under a favorite tree, of course!
If you do decide to see the film, read the book first. The more, the better. And preferably outside under a favorite tree.
2. Become tree detectives.
Do something more than just look at the trees around you. Explore them. Become tree detectives. Start by touching and smelling the bark. Look closely at the leaves to see if you can use them to identify and name the tree (consult a field guide to local trees if needed). What critters might call this tree home?
Then lie down and look up. How do things appear from this perspective? Can you still see the sky through the leaves? Can you see the top of the tree?
3. Connect with a tree.
Kids do this naturally; we adults need a little nudge. Go wild and climb a tree. Or hug one. Or both.
4. Learn what trees and flowers are native to your area.
Not all things are planted equal. Some species are native to your area (which is good) and others are not (which is not so good). To learn which is which, head to a local nursery or botanic garden.
5. Plant something.
Choose one native species to plant in your own backyard. Or go wild with an entire garden. The object here is to show your child the joy and wonder of growing something with your own two hands.

6. Do some backyard bird watching.
The Lorax had his Swomee swans -- do you know what birds call your backyard home? A little kid-friendly backyard bird watching can help.
7. Visit a local aquarium.
The littlest kids will love to see the pretty fish -- and the less pretty ones, too. Older kids can learn how each is important to the well-being of the planet. And small ways we can protect their habitat for the future.
8. Make one small change for the planet.
The Lorax Project offers up 20 ways families can "speak for the trees." Pick one and make it a habit. If it sticks, pick another one next month. And so on.

How will you help your children speak for the trees?
SUBSCRIBE AND FOLLOW
Get top stories and blog posts emailed to me each day. Newsletters may offer personalized content or advertisements.
Learn more