The 2014 Winter Olympics may be over, but there are still plenty of champions and gold medal winners right in front of us. Right in front of you! Look in the mirror. Go ahead, get up and go take a look. You see that person in the mirror? That's a champion you are looking at! You are a champion!
A lot of us -- okay most of us -- are not Olympic gold medal bobsledders or figure skaters, but that doesn't mean we shouldn't bring our A game. Maybe you're not an Olympic gold medal winner in the making. Maybe you are. You'll never know you're full potential unless you try your best and believe in yourself. It doesn't have to be an actual Olympic medal you are going for. Maybe it's a healthier lifestyle, dinner together with the family a few nights a week, starting that business you've been dreaming of or running your first 5K. Everyone's gold medal is different.
A few years back our son, Malachi, who was about 6 years old at the time, was asked to compete on the sparring competition team at Tae Kwon Do. He was fairly new to the sport, much younger and less experienced than other team members. Seeing his potential, his coach invited him to be a part of the competition team. The coach explained to us and to Malachi that he would be competing against older, more experienced competitors. Being Malachi's first competition, the coach's hopes and expectations were to introduce and expose Malachi to the process to prepare him for upcoming competitions.
We were reluctant to let him join the team and participate in the competition. The coach assured us Malachi would not get hurt and could handle his own. Malachi was so excited that he was invited to join the competition team, especially since the team was all "the big kids." Malachi begged and pleaded to let him be on the team and go to the competition. Malachi had only one concern and that was that the expectations were this was only to introduce and expose him to the competitions. Malachi could not understand why you would compete if you weren't going for gold.
Competition day came and along with it came nerves, sweaty palms and racing hearts -- ours, not Malachi's. Malachi had trained, practiced and most importantly mentally prepared. He kept talking about his gold medal and how he was going to win. We never told Malachi he wouldn't or couldn't, only to do his best. We secretly prepared ourselves to deal with his disappointment. Malachi did not disappoint. GOLD! The little stinker won GOLD! He could not have been more proud and neither could we!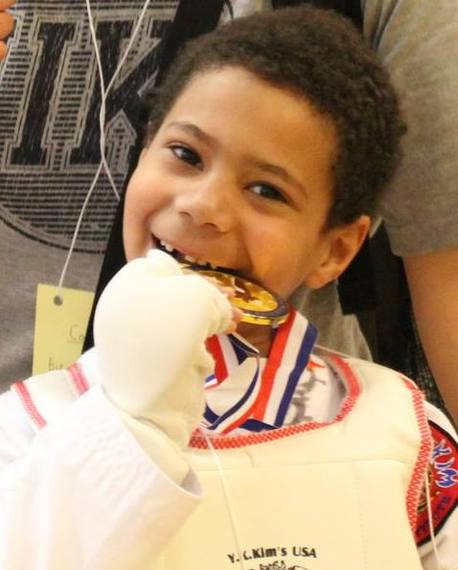 How did he do it? How did the youngest, least experience kid win the gold? He knew what he wanted. He worked hard. He prepared him self physically and mentally. He never doubted himself or heard anyone else doubt him. He saw and felt what it was like to have that gold medal and be the champion. In his mind, Malachi was the gold medal winner way before the competition started.
Can it be this easy? Yes! (but easy doesn't mean there's no hard work) Just think, if no one ever told you that you couldn't do something wouldn't you be less likely to doubt yourself -- if you doubted yourself at all? Never ever ever be the one to doubt yourself. Never. Know what you want. Be willing to work hard. Be prepared physically and mentally. Believe in yourself. Believe! Believe you are a champion and you are a champion! Go for gold! You are a champion!