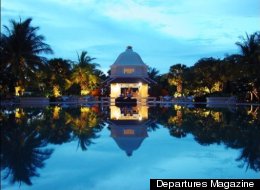 Now that we are in the heart of spring -- and summer has unofficially begun -- hotel pools are guaranteed to be at their busiest soon. There are few things better than commandeering a poolside cabana, with a haul of reading material and not a care in the world except securing the proper SPF. And the best hotel pools in the world anticipate guests' needs seamlessly, ensuring that everything is covered.
Take Jumby Bay, A Rosewood Resort in Antigua. Like other properties on our list, it features a delicious poolside menu with lighter plates (fresh salads, fruit) and heartier fare (burgers). But when not noshing, guests can join staff-led yoga or Pilates sessions offered at the Verandah pool. (A convenient way to keep swimwear-fit without ever leaving the water.) Bookish sorts will appreciate its partnership with book publishers, which gives the resort access to new releases and future best sellers before even Kindle gets them.
At the Raffles Grand Hotel d'Angkor in Siem Reap, Cambodia, no one will fault you if you end up spending the entire day at the poolside terrace, especially since private dinner service (by candlelight, no less) is available. Just ask the butler to arrange it.
Granted, waterside yoga and fantastic meals aren't the only things that will make you want to spend a full day at the pool. Perks as simple as inspiring surroundings, such as the verdant green rice paddies that dominate views at the Loy Kham Bar at the Mandarin Oriental Dhara Dhevi in Chiang Mai, Thailand, hold guests' attention. And a poolside pop-up shop at the Standard in Hollywood provides the opportunity for some retail therapy. After all, you never quite know what mood will strike in the sun.
--Chadner Navarro
See More on Departures:
Spectacular Hotel Rooftop Pools
Stunning Hotel Dining-Room Views
See More Hotel Pool Amenities Here The Delano has been a South Beach hot spot since it opened in 2010, and its Beach Club out back—featuring one of the most beautiful pools in Miami—can't seem to get enough praise. It is the site of many a chi-chi party, and world-renowned DJs like David Guetta have been known to spin at the see-and-be-seen pool lounge. The Philippe Starck–designed space provides whitewashed whimsy to an otherwise glamorous affair, which, save for weekend events, is enjoyed exclusively by hotel guests, who can dine poolside on salads, tacos and fresh fruit. Those who book a cabana can opt to receive spa treatments there, too. Rooms start at $390; 1685 Collins Ave.; 305-672-2000; delano-hotel.com.

See More Hotel Pool Amenities Here Capella's paradisaical Mexican resort is something out of a warm-weather fantasy, especially if a torch-lit private tunnel entrance is something you think all beachside destinations should have. When lounging poolside, prepare for staff intrusiveness of the best kind: afternoon beer, fresh guacamole, ceviche samples, Popsicles and more—all complimentary. From the pool spa menu, we are particularly fond of the hair-silkening Scalp Quench (from $40), a 15- or 30-minute head massage packed with vitamin E. Rooms start at $425; Camino del Mar 1; 52-624/163-4300; capellahotels.com.

See More Hotel Pool Amenities Here The Eternal City's old-meets-new allure makes most of its neighborhoods annoyingly crowded. The Gran Meliá's urban oasis, though just steps away from many of the capital's highlights (St. Peter's Basilica, the Vatican), is an excellent escape. On a hill in the Gianicolo neighborhood, the property has a sequestered feel, thanks to its own botanical gardens and a decidedly resort-like pool area that highlights a new program built around poolside Bali beds. The starter option ($200) includes a Bali bed for two, towels, an iPad mini, a pager for the waiter and a bottle of prosecco. Rooms start at $520; 3 Via del Gianicolo; 39-06/925-901; melia.com.

See More Hotel Pool Amenities Here Fitness enthusiasts will love the offerings at Jumby Bay, where aqua aerobics, reflexology, yoga, Pilates and Zumba classes are all complimentary at the Verandah pool. The oceanfront infinity pool at the outer reaches of the resort—with its lagoon shape and infinity edges—is the newest addition and an idyllic setting in which to take advantage of Jumby's super-exclusive partnership with many book publishers, which allows it access to books a week or two before they become available to the public. Rooms start at $1,050; Jumby Bay Island; 268-462-6000; rosewoodhotels.com.

See More Hotel Pool Amenities Here The iconic La Mamounia hotel is a tucked-away enclave in otherwise intoxicating Marrakech. The massive heated pool, which is flanked by shading palm trees, will likely be the best place to seek respite and can even be the site of all your daytime meals. Forgo swimming attire. A more elegant uniform is requested at breakfast and lunch, and poolside pancakes followed by a quick dip is no shabby way to start a day in this town. If you can't bear to peel away, a cart with homemade ice creams (crème brûlée, mint, coffee) and sorbets (mandarin, apricot, raspberry) make the cooling rounds. Rooms start at $775; Sidi Mimoun; 212-5244-44570; mamounia.com.

See More Hotel Pool Amenities Here This Mandarin Oriental property has two fantastic pools, both of which offer indulgent amenities—chief among them the views. The two-floor Loy Kham Bar is just steps away from the hotel's villas and residences. The pool itself, surrounded by lush rice paddies, has a bucolic vibe. The visuals at the Colonial pool, located along the Colonial Suites, is more architectural and offers breathtaking views of the Lanna Kingdom–inspired style of the entire hotel (including the pool's colorful tiles). Both also offer robust menus that include western favorites like burgers and fries, as well as local fare like curries and soup served in a coconut. Rooms start at $745; 51/4 Chiang Mai, Sankampaeng Rd., Moo 1; 66-53-888-888; mandarinoriental.com.

See More Hotel Pool Amenities Here The frangipani trees that surround the largest pool in the country doesn't just shade revelers from strong sun rays. They add a sweet, floral scent to the air, which goes perfectly with the innovative ice-cream cocktails—try the classic martini or the more flavorful mojito that comes in ice cream scoops—served here. You can also arrange for a private dinner by the pool, but because nighttime swims can happen as late as 10 p.m. you may want to request tables just off the pool area when dining alfresco. Rooms start at $300; 1 Vithei Charles de Gaulle; 855-63/963-888; raffles.com.

See More Hotel Pool Amenities Here At Shangri-La's sophisticated outpost in the United Arab Emirates capital, one can spend the entire day going through the massive pool menu, which covers everything from quesadillas to kebabs. But things really heat up in the evenings, with both barbecue and hookah service. A selection of meat and seafood can be grilled on request; the hookah comes in 12 fresh-fruit flavors. The signature is a more modern melon and strawberry blend, but traditionalists can also opt for the conservative mint. All of this can be done as you get in and out of the water, but only until 8 p.m.—the countrywide curfew for outdoor pools. Rooms start at $395; Qaryat Al Beri Complex; 971-2/509-8888; shangri-la.com.

See More Hotel Pool Amenities Here Shopping while lounging around a hotel pool might be an unexpected perk, but the Standard in Hollywood obliges. Guests will find a temporary pop-up shop in collaboration with chic accessories brand WANT Les Essentiels de la Vie, which offers not just its own collection of sleek bags, cosmetic cases and roomy totes (a couple of which are regional exclusives at the shop) but skincare products from Aesos and pool-appropriate footwear from Oslo-based Swims as well. This location of the Standard also hosts a weekly Wednesday-evening music series called Desert Nights, when three musicians perform acoustic sets just off the pool deck. Rooms start at $235; 8300 W. Sunset Blvd.; 323-650-9090; standardhotels.com.

See More Hotel Pool Amenities Here At this UNESCO-protected site—previously a plantation—the pool is perfectly positioned to be an all-day haven. This gorgeous negative-edge model was designed to telegraph a super-serene, lake-like vibe that makes it impossible to feel anything but relaxed. The deluge of complimentary treats—from water bottles to Popsicles to fresh fruit to canapés to wine—are fabulous bonuses. After dark, book one of the private Kabé Privés (private garden cabanas) and have one of the resort chefs whip up a beautiful poolside dinner. Rooms start at $350; Val des Pitons; 758-456-8000; viceroyhotelsandresorts.com.
Follow Departures Magazine on Twitter: www.twitter.com/departuresmag