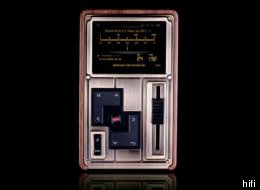 Traveling is a means to get away. To escape. A way to leave behind a desk job, paperwork and, nowadays, technology. Lugging a laptop to the Bahamas? Most people would say, "Forget it." Still, high-tech gizmos surround us everywhere and the notion that they can be avoided may be little more than wishful thinking.
They're as much a part of our daily -- and now traveling -- lives as, say, a wristwatch once was.
The good news, even for technology naysayers: There's plenty of high-tech stuff that can make trips more enjoyable and relaxing. Take, for example, the Philips PowerStation Pebble. Traveling with this handheld $40 unit will ensure that your phone will never again run out of power while you're navigating back to your hotel using your mobile phone as a GPS.
For the high-end (and deep-pocketed) excursionist, there are plenty more options. From Copenhagen-based company Æsir, there's the Æ+Y, a handmade cell phone; from Colorfly, there's the Pocket HiFi C4 Pro audio player, with its impeccable sound and retro look. Both almost make you forget you're using an electronic gadget in the first place. Let's not forget Sony's HMZ-T1 personal 3-D viewer, either. The device mounts directly on your head, packs easily and allows for a quick escape--in certain cases, from your trip itself. (Let's face it: Not every vacation goes as hoped.)
Even the less tech-inclined traveler can find a fix. These days many everyday items have been turned into neat gadgets: a pen, for example, that can start a fire and includes a flashlight and compass; a Swiss Army Knife with a biometric fingerprint sensor and laser pointer; binoculars with high-definition lenses. Escaping no longer means leaving technology at home. These devices--call them travel accessories--are proof.
For more slideshows about luxury travel, click here.
The Best High-Tech Travel Gadgets
The Victorinox Presentation Master looks like most any Swiss Army Knife, but its tech-driven design is much more versatile. Along with a standard blade, scissors, nail file, and a screwdriver, it includes a 32-gigabyte USB stick, self-destructing data-encryption technology, a biometric fingerprint sensor, a Bluetooth remote control and a laser pointer. Take it with you to the boardroom or into the bush. $302; victorinox.com. To see more luxury travel gadgets, click here.

Ditch your iPhone and opt for the Æ+Y, a cell phone by Danish company Æsir. It'll tell the time, and you can call and text with it, too. Hand–crafted in collaboration with the San Francisco–based designer Yves Béhar and available in stainless-steel and 18-karat gold versions, it travels well and is built tough, with a scratch-resistant sapphire crystal screen and 38 custom-made mini-screws that secure its key components together. $53,800 for the gold version, $9,300 for the steel; aesir-copenhagen.com. To see more luxury travel gadgets, click here.

Forget the iPod. Audiophiles, especially vinyl lovers, need not look further than the Pocket HiFi C4 Pro media player from Colorfly. Its engraved, CNC-cut black walnut backing looks fetching, as does its '70s-style pushrod volume slider and brass face. Best of all, the unit's clean-cut sound lives up to its bold, if excessive, retro aesthetic. $799; colorfly.eu. To see more luxury travel gadgets, click here.

British company Alfred Dunhill has created the ultimate writing implement for journaling jet-setters: the 18-karat gold Sentryman Explorer II pen, with interchangeable fountain, ballpoint and pencil options. What really sets it apart, though, is what's concealed inside. Seamlessly integrated into the pen's interior are a flashlight and compass—and for the truly far afield, there's an artificial flint, which can ignite a fire by being struck against the pen's shell. $3,400; dunhill.com. To see more luxury travel gadgets, click here.

Bring a home theater with you wherever you go with Sony's HMZ-T1. A wearable HDTV system with 2-D and 3-D options plus surround sound, it'll alleviate the boredom of a long layover while also helping you escape the general headaches and other mundane moments that come with traveling. Once mounted on your head, the unit provides the equivalent of having a 150-inch TV screen 12 feet in front of you. $800; sony.com. To see more luxury travel gadgets, click here.

This gizmo is ideal for a businessman on the run. The projector is compact enough to fit in a jacket pocket and high quality enough to impress a roomful of execs. Included in the kit's collapsible ballistic nylon pouch: a tripod, remote control, USB cable, AC adapter and video cable. If traveling for pleasure, consider using it to create a portable movie theater. All you need is a white wall. $695; tumi.com. To see more luxury travel gadgets, click here.

If you're bringing along lots of gadgets, you'll need to keep them powered. Which is where Philips's PowerStation Pebble comes in. The slim, lightweight unit holds additional reserve power (two additional hours of talk time), and it's compatible with iPhones, iPads and anything with a USB cable. A must-have for any technology-obsessed globetrotter. $40; philips.com. To see more luxury travel gadgets, click here.

Leica's new leather-covered Silverline Ultravid series brings binoculars into the high-definition age. Made with fluoride glass lenses (available in 32-, 42-, and 50-millimeter versions), the binoculars help eliminate light scattering and reduce color effects. At the same time, Leica's patented AquaDura coating repels water and dirt while facilitating fingerprint and dust removal. Most any nature-watching situation calls for field specs, and this line is unparalleled. $899–$1,899; leica.com. To read about Top Winter Travel Escapes, click here.
Follow Departures Magazine on Twitter: www.twitter.com/departuresmag