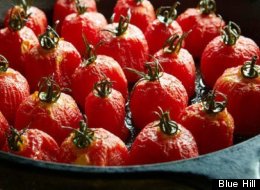 Renowned food writer M.F.K. Fisher once wrote, "First we eat, then we do everything else." That might sound startlingly unromantic at first, but Fisher revered, as all gourmands do, the dual role that eating plays in our lives: physical necessity and opportunity for transcendence.
When it comes to the art of the tasting menu, it's all about elevating the everyday. Simple sustenance takes a backseat as a chef seizes the opportunity to display his or her artistry, versatility and imagination. (And with the number of courses often reaching double digits, basic hunger is rarely on most diners' minds.)
The beauty of tasting menus is how much they vary from restaurant to restaurant and chef to chef. At n/naka in Los Angeles, chef Niki Nakayama's 13-course modern kaiseki riffs on the traditional Japanese kaiseki haute cuisine banquet, which strictly dictates the progression of the meal. (It requires, for instance, an amuse-bouche of "something common and something unique.")
At the Catbird Seat, a new James Beard Award-nominated restaurant in Nashville, the menu changes nightly according to the whims of Erik Anderson (who cooked for a time at Noma in Copenhagen) and Josh Habiger (formerly of Alinea in Chicago). The two chefs team up to create a seven-course tasting menu as 32 guests look on, serving up dishes like arctic char with lardon and clover or spring ramp vichyssoise with violets.
And at La Terraza del Casino de Madrid, the menu -- crafted personally by Ferran Adrià, the creator of El Bulli -- is tapas-style, offering perfect bites like pine-nut marshmallows and oysters with lychee gelée.
Whether found in Cape Town or Brooklyn, the unforgettable tasting menus on this list offer the opportunity to not just eat, but to eat sumptuously.
-- Jordan Kisner
World's Top Tasting Menus
The Catbird Seat is the youngest restaurant on this list -- it opened last October -- but it hasn't wasted any time catching people's attention, having already been named a James Beard semifinalist for Best New Restaurant. Chefs Josh Habiger and Erik Anderson (who have each worked at some of the world's top restaurants, including Noma, the French Laundry and Alinea) cook as a team, creating a seven-course tasting menu that changes constantly based on whim and seasonality. Recent dishes include a spring ramp vichyssoise with violets and spring greens, pigeon with asparagus and juniper salt and arctic char with lardon, dill and clover. The setting is intimate, with just 32 seats surrounding the U-shaped kitchen, so every diner gets a front-row view. Seven courses, $100; optional reserve wine pairings, $75; 1711 Division St.; catbirdseatrestaurant.com.

When Addison diners receive a brioche roll and butter topped with a flake of sea salt, the waiter also provides the name of the cow responsible for the butter. This ultra-specific attention to detail might explain why Addison (located in the Grand Del Mar resort) is the only five-star, five-diamond restaurant in Southern California -- a distinction that is well deserved. Led by Relais & Châteaux grand chef William Bradley, Addison produces an over-the-top 10-course tasting menu comprised of dishes like licorice-glazed squab sculpturally arranged with candied red cabbage and plums, a foie gras pot de crème and a lamb persille with a savory cherry tart and lemon sorrel -- all meticulously executed, graciously explained and paired with an exceptional wine. Ten courses, $225; 5200 Grand Del Mar Way; 858-314-1900; addisondelmar.com.

Alinea grew into a giant of the national food scene in 2010, when it became the second restaurant in Chicago to earn a coveted third Michelin star. The best way to experience chef Grant Achatz's innovative, deconstructed cuisine is to embark on his famed Tour menu, which currently includes creative dishes like otoro (tuna belly) with Thai banana, sea salt and Kaffir lime, cold potato with black truffle and butter (pictured here) and "scallop acting like agedashi tofu." It's best to clear a day for this one -- the meal involves 20 courses and takes an average of four and a half hours to complete. Twenty courses, $210; 1723 N. Halsted St.; 312-867-0110; alinea-restaurant.com.

Though dining at the Manhattan outpost of Blue Hill in the West Village might be the more convenient option, making the effort to visit Blue Hill at Stone Barns -- the year-round working farm and education center located 30 minutes outside the city that sources both restaurants -- is well worth it. Guests can experience the farm (it just hosted a sheep-shearing festival) and then sit down to a 12-course Farmer's Feast inspired by the day's harvest. (The Farmer's Feast is offered in four-, five- and eight-course options as well.) Each menu is crafted to a diner's needs and tastes, which makes this a rare, delicious option for vegetarians. In season right now? Spring lamb, goose eggs, purple wonder strawberries and a panoply of greens. Recent dishes have included whole-wheat brioche with Blue Hill Farm ricotta and Swiss chard marmalade; strawberry and beet salad with purslane and Blue Hill Farm yogurt; and biochar-grilled Forchu lobster. Four courses (available Sundays only), $88; five courses, $108; eight courses, $148; 12 courses, $208; 630 Bedford Rd.; 914-366-9600; bluehillfarm.com.

There's no shortage of stellar food in Rome, but La Pergola at the Rome Cavalieri hotel is the city's only restaurant to be honored with three Michelin stars. From the wine cellar (which contains 53,000 bottles) to the water list (choose from 29 options) to the setting (panoramic views of the city), everything about the restaurant is opulent -- especially the food. Choose the nine-course tasting menu, which consists of elevated takes on classic Roman dishes: tangerine risotto with scampi carpaccio; fish on a salt brick with lemon perfume and spicy foam; and pigeon with black salsifies, pine nuts and grappa sauce. Nine courses, $275; Via Alberto Cadlolo 101; 39-06/3509-1; romecavalieri.com.

At n/naka, the tasting menu is modeled after kaiseki, the Japanese analogue to a multi-course haute cuisine dinner. Chef Niki Nakayama's Modern Kaiseki is a 13-course affair that showcases her inventive twists on traditional kaiseki progression, which specifies a first course of "something common and something unique," a second course of a "main seasonal ingredient presented as an appetizer," a third course of sashimi and more. At n/naka, these specifications yield dishes like Maine lobster tartare with uni butter and California sturgeon caviar, and Muscovy duck houba yaki with foie gras. The meal comes with similarly diverse beverage pairings -- sake to start, Portuguese port to finish and wines in between. 13 courses, $165; optional wine pairings, $85; 3455 Overland Ave.; 310-836-6252; n-naka.com. To see the rest of the DEPARTURES Tasting Menus Slideshow, click here.
More slideshows from DEPARTURES:
10 Amazing Summer Trips
Extraordinary Afternoon Teas
The World's Top Shopping Streets
Follow Departures Magazine on Twitter: www.twitter.com/departuresmag