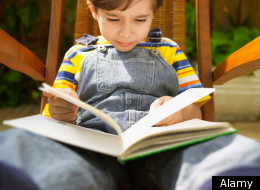 Wonder /wəndər/ n. A feeling of surprise mingled with admiration, caused by something beautiful, unexpected, unfamiliar, or inexplicable.
It isn't often that a book makes me cry in public. R.J. Palacio's "Wonder" did just that and more. Ms. Palacio takes readers back to the uncertainty and awkwardness of middle school, with its fragile friendships and quicksand-like social structures. Into all this she thrusts August Pullman, a boy born with facial deformities so severe he won't even describe what he looks like because, as he says, "Whatever you're thinking, it's probably worse." "Wonder's" story is engaging - you'll find yourself rooting for August as he stumbles through a world that, by fifth grade, most kids find commonplace. He's plucky and funny and vulnerable and charming, so he's hard not to like. But it's in the bigger themes that Palacio's writing shines. This book is a glorious exploration of the nature of friendship, tenacity, fear, and most importantly, kindness.
This is a book for kids 8 and up, but let me suggest that we parents read it too (although, if you read it in public, I do recommend having Kleenex nearby). I started reading Wonder the same day I read an article by a mother describing how hard it is for her disabled son to make friends. Of all the things I've worried about for my son, I never gave much thought to whether or not he'd make friends. I assumed that he would and it would happen easily and naturally. But it doesn't, not for everyone, and "Wonder" reminds us of that.
So this month, in addition to Wonder, here are books that celebrate the trouble we all have fitting in sometimes. From monsters to farm animals to utensils, it never hurts to remember that just because something is different, that doesn't mean it isn't wonderful.
Balzer + Bray | $11.67 | Amazon.com A story about children who were actually raised by wolves gets me every time. Throw in a large English manor house, a group of odd aristocrats, and a plain, but spunky governess with a mysterious past and you've got my new favorite series. For anyone looking to replace the void left by the end of the Series of Unfortunate Events, a visit to Ashton Place is in order. If you start now, you can finish Books I and II before the third arrives at the end of the month. And remember, children are children no matter how much they howl at the moon.

Andrews McMeel Publishing | $9.99 | Amazon.com In which an ordinary pig decides to become extraordinary by seeing "the best in everyone and the best in everything." From defending the size of another pig's bottom to dancing in the rain, this pig shows us that it is possible to rise above our usual "mumbling and grumbling" and become better than we think we are.

Hyperion Book CH | $10.77 | Amazon.com Just because Leonardo can't scare the tuna salad out of anyone, doesn't mean he's any less of a monster. This book will make you rethink the rampant stereotyping of monsters -- some of them are just lovely, including the determined but ultimately unsuccessful title character of one of my favorite Mo Willems' books.

Hyperion Book CH | $10.77 | Amazon.com Even spoons get depressed -- I mean, doesn't it seem like knives and forks have it so much better? Thank goodness for wise cutlery parents who help the jealous Spoon find a little perspective. Our friends may seem to be cooler or more exciting, but we all have our role to play.

Kane/Miller Book Pub | $10.85 | Amazon.com Riley Rat is different all right -- he's perfectly happy just the way he is. When Riley looks in the mirror, he doesn't criticize, he doesn't judge he just seeks Riley, "not too big, not too small, simply himself." With clever illustrations and wicked sense of humor, this book will remind you that being happy isn't about how we look, or what we have, or who we love -- it's all much simpler than that.

Orchard | $11.55 | Amazon.com Poor Gerald. He's mocked for his nobby knees and his lack of rhythm (which reminds me of my experience at the prom), and flees the annual jungle dance. Lions can be so cruel. But despite his social ostracism, Gerald keeps at it until he finds a way to dance to his own tune.

Simon & Schuster Books For Young Readers | $11.79 | Amazon.com If you miss "Queer Eye for the Straight Guy," this book might be for you. When a baby unicorn gets dropped off at a horse farm, all is well until his horn begins to show. But Trumpet finds his popularity soaring after his horn turns out to have an unexpected use. Suddenly, being different isn't so bad after all.
Follow Devon Corneal on Twitter: www.twitter.com/dcorneal