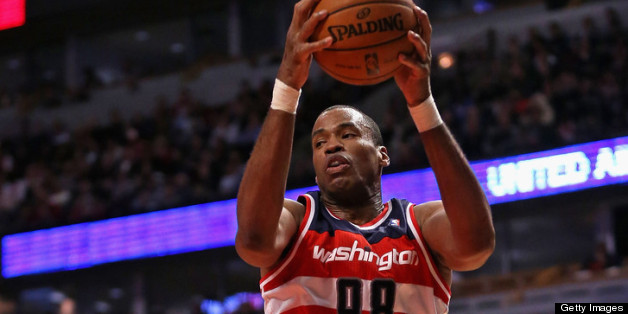 "I'm a 34-year-old NBA center. I'm black. And I'm gay."
-Jason Collins
The locker rooms, the showers of male professional team sports -- the hallowed last bastion of American machismo -- have just been bust open, forever evolved, by one brave NBA center named Jason Collins.
Okay, this isn't Aaron Rodgers or Peyton Manning coming out. But if Collins isn't a household name superstar, he's a longtime pro who has earned his stripes on the hardwood floors of the elite.
We have slowly witnessed the emergence of gay politicians, educators, military men, leaders from every corner of American life. But we have been told, by the players themselves, that an out gay man in our revered universe of major professional sports would be a long, long time in coming. Perhaps not in this lifetime.
The handful of retired pro athletes to come out, replete with their horror stories of mandatory virile bravado, have assured us an openly gay man in the NBA, the NFL, MLB cannot exist.
The sacred image, stemming from the Lou Gehrig and Babe Ruth days, of men in sports uniforms as the epitome of masculinity has been clung to with unwavering zeal. But the broadening of the notion of masculinity, as well as the acceptance that gay and masculine are not mutually exclusive terms, is upon us.
Jason Collins is black. Yet he doesn't wake up self-defined as a black man every day. Collins is a rare specimen, one of the few who makes his living entertaining us with his athletic skill and heart. Yet he is neither fixed nor limited by his athletic prowess alone. Collins is gay. Yet being gay is not his raison d'être.
Jason Collins is living out loud his inalienable human right to love as he chooses. And he's found the courage, after living in the shadows of his truth all his adult life, to set a new standard. An historic standard.
Some of Collins' basketball peers, and those from football and baseball and hockey ranks, might express their repulsion, confusion, slowness to accept this gay brother in their intimate quarters.
But my sense is we will be shocked to witness how quickly male team sports pro athletes applaud, defend and embrace Jason Collins.
I don't even think it hyperbole to imagine Collins as a modern day Rosa Parks of sorts. A man who simply could not bear to be anything but his whole self, who simply had to do the right thing.
Collins has made history. He will be lauded and remembered for his words, "I didn't set out to be the first openly gay athlete playing in a major American team sport. But since I am, I'm happy to start the conversation.... Nobody has, which is why I'm raising my hand."
Bravo to you, Jason Collins. At 34, as a free agent, your playing days may be numbered. But let's hope you get another year or two under the basket so that we can all stand up and salute your eloquence, your humanity, your courage. Bravo!
SUBSCRIBE TO & FOLLOW MUST READS
The internet's best stories, and interviews with the people who tell them. Learn more