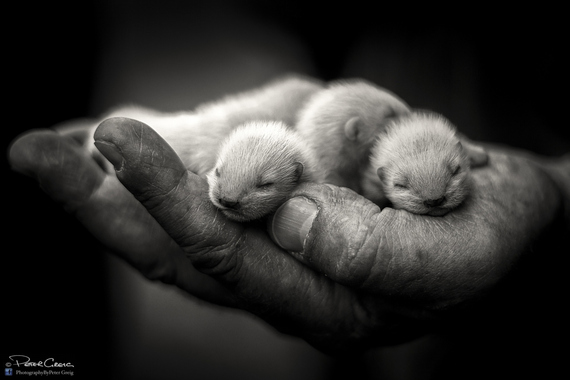 Today's dose of adorable comes in handfuls -- handfuls of baby animals, that is. From a discontented kitten, to a puppy that is literally a handful, to a fistful of newborn ferrets, these 21 baby animals from the 500px archives quite literally fit "in the palm of your hand"... and melt your heart while they're at it.
Scroll down to see them all, and beware of AWWWWW:
out on a limb by Viktoria Haack on 500px
Baby by Angélique CHOUVET on 500px
a life in the palm by David Pereira on 500px
a few days old by Panagiotis Zoulakis on 500px
Jeany`s baby ferrets by Marcin Roszko on 500px
An Adorable Hedgehog by Stephen Moehle on 500px
New life in my hands by Chris Heinrich on 500px
Pequeña vida. by Cristina Keijser on 500px
STUART LITTLE .... by Vatsal Patel on 500px
Kitten by StanislavRusev on 500px
Baby Froggy by Amber Cowen on 500px
Human Hand by Camilla Daldoss on 500px
Baby Bunny 2 by Brian Kruger on 500px
Chick by Sham Jolimie on 500px
Sleepy eyes by Jo Willowtails on 500px
heart of hearts by Toma Evsukova on 500px
Chihuahua Pup by Irene Petzwinkler on 500px
Newborn of turtle by Jaromír Chalabala on 500px
A New Life by Jinny Wong on 500px
A Fistful of Kits by Peter Greig on 500px
For more animal photography--of the baby or grownup variety--check out the Animals category on 500px by clicking here. And if you have a photo of a fistful of cuteness somewhere in your archives, upload it to 500px and drop a link in the comments!
SUBSCRIBE TO & FOLLOW THE MORNING EMAIL
The Morning Email helps you start your workday with everything you need to know: breaking news, entertainment and a dash of fun. Learn more