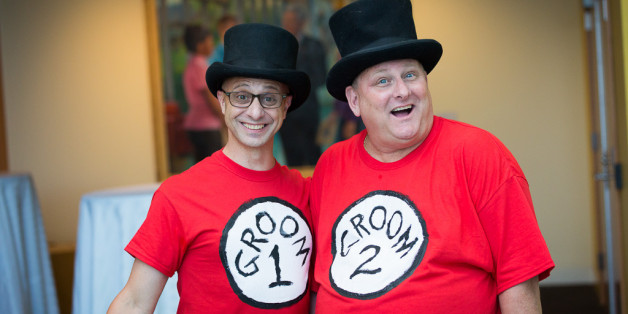 Moments before I stepped into the room to walk up the aisle, my heart was pounding. I was surprised to find myself so nervous. It was just two weeks ago that Brian and I, on the spur of the moment, had taken advantage of the Clerk of Wills' decision in our county (Montgomery County, PA) to issue marriage licenses to same-sex couples. Once we had the license, we launched into crazy planning mode, making snap decisions left and right about table cloths, cake, forks, and so on. It was all a blur. And now, approximately 200 people sat inside ready for the two of us to enter. I drew a deep breath.
Once I stepped into the aisle, our friends and families erupted into hoots, hollers and applause. A sudden outpouring of joy and excitement. I felt a wave of love. No, it was more a tsunami -- huge, powerful, unexpected. My nervousness instantly disappeared. I took in the moment, one of the greatest of my life. I was about to marry the man I love, something I had never imagined actually happening. We were wrapped with love from hundreds of people.
I have often heard people say that a wedding day can be the happiest day of your life, but I dismissed it as a cliche. But now I knew that it was true. However, looking back on it, I am pissed off.
Why I am angry? Because so many Americans have been opposed to same-sex marriage for so long. Until I was actually married myself, I did not realize what this all meant. These opponents to same-sex marriage, knowing full well the joy of this moment, have willingly barred others from feeling the same thing. They had stolen my potential for joy, without me even realizing it. They had also removed hopes and dreams from my life. I had never believed a wedding could be a real possibility for me, so I never allowed myself to think about it.
What kills me is that many of these opponents to same-sex marriage use their Christianity as the excuse for their beliefs. I am not a religious man and I do not believe in a god. But, you know what? If ever I came closest to feeling the presence of something higher than myself, it was in that moment when I walked into the aisle at my wedding and felt that oceanic love. Ironic, huh? The brand of Christianity that fights against gay rights has turned me off to organized religion and a higher belief system because it preaches hate and exclusion. These haters wanted to stop me from having a wedding, which, it turns out, is the very thing that might have brought me closer to an understanding of the god feeling that they possess.
And now, to add insult to injury, our governor, Tom Corbett has declared that our marriage is "meaningless." Brian and I are amongst the dozens of couples who petitioned to intervene in the case that the Pennsylvania department of health has started to stop our Clerk of Wills, D. Bruce Haines , from giving out marriage licenses to gay couples. The governor's lawyers contend that the marriages are null and void, as invalid as a marriage license for "12-year olds."
My government is calling my relationship meaningless, and comparing me to a child. They want to bar me from a fundamental joy in life, as well as all the legal benefits that accompany marriage. Is it any wonder that gay youth commit suicide at a much higher rate than their straight counterparts? We grow up in a country where our elected officials send message after message that belittles us, makes us unworthy, pretends that we do not exist. My blood is boiling as I am writing this. Before I was married, this fight was about other people, but now it is personal and my emotions run strong.
Here is my message for Governor Corbett and all those religious and conservative haters out there: I am married. A legal marriage license, signed by an officiant, is filed in my county. There is a ring on my finger. I made my vows and my husband returned them. Hundreds of people witnessed the marriage. I had my moment of joy, and no one can make that meaningless. My wedding was just as meaningful as yours, and I will not let you steal from me again.
And, to go even further, our wedding was just the gayest gay gay wedding ever. It was our day and it reflected our flamboyant lives. I am hoping that it pours salt in the wound of the homophobes to know that, not only did we ruin the sanctity of marriage, we did it in the most fabulous homosexual way ever. So there! Here are some examples:
The ceremony started with 8 gorgeous drag queens as bridesmaids.
My best man was our dog, Festus. Brian's best man was our dog, Baxter. Our two other dogs served as ring-bearer and flower dog.
The dress code for our guests was Fabulous.
In lieu of gifts, we asked our guests to bring alcohol.
I wore a garter under my kilt.
Our first dance was to Love Shack and we fagged up good.

The joy in the room was palpable.
We are two men that got married in Pennsylvania. This fact is meaningful, not meaningless.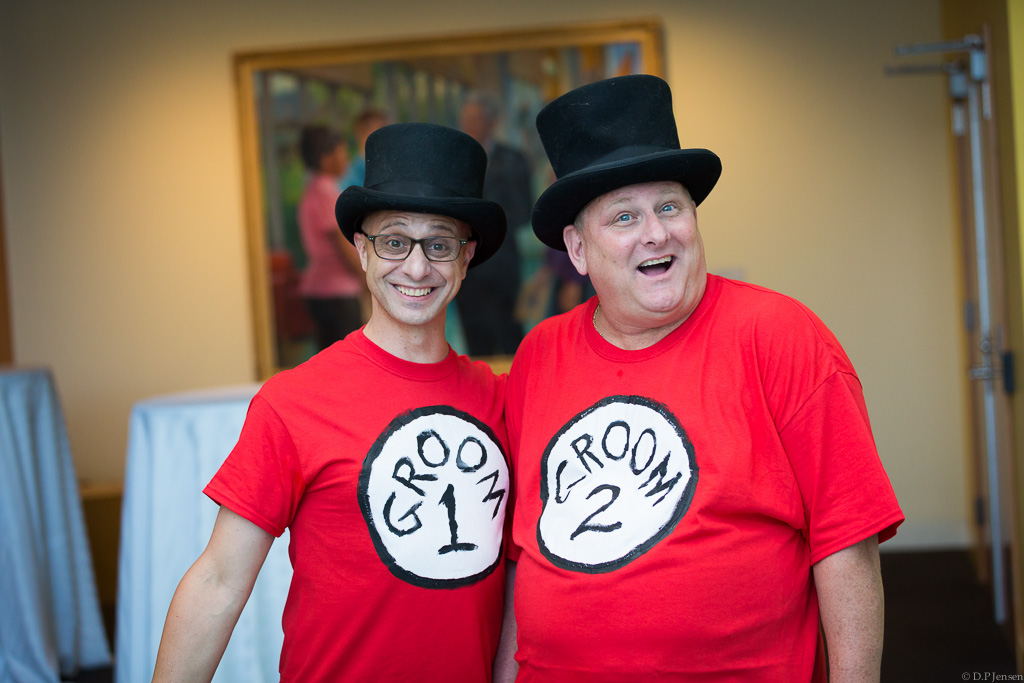 This Blogger's Books and Other Items from...
SUBSCRIBE AND FOLLOW
Get top stories and blog posts emailed to me each day. Newsletters may offer personalized content or advertisements.
Learn more