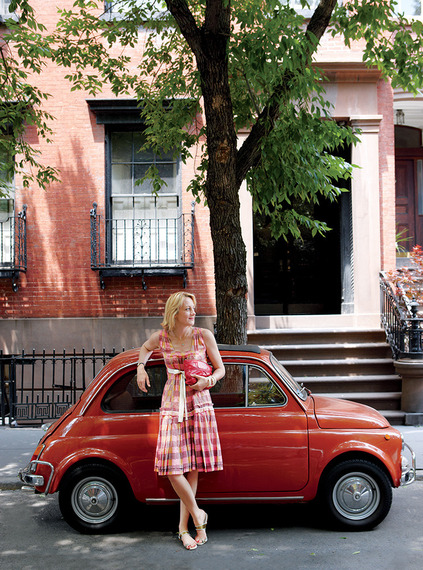 photography by JAMES MERRELL
Konig outside her home (with her trusty Fiat, an eBay score)
When domino editor Rita Konig moved from London to Manhattan, she didn't have a chair to her name. Two years later, her tiny one-bedroom seems as if she's been there forever. Her secret? Smart shopping -- fueled by a steadfast belief in comfort, individuality and old-fashioned chance.
Dramatic wallpaper in the shoebox-size entry hall establishes Konig's urban English rose signature.
The mantel is crowned by an ever-expanding display of Polaroids of friends and family, attached with double-sided tape.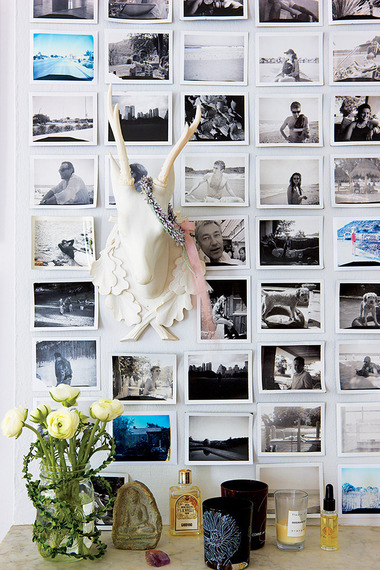 photography by JAMES MERRELL
Konig is a huge advocate of scent. Her rooms are perfumed with fresh air, coffee, bath oil and Santa Maria Novella potpourri.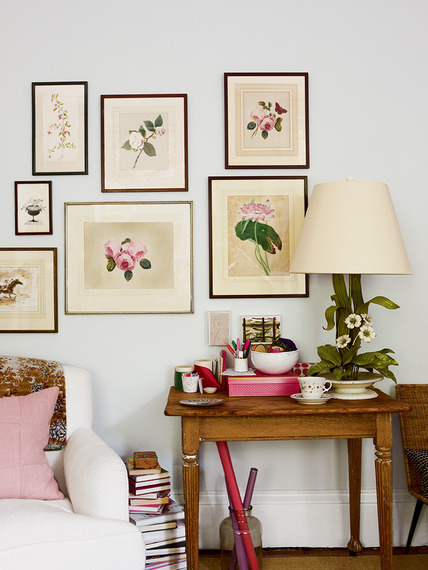 photography by JAMES MERRELL
A collection of botanical prints from England finds a companion in an eccentrically "flowering" table lamp.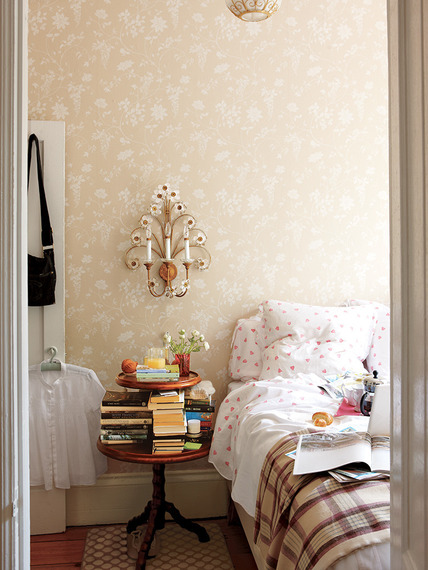 photography by JAMES MERRELL
Super-feminine and luxe D. Porthault linens coupled with an old plaid wool Welsh blanket are equal parts charming and unfussy.
Rita's secrets to buying well. Our shopping columnist and girl-about-town blogger is an expert in the art of the purchase (no surprise -- she grew up working in her mom's store!).
Check out are her six top tips: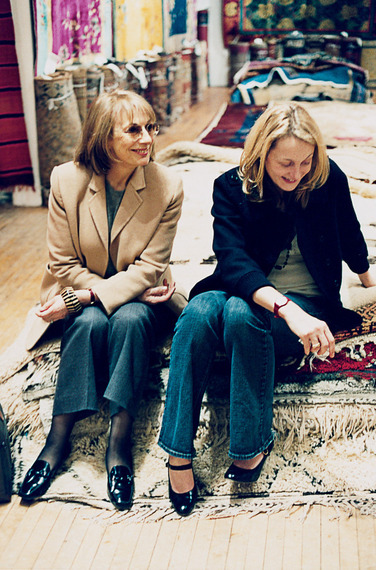 #1. Go with someone you trust. My mum is my ultimate adviser. She sees the potential in some shabby stuff but can also talk me out of a bad decision.
#2. Test a palette. Before you commit, tack up fabric or paint swatches on a wall, then ruminate: Do they work together? (This was for my bedroom -- it's lovely, but I opted to go with a different color scheme.)
#3. Know when to haggle. I wouldn't be cheap at a flea market. But a markup is often factored into antiques-shop prices, so negotiate if you're considering several items -- or if you love something and can't afford it!
#4. Try it on loan. You can't do this at every vendor, of course, but borrowing some major goods -- rugs or tables -- will help you see pieces in context before taking the plunge.
#5. Pull it all together. The final alchemy is part planning and part luck. I love to combine things, but I have to force myself not to surrender to my magpie instinct and take in too much that's worn-out or random. For me, the cohesion comes from color, but you could find it in seeking out certain textures, motifs or eras -- whatever you gravitate toward.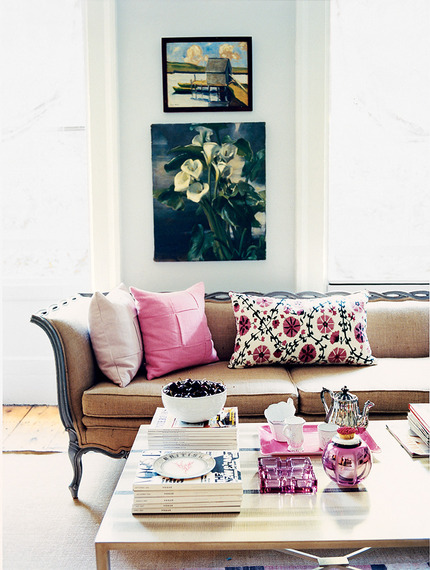 #6. Don't obsess over finishing. I believe most of the places we cherish are the ones that evolve quietly. Keep tinkering; I still want to re-cover my sofa, for instance. When everything's really done, it's time to move!
SUBSCRIBE AND FOLLOW
Get top stories and blog posts emailed to me each day. Newsletters may offer personalized content or advertisements.
Learn more