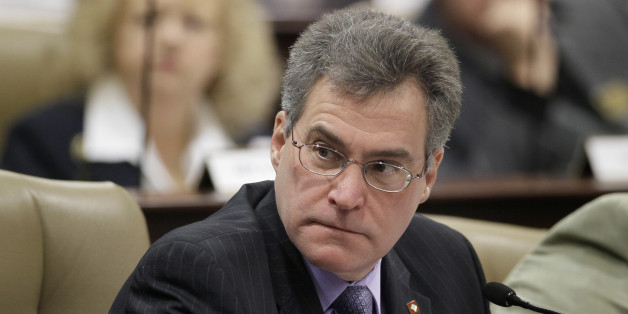 A Valentine's Day letter to the Arkansas GLBT Community and their extended families and friends: I write you this Valentine's Day letter on the one-year wedding anniversary to my husband to apologize for not being able to do more to help my brother understand the devastating impact discriminatory bills like the one he supported Friday have on not just the LGBT community, but on their friends, family as well as the entire population of Arkansas.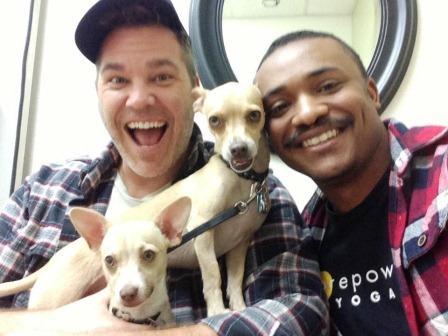 My brother, Arkansas House of Representative Charlie Collins (District 84), cast his vote Friday in support of the SB202 in part because of what he called an "overreach" by the Fayetteville City Council, the town where he lives and represents in his district. Last August, the Fayetteville City Council passed Chapter 119, an anti-discriminatory ordinance that Charlie soon spoke out against and successfully campaigned to repeal in a special election last December.
Arkansas bill SB202 blocks all cities and counties from enacting anti-discrimination laws that protect LGBT people. Buzzfeed News reported the bill's sponsor, Republican Senator Bart Hester, sponsored the measure to create consistent policies across Arkansas that will attract business, and that he was infuriated that cities were attempting to expand civil rights laws for LGBT people. ­
Rather than working for fairness and support by following the lead of more than 300 major U.S. businesses that have adopted inclusive, non-discriminatory protections because they know it's good for business, my brother and the other Arkansas legislators who voted for SB202 chose to move their state backward with a discriminatory, hurtful bill that by Hester's own admission is a reactionary one in the face of growing acceptance and political power of the LGBT community. What's incredible to me is that my brother supported this bill even though he has a gay brother and a lesbian sister.
I think it's also important to note that while my brother spoke in support of the Repeal 119 group in November and actively campaigned as one of Fayetteville's state representatives in December, he was simultaneously coordinating a visit with my lesbian sister to host, assist and tour his daughter around Seattle where my niece was being interviewed for an entry-level position by a top Fortune 100 company at which my sister works, and incidentally, receives the company's legal protections and benefits for herself, her wife and their two boys. These are the same types of anti-discrimination policies my brother campaigned to repeal.
You can help by going to http://www.vetosb202.com/ and sharing your voice with Govenor Hutchinson to veto this bill.
My niece is a tremendous young lady. She's a bright and accomplished student who earned her interview on the strength of her own skills and talents. However, I think it's inconsiderate, hypocritical and rude for Charlie to accept the assistance of my sister, who has been out as a lesbian in the business community for more than 25 years, while at the very same time undermining the types of protections and benefits she and her family enjoy. Thanks in part to his effort if she lived and worked in Fayetteville, and soon possibly all of Arkansas, she might not have a job, and if she did, her wife and their two boys would not have the benefits and protections they have today. The same fate would apply to me. Rather than being recognized and awarded by the district and community for excellence as a teacher during the nearly two decades I've spent as an educator working in a district with a clear non-discriminatory policy I might have been fired for being gay, or been forced to live an unhappy charade. I am grateful my school district provides equal protection and equal access to demonstrate my full potential as a teacher and employee because I know the students and staff have benefited from my attention and energy focused in the classroom rather than worrying about hiding who I am and who I love. Beyond the legal protection to not be fired or harassed for being gay there is the equally important, daily issue of being accepted and respected for being authentic and honest in my relationships which, from my personal experience of living in the closet while I was first coming out, is impossible in an environment where being honest can cost you your job.
I am grateful for the support and respect of the people in my district, and it is my sincere desire for anyone reading this letter who is still hiding or lying about who you are that you might know the freedom and acceptance of a workplace and community where discrimination, harassment and inequality are not barriers to excellence.
The good news is bigotry and prejudice is falling fast across the country. There are currently 37 states that recognize the freedom to marry which means that nearly 75 percent of the U.S. population live in states where LGBT people can marry the person they love. We all know the movement toward greater equality will only continue to grow in the future, and that bills like SB202 will be seen for the pathetic grasping of straws that they are in the face of the changing tide of acceptance.
I know coming to accept that someone in your family is gay, lesbian, transgender or bisexual can be difficult and complicated. I often share a story about when I told my younger brother that I was divorcing my wife and coming out and he didn't give me the immediate, positive response I had hoped for. When I called him back the next day, fearful and insecure of losing his friendship and camaraderie, he said, "Didn't you tell me it took you 15 years to accept that you were gay? Can you give me a couple weeks?" I did and he quickly came to recognize I am not a different person than the one he knew, only a more honest, happier and less repressed one.
As for the rest of our family, my older brother Charlie is the only one with homosexual shame. My mother stayed with and helped my sister and her wife with their baby boys for years before my parents moved just down the road where they both still offer their loving support to my sister's family. My parents not only came down to San Diego for my wedding last year, but acted as our witnesses, spoke with the news stations that were doing stories about Valentines Day marriages at city hall and celebrated my wedding to my husband with all of the joy and happiness they did 25 years ago when I married my wife.
It is with a full heart and a lot of love that I again offer my sincere apologies to the Arkansas LGBT community and their friends and family who now have to worry about hurtful legislation that supports intolerance and creates a climate of hostility and discrimination rather than being able to work with the same protections and benefits enjoyed by their straight brothers and sisters. I can tell you I did call my brother in June to thank him for not endorsing or voting for his friend, Senator Jason Rapert's non-binding resolution in support of Amendment 83. Charlie said that resolution didn't serve any purpose but to grandstand and enflame an already difficult situation around same-sex marriage.
SB202 does much more than just grandstand, and sadly I can't call him to thank him for his vote, which is why I am writing this letter today. I realized in the middle of my sadness and frustration that my brother has a vote, but I have a voice which I am using today to encourage you to express your concern about a discriminatory bill that is bad for business and worse for equality. http://www.vetosb202.com/
I can speak out against discrimination and ask Governor Asa Hutchinson to veto SB202 on the grounds that it only serves to discriminate and divide Arkansas. I can encourage the people of Arkansas to contact Governor Hutchinson to work toward a better solution. If the goal is, as Bart Hester suggests, "to create consistent policies across Arkansas that will attract business" then show real leadership and veto this bill and work together with my brother to create a bill that protects all workers from discrimination in the workplace which will attract new workers and new companies, instead of repel them.
I can also hope that Charlie understands that the decisions he makes and the votes he takes are not just political, they are personal and they affect people in ways he couldn't possible imagine because he's never had to deal with the oppression of a society that treats you differently because of who you are attracted to and who you love.
SUBSCRIBE AND FOLLOW
Get top stories and blog posts emailed to me each day. Newsletters may offer personalized content or advertisements.
Learn more