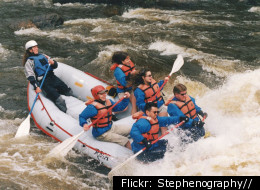 The chance to learn something new, have genuine experiences with locals, and get value for money: Are we asking too much out of our trips? After so many years of limited travel thanks to tightened budgets Baby Boomers are raring to hit the road, the air and the seas again.
But before we plunk down thousands of dollars on our next expedition, we owe it to ourselves to take some time to figure out exactly what we want and don't want out of our travels. Otherwise, you could find yourself booked on an overpriced excursion that eats up all your annual vacation time, going someplace you've never wanted to visit.
The risk of that happening is huge: you've got friends and family telling you where to vacation; thousands of itineraries, tours, cruises and destinations to choose from; and the Internet, guidebooks, The Travel Channel, magazines and newspaper travel sections that further confuse you with so much information. Where's a traveling Boomer to start?
You should know what you want before you even start browsing all these sources. Just in case you think that's impossible, here's a slideshow of needs based on my own travel experiences and those of fellow Boomers who've shared their knowledge with me (feel free to add your own in the comments below).
Knowing what we want out of our travels before we start doing our research makes it easier to choose from the thousands of options out there. It also means we're more likely to find the perfect travel experience that we'll remember for the rest of our lives.
The number one need I keep hearing about is the quest for unique and authentic experiences--this is why we travel. We Boomers are at an age where we value experience over objects either because we own more things than we ever thought we'd have or we realize we're not getting the warm and fuzzies from them that we'd hoped for. In our quest for great experiences, we travel further and to more exotic locations and we look to organizations that will tailor trips to our interests such as cooking, wine tasting, the arts, bike riding, sports (participating or watching), volunteering, and tons of other activities.

We want to be involved beyond just watching and listening. We may go to museums, churches and historical buildings but we can only absorb so much from these passive activities. Visits to markets, villages and other locations where regular folk hang out allow us to mingle with local people and can really add to our foreign experiences. Instead of watching a cooking demonstration, Boomers tell me they love to have a chef take them to the market to shop for the ingredients, assist in the preparation of the dishes and share a meal together.

As the best-educated and most-traveled generation to date, we Boomers are traveling further to learn languages and other skills, volunteer to build houses and teach, and get intellectually and emotionally involved. I look for journeys that take me to new places--physically and spiritually--or that offer experiences I don't have time for in my daily life.

Everyone has a different definition for what constitutes value for money: I'm willing to spend freely for something I feel will enrich my life but I'll also demand high levels of quality and service especially if I'm paying a premium. In travel, we might be willing to pay more for certain types of pampering vacations but we're also open to roughing it for adventure trips. (Photo of white-water rafting on the Nile River courtesy Flickr/PeterJBellis)

Many of us travel independently of tours because we want a high degree of control of the itinerary. Even when traveling with a group, we generally need to have a lot of free time built into the schedule so that we can take off to be alone or just do nothing. Tours that offer alternative activities so that groups can split up are great as most members tire of being with the same people over time. When part of a group, we like to be given information about all aspects of a location and its activities as this helps us feel a sense of shared responsibility rather than feeling like all control rests with the guide or leader.

Even though I'm Caucasian, obviously north American and couldn't blend into a crowd in a Botswana market to save my life, I don't want to get off a bus with 50 other tourists. This is why I and many Boomers often travel independently or seek out smaller tours that limit group numbers to 20 or fewer. As experienced travelers we've seen how the vibes of a place change when large groups of tourists come off a ship or a bus and recognize it's impossible to have authentic experiences with locals in such conditions.