7 Awesomely Stupid Signs (PHOTOS)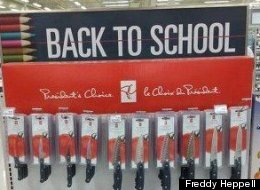 There's typically a good deal of planning that goes into putting up a sign. You need to realize one is needed, draw up some plans, make the sign and then put it up. Somewhere along the line, you'd think someone might take a second to consider the message. Or maybe not.
Want to see more signs? Check out the latest book: Signspotting 4http://www.amazon.com/Signspotting-4-The-Art-Miscommunication/dp/0399536140.
Or share one of your own great sign photos and upload it at Signspotting.com
WHERE: Manchester, UK CREDIT Richard Bagot

WHERE: Victoria, BC, Canada CREDIT: Glen Robertson

WHERE: Atherstone, UK CREDIT: Freddy Heppell

WHERE: Cotati, CA CREDIT: Marc Ellen Hamel

WHERE: Calama Airport, Chile CREDIT: Will Adams

WHERE: London, Ontario CREDIT: Michael Sanatani

WHERE: Sheboygan, WI CREDIT: Steve Fischer
Follow Doug Lansky on Twitter: www.twitter.com/@dlansky