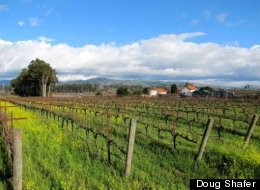 Napa Valley -- for some it means a nirvana of wine tasting, spas, shopping, golf, outstanding restaurants and enchanting scenic beauty. Others think words like overpriced, overcrowded and over-sold.
For me, Napa Valley is home. It's where I've lived for almost 40 years, have raised five kids, made life long friends and run a family winery with my dad.
Over the decades I've seen myths of all kinds build up around wine country and as someone who's on the inside, I'd like to play mythbuster to some of the big ones.
Okay, it's true you see a share of big homes on hillsides and vineyard land does in fact cost upwards of $100,000 per acre. But the Valley is and always has been visited and enjoyed by people of all wallet sizes. As far as a place to live, we're home to teachers, small business owners, artists and many others. I've hauled my kids to Friday night football games at local high schools, piano lessons, and we've enjoyed small town events like St. Helena's annual Pet Parade. It's a great place to raise kids. Like all communities though, we have families who struggle to meet life's most basic needs. The good thing about living here is that we have the resources to help. Our annual Auction Napa Valley has given more than $100 million since 1981 to support health care, affordable housing and youth development.

Ha! If I did my liver would pack up and move out. Guests almost certainly think this about our profession because that's what happens during a winery visit - we taste some whites, taste some reds, we chat about the vintage, play with the dogs, snap a few pictures and off you go. What visitors don't see is that a winery is a business - in our case, a small business. We all wear a lot of hats as we deal with budgets, emails, planning, and meetings. Be sure to notice at your next winery visit that typically winemakers or hospitality staff are tasting and discreetly spitting their wine. In truth, running a winery requires a surprising amount of coffee.

There you are driving up beautiful Highway 29 toward St. Helena and you feel like you're in a small ocean of vines. It's easy to think there's nothing here but grapevines. As it turns out though, only 9% of Napa County is planted to vineyard. The appellation is filled with forest, hills, tucked-away valleys, streams and glens. The areas that are suitable for grape cultivation have long been planted, so for the foreseeable future Napa's grapevine growth will be held at its current size. Next time you visit, take a side road into the foothills and the wild parts of the Napa Valley appellation. There's a good reason that hiking, mountain biking, horseback riding and camping are popular here.

I think we seem bigger than we are because so many people visit here and take their wines and stories home to friends and neighbors throughout the country. Since the early 1980s Napa Valley has ranked just behind Disneyland in California's yearly tourism hotspots. In terms of actual wine quantity though, Napa Valley produces a tiny fraction of the state's wine each year - just 4%. Most of the wineries here are operations that make fewer than 5,000 cases.

In 1974 the first guy my dad hired to help him plant his vines was a young man named Alfonso Zamora-Ortiz. Dad was from Chicago and knew nothing about driving a tractor, plowing between vine rows or planting grapes. Neither did Alfonso. But they worked together -- Dad learned some Spanish and Alfonso learned some English -- and got our vineyards established. Almost 40 years later Alfonso still lives at the winery, after raising a family here, and works on our property. Decades-long relationships like this are not uncommon throughout Napa. Figures show that vineyard and cellar workers in Napa Valley receive the highest pay per hour of any similar agricultural jobs in California and more tellingly have the highest percentages of 401ks and health benefits. The thing I think visitors to this area don't realize is just because a person here has a Latino surname doesn't mean they are a migrant worker. Some 30 percent of the city of Napa, for example, is made up of families with Latino last names - many of whom have lived here for three or four generations (remember this area was part of Mexico until the middle of the 19th century). In our vineyard and cellar we employ a full-time team of men - whose families are originally from Mexican states such as Jalisco and Michoacan - but are U.S. citizens, who have worked for us full time for anywhere from 10 to nearly 40 years. In addition, vineyard and cellar work isn't seasonal like it may have been in the old days - it's year-round. We partner with vineyard management companies who employ teams of vineyard workers full time throughout the year. During harvest we do see an influx of documented seasonal workers who come here - often year after year - to help us pick our grapes. For these men and women we have worked diligently to ensure their working conditions are top notch. A few years ago vineyard owners throughout Napa County voted to tax themselves in order to maintain and enhance migrant worker accommodations, to ensure that visiting workers have clean, safe, comfortable places to stay. Napa Valley has long represented a place of opportunity for newcomers. In the 1800s immigrants from Italy and Germany came here and planted vines and started wineries. In the 20th and 21st centuries we've seen men and women come from Mexico and build successful careers in vineyard work and winemaking. And their children and grandchildren now own some of the best wineries in this region including Ceja, Mi Sueno, and Renteria.

Napa is a lot of things. Yes there are a few large wineries with big tasting rooms and big parking lots full of tour buses and limousines. And some people can't get enough of that. But Napa Valley is also home to hundreds of little family-run wineries. They're tucked away on little country roads on Spring Mountain, Howell Mountain, near Calistoga, St. Helena and in Stags Leap District. The beauty of Napa is that you can find the experience that appeals to you most.

Overall, I think the biggest myth about Napa Valley is that it's all one thing. I hear people say that all the vineyards are planted in one way, or that all tasting rooms have one kind of approach to appointments or that all winery owners are one kind of person. None of this is true. The Valley is comprised of hundreds of different operations run in various ways. That's part of the attraction here, I think. You can find anything you want. Big wineries with a big-winery experience to little guys who are doing everything by hand. Don't buy into the myths. See it for yourself.