New York City. City that has beaten the pants off of me. City where, even with the pants beaten off, I still got up off the floor, put my pants back on, one leg at a time, and made the morning train.
City of urban street poetry -- pigeons arching over the steam spilling out of sewers near dawn on Lexington Avenue.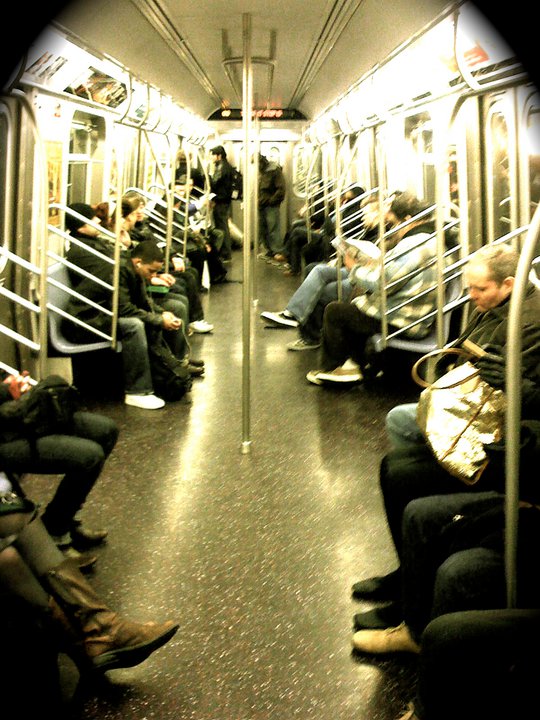 But it's also a city of straight talking, no-nonsense people, who are super friendly and very interested in what you are doing if what you are doing is super cool. Perfect for startups. Mayor Michael Bloomberg is making easier for people to come here and start up their companies, but it goes beyond useful city policies and cheaper rents, or marketing.
There's a magnetic pull to the city. That's why TechCrunch Disrupt does so well here. It's compeletely in line with the no-trash-talking mentality in New York. You don't go smacking off about your product unless you can build it, or have built it, and it works right, and your customers are happy.
Or at the very least, you don't have to have a product that works perfectly, but you have to have an ability to listen to people and adjust to what they want, based on how they use what you build. New York is so fresh this way.
My colleague Daryll McDade is a senior Startup Evangelist in Microsoft's Emerging Business Trends team. He's based in Seattle, but he made the big haul to come out to New York City and see Disrupt, and talk to teams. Here are some of his thoughts on what he liked, even among the groups that didn't win big.
Of the Battlefield, he said:
Not sure how Cardify didn't make it into the finals; IMO, they have by far the most disruptive solution; it's loyalty that requires next-to-zero work for either merchant or consumer. Mark my words ... this one is going to be BIG.

I was also super impressed by Sunglass and their in-browser collaborative 3D modeling; I've seen a few others in this space but considering that Sunglass is Web standards-based requiring no plug-ins, the performance and capability were pretty stunning.

Koemei, which enable the real-time transcription, captioning and [semantic] searchability of any video, is another game-changer. If they can make progress with YouTube to get programmatic access to their library it will be "game over" in video search. Interesting to note that they've been working on this since 2003 but only now in a position to try to commercialize it. I'm going to be watching this one for partnership announcements.

Ark gets the award for "most guts" as they walked away from acquisition talks with Facebook AND told everyone who would listen that they did so. Cracking the code on people search has been the "white buffalo" in Search for years and these guys have legitimately cracked it. That said, I can't see this as a standalone business ... Search needs consolidation to draw (and retain) consumers en mass. May not be Facebook but I'll be looking for someone to acquire these guys.
Big trend we are seeing is fast, consumer mobile apps. Effortless e-commerce is a big draw for investors and for consumers, in general. People are very picky about what they buy these days, and they are buying what suits them and what fulfills basic needs. If you can make that fast, fresh and easy, you win.
Collaborative, of course. What things on the social mobile web are not about masses and collaborative sourcing?
But here's the big thing about the New York experience. It's about finding knowledge. New York City is the Human Capital. Here's what Daryll was saying about the people he met there:
Smart insights from smart people

Lots of smart people on stage over the course of three days, but a handful of statements stuck out for me in terms of market trends to continue to watch.

Fred Wilson made a great observation about Kickstarter (and crowdfunding in general) offering that, particularly in the case of hardware, the platform is a "futures market" for products. We're going to see a shift to greatly reduced upfront product engineering costs, lower marketing and carrying/inventory costs and an overall democratization of what products succeed in the marketplace (witness gTar). Turning on "crowds" is going disrupt several marketplaces ... what we are seeing now is just the beginning.
Chi-Hua Chen from KPCB talked about how technology is the great disruptor enabling democratization of commerce and the skills marketplace and how this is just the beginning of the disruption of big-box retail. You no longer need a physical store and marketing overhead to draw customers to a fixed location to distribute and sell goods ... with Twitter, Facebook and Square a "grandma from Kansas" can [theoretically] outsell Wal-Mart in a specific category from her basement. Similarly, it used to be that a person with specific skills needed an employer to aggregate a bunch of similar customers at one location for a person to get paid for their skills ... but with platforms like Zaarly and Cherry (you're welcome SF/Valley folks!), skills are easily enabled to be matched with opportunities at much higher profit. Agree fully on both points and I think we are on the precipice of a tidal wave here.
Amongst the many great sound bites he laid down, John Lilly talked about how many founders he talks to speak of building for "mobile" and consider phones and tablets as interchangeable mobile devices; he corrects them and points out that folks like Pocket have data that shows that the usage patterns are drastically different -- the implication being that you need to be smart about how -- or even if -- you should design an experience for each form factor. For some time now, I've said to anyone who'll listen that the spoils will go to those who optimize for each of the three postures of computing.
I always love what Fred Wilson has to say. It was on Wilson's blog that I first found Fake Grimlock and an entire community that I would call the futures market for commenting. There is knowledge so deep in those comments, you could start and advisory firm in there.
In a sense, that is what Disrupt is. It's a temporary advisory market for future builds. We see the future in the present, on mobile and in social collaboration.
I truly miss New York, city of my loneliness. City where I found a crowd of people who think with open heads, and can put things together on a dime.
I'm trying to reflect a little bit of that thinking these days at our Facebook page for Microsoft BizSpark, a global community where we put together the best startup culture values and ingenuity, for everyone. You should check it out, and drop me a line on Twitter @douglascrets.