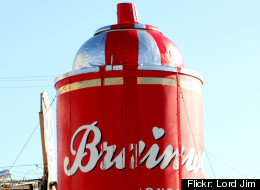 The solo show of Banksy protege Mr Brainwash, aka Thierry Guetta, opened on Sunday in the cavernous space of the Old Sorting Office of London's West End. Thousands of fans had queued up in anticipation of the 2pm opening of the free show and the promise of 250 limited-edition prints by the artist.
Guetta's show featured hundreds of pieces that must have taken thousands of hours to craft, assemble and display. The style is very much in the vein of Banksy -- cheeky, irreverent, knowing, populist, well-crafted, subtly both flattering and mocking of its audience and the entire tradition of art from old masters all the way to pop art.
Some questions the show raises: Is it art? Is it any good? What do all the pop references mean? Is Mr Brainwash anti-capitalist? How big a team creates these pieces? Are Mr Brainwash and Banksy the same person? Are they taking us for a ride, just like they did in the brilliantly subversive, mind-bending documentary Exit Through the Gift Shop?
Does it matter as long as we're enjoying it and engaging the imagination of thousands who would otherwise find no interest in art?
Look at the pieces and decide for yourself.
London 2012 Olympics solo art show of Mr Brainwash, Banksy Protege
Mr Brainwash (aka Thierry Guetta) who featured prominently in the controversial and clever 2010 street-art documentary 'Exit Through the Gift Shop', opened his solo show yesterday in the Old Sorting Office in London's West End. Over 2000 fans had queued up literally around the block of the cavernous building for hours to see the show. The first 250 fans received limited-edition prints. Guetta came outside at the 2pm opening of the show to greet the queuing fans.

This is the first piece as you enter the exhibit. References to pop culture with a cheeky nod to street art along with a high degree of craftsmanship exemplify this piece and many others in the Brainwash/Banksy repertoire.

Re-creating stuffy, old-school art with a pop twist is another hallmark of the Brainwash/Banksy style. Note: I didn't catch the title of several of the pieces, so I'm improvising the names.

An iconic portrait of the young Queen Elizabeth, reimagined with a Peace medallion and patriotic spray paint can.

Whether this is a sendup of Andy Warhol or a tribute to him is up to you to decide. Mr Brainwash had several pieces like this one in the exhibit.

This is a full-size old school London taxicab, put in a box as if it's a model car souvenir for a child. The price tag adds an additional air of authenticity.

This piece is done entirely in shards of vinyl records. A rock and roll artist who was broken by rock and roll portrayed in broken bits of rock and roll records is mildly mind-bending.

This boom box was over 9 ft high. I can't even fathom how they built it.

This was one of my favorite parts of the exhibit. I called it the Wall of Subversion since it had so many sendups of well-known pieces: Gauguin's self-portrait in Burger King cap with 'Employee of the Month' badge; portrait of Queen Elizabeth I with Elizabeth Hurley's face; Van Gogh wearing Ray Bans; Sir Henry Raeburn's 'The Skating Minister' on skateboard; Grant Wood's 'American Gothic' graffiti artists.

There's a fair amount of craftsmanship that goes into making such large, convincing pieces -- especially with a very lifelike resin Colonel Sanders popping out of one of the cans. What it all means I leave to you to decide.

Done as homage/sendup of Van Gogh's 'Bedroom in Arles', the painting samples from Banksy's iconic works and includes a 'portrait' of him wearing the requisite black hoodie. Are Banksy and Guetta one person, or two different ones sharing the same artistic vision? Does it matter? They seem to be having fun with it, and the viewers were, too.

Why bother with replica when you can have full-size?

This was one of the several pieces with an Olympics theme. Each horse is wearing one of the five colored rings of the Olympic rings, splattered with paint of the corresponding color and covered in pop images and logos.

There's a whole lot of pop art crossover happening here: Warhol-flavored Campbell's soup, which is actually a giant spray can with angel wings. There were many of these giant spray cans at the exhibit, most of them containing 'tomato spray'.
For more by Dr. Ali Binazir, click here.
For love advice for smart, strong women, get The Tao of Dating: The Smart Woman's Guide to Being Absolutely Irresistible, the highest-rated dating book on Amazon for 56 weeks running (4.9/5.0 stars). Now available as book, ebook, audiobook, and on Kindle™.
Follow Dr. Ali Binazir on Twitter: www.twitter.com/DrAliBinazir