12 Reasons I Need a Village to Raise My Kids
My husband and I have four sons. We've been lucky enough to work on schedules that allow us to have at least one parent home most of the time, and my mother-in-law generously fills in when we can't, to be helpful but also just because she likes the kids. This means our boys spend almost all of their non-school time with their mom, dad or grandma. We feel pretty self-sufficient.
Given all that time together, I like to think I know my kids fairly well. I'm pretty sure I could tell you each of their best subjects in school (gym, gym, gym and "everything"), their favorite foods (sushi, steak, mac 'n' cheese and apples) and their true gifts. We ask questions at dinner, and we listen to the answers; we talk a LOT in our family.
Still, why do I seem to learn more from others about my children than I can ever find out just by living with them? Here are 12 reasons I really do need a village to raise my kids:
1. Teachers ask them questions about me. These are often answered in ways that are instructive, even if they are not flattering!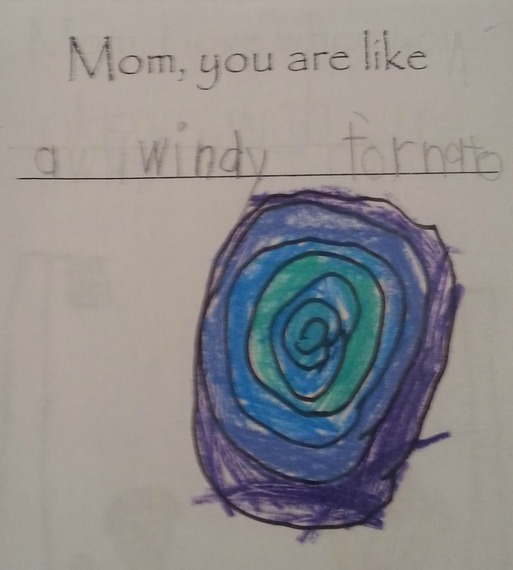 2. Friends get information I didn't know I needed. My 4-year-old stopped racing cars with the playdate friend who was over. "Where you goin'?" his friend asked. "I have to run the dishwasher," my son replied. "Why?" asked the dumbfounded preschooler. "Oh! I think my Mom doesn't know how. She always asks me to do it."
3. Religious leaders think to question when I usually just make assumptions. We recently met with a possible bar mitzvah tutor for our eldest. This man turned to our son and asked, "So, do you believe in God?" My son looked at us, and then back at the instructor. "No," he answered. "I think there probably used to be God, but the bad things that happen to kids around the world make it pretty clear there isn't anymore."
4. Coaches are willing to say things others often won't. "He's not really so great at this sport. But he could be, if he was willing to work harder."
5. Strangers give my sons chances to make a good first impression.
6. Their classmates know things. There are a lot of kids at school who get to know our children pretty well. Driving carpool or hanging out at school pickup is a chance to learn a lot about how our kids are doing.
7. They are making a name for themselves online as well. With careful supervision, we are letting our kids venture into the world of online gaming. The feedback they get there has a lot to say about their skills, but something to say about their character, too.
8. Our librarian has taught me that books can help me reach my kids' depths. From the Berenstain Bears to The Hunger Games, asking one of my kids about a book he's read often teaches me something I didn't know about the way his brain works.
9. School staff may not be formal teachers, but they work with kids for a reason. I'll be forever grateful to the cafeteria staff member who took the time to tell us that our boys always stop and thank her for lunch.
10. Firefighters and paramedics have helped us keep our children safe. We haven't needed the police yet, but we're baking them cookies, too, because with this many kids, it might only be a matter of time...
11. Our own friends want to help, when we let them. A car accident a ways from our school at pickup time involved someone who was supposed to pick up our kids. Before I even had time to think of a plan, I'd received four texts and two calls from folks who saw or heard about it, and my boys were safely delivered home.
12. Neighbors help us teach our kids the traits we need them to develop. Shoveling a driveway, taking in someone's mail, making a meal for a family down the street. Without the opportunity to reach out to others who could use a hand, we could not involve our children in making the world a better place right in our own community.
It takes this whole group of people to raise our boys. We're not really self-sufficient at all. We may be able to get our kids fed and dressed on our own, but to raise the kind of people we want to raise? We need a lot of help.
Like Us On Facebook |

Follow Us On Twitter |

Contact HuffPost Parents

Also on HuffPost:
15 Children's Health Studies From 2013 All Parents Should Read
If there's one thing that researchers have confirmed in recent years, it's that breastfeeding has benefits. And several 2013 studies uncovered even more evidence supporting that fact: One found that breastfeeding longer may help boost babies' intelligence, perhaps because breast milk contains DHA, which has been linked to cognitive development. Another suggested that breastfeeding may be protective against ADHD -- although it did not establish cause and effect (so it might be that other aspects of children's upbringing, for example, or genetics played a role).

A major American Academy of Pediatrics report issued this year concluded that the majority of medications are safe for nursing mothers, despite the fact that many women are counseled to discontinue their use. Some medications do transfer to breast milk, but the amounts tend to be small, while others do not transfer at all. The difficulty, however, is knowing which drugs are safe and which are not. "There are traditional medications, like aspirin, that have been around for years and that we have a lot of information about, we're secure in our knowledge," one doctor told HuffPost. "But there are new drugs coming out all the time, including new antidepressants and antipsychotics, and we know less about them."

Buying and sharing breast milk online has become increasingly popular, but it is not a particularly safe practice, according to data released in 2013. Researchers purchased samples from one of the most popular milk sharing websites in the U.S. and compared them to those from a milk bank (milk banks, which are regulated by the Human Milk Banking Association of North America, follow strict guidelines and pasteurize their milk). The online samples had higher levels of contamination, with 64 percent testing positive for staphylococcous, and three of the samples testing positive for salmonella. Though many parents are, understandably, eager to provide their babies breast milk and may not be able to for various reasons, there is no getting around the potential risks: "There is hardly anything that, as a buyer, you could use to determine if a given sample is safe for your baby," the study's researcher told HuffPost.

A comprehensive review conducted by the Institute of Medicine (IOM) found that the current U.S. vaccination schedule is safe, and that there is no evidence that immunizing children against polio, whooping cough, measles and other diseases leads to health issues, such as autism or asthma. While the IOM said it hopes the findings will reassure parents and health care providers that current guidelines are safe, it also called for continued monitoring, Reuters reported.

Since the advent of the "back to sleep" campaign (aimed at reducing the risk of Sudden Infant Death Syndrome), the number of babies with "positional plagiocephaly" -- medicine-speak for flat spots on their heads -- has soared. A Canada-based study found that more than 46 percent of 2- to 3-month-olds have some form of the condition (most mild). Because the researchers didn't have past figures for comparison's sake, it's entirely possible that this has long been the case, and parents and doctors are just more aware of it now; or it could be because more babies are sleeping on their backs. Whatever the reason, the good news is that flat spots tend to be totally harmless.

It's not just how much sleep kids get, but how regular it is that is important, according to a study out of the U.K. Children with consistent bedtimes scored better on reading, math and tests of spatial skills. And the effects appeared to be cumulative: Children who had inconsistent bedtimes when they were 3 (the researchers asked parents about their kids' bedtimes at ages 3, 5 and 7) scored lower at age 7. And kids who had inconsistent bedtimes at more than one of those ages showed more pronounced effects on their tests. It is not clear yet whether not having a set bedtime is simply a reflection of children living in "chaotic settings" where they were more likely to skip breakfast or have a TV in their room, the researchers wrote or whether the effect was more direct, but sleep experts say the message is clear: "I would tell you that in my estimation, the majority of parents have no idea how important sleep consistency is," one told HuffPost. "It's not because they don't care. They haven't been told."

One of the first studies to take a close look at the amount of sodium in packaged foods made for toddlers found that 70 percent of them exceeded 210 mg of sodium per serving -- the threshold researchers used to classify a food as high sodium. And some of the toddler meals had roughly half of the maximum daily recommendation. Fortunately, baby foods fared better: Almost all of the commercial foods for babies up to one year were relatively low in sodium, the researchers found.

For the first time in decades, childhood obesity rates dropped -- at least among low-income preschoolers between the ages of 2 and 4. These lower rates are, of course, good news but health experts say the overall numbers are still too high: One in 8 preschoolers in the U.S. is considered obese.

A comprehensive New York Times analysis of Centers for Disease Control and Prevention data released in 2013 uncovered a significant jump in the number of children who were diagnosed with ADHD in the past decade. Up to 11 percent of school-age children have been told they have disorder, according to the Times, for reasons that are not yet understood. It could be, for example, that there is simply more awareness of ADHD or that children are being over-diagnosed. Or, perhaps, there are factors causing ADHD to be more prevalent than before.

The prevalence of parent-reported cases of autism is up from 1 in 86 in 2007 to 1 in 50 between 2011 and 2012,

Research now shows that certain seemingly harmless things can prove risky for children. One study found that televisions injure roughly one child in the U.S. every 30 minutes -- largely by falling on them. Another showed parents should be vigilant when their children are in high chairs (around 9,400 young kids in the U.S. are injured falling off high chairs each year, it concluded). Magnets also pose a risk: The number of yearly swallowing incidents jumped from roughly one child in every 200,000 in 2002 to six per 200,00 in 2010, one study showed). And amusement rides (at parks, fairs, restaurants and malls) injure more than 4,400 children yearly).

A startling study found that when school-age children are bullied by their peers, they're twice as likely to experience so-called "psychosomatic symptoms," including headaches, stomachaches, dizziness, bed wetting and sleep problems. Sometimes, parents and teachers ignore children's physical symptoms or assume they're faking a stomachache, for example, to get out of an activity. But the study emphasizes that adults should take such symptoms seriously, as they might be a sign that something else is going on.

Words matter, and so does the way they are delivered. A study concluded that harsh verbal discipline increases childrens' risk for depression and aggressive behavior (it focused on 13 and 14-year-olds) -- in much the same way that physical punishment often does. "The negative effects of verbal discipline within the two-year period of [the] study were comparable to the effects shown over the same period of time in other studies that focused on physical discipline," one of the researchers said in a statement.

Obesity rates appear to be "cresting" among adolescents and teens, a separate study found. It also concluded that middle and high school students are engaging in healthier behaviors, like eating more fruits and vegetables and fewer sweets; skipping breakfast less often and exercising more. (The study did not establish a causal relationship between these healthier behaviors and the apparent leveling off in childhood obesity rates.) The amount of time spent watching TV also decreased, however, the amount of time teens spent playing video games or chatting online remained largely the same.

The study was highly preliminary and conducted with mice, but it nonetheless generated a lot of attention for its finding that regular marijuana use during adolescence might damage brain function, putting teens at risk for psychiatric disorders down the road. The study is not the final word (indeed, a paper published in 2012 found teen marijuana use does not appear to affect brain tissue health). But as the lead researcher explained, "Over the past 20 years, there has been a major controversy about the long-term effects of marijuana, with some evidence that use in adolescence could be damaging."
Follow Dr. G on Twitter: www.twitter.com/AskDocG