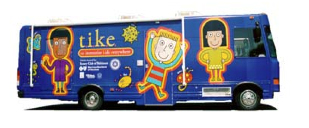 After years of underachievement in child health, a major urban center has ramped up its immunization program so that vaccination rates are now on par with the rest of the state and the nation. To achieve this, vans have been used as mobile clinics in poorly-served communities, providing free vaccines to assure timely, complete vaccination of 80 percent of children and to prevent outbreaks of infectious disease.
Although I just described events in Baltimore, something remarkably similar has taken place in Kigali, Rwanda. Here in Maryland, the US Vaccines for Children program buys vaccines and the TIKE (To Immunize Kids Everywhere) van delivers them--free of charge--to the children who need them. In Rwanda, it's the GAVI Alliance that provides the financing and the Government of Rwanda's Expanded Programme on Immunization that delivers vaccines by van, motorcycle and even bicycle.
Although an ocean apart geographically and financially, programs in America's urban centers and in developing countries like Rwanda protect children's lives by eliminating barriers to vaccine access and giving children a better shot at life.
These types of unappreciated links between domestic and global health are part of a program taking place at Johns Hopkins Bloomberg School of Public Health this Thursday. Sponsored by the GAVI Alliance, the event brings together leaders in vaccines and health from Baltimore's local and international health communities to share their successes and challenges. Leaders from the Baltimore City Health Department and the Maryland Department of Health will provide their urban and domestic perspective, while GAVI Alliance CEO Helen Evans and top officials from the ONE Campaign and Johns Hopkins will offer their international perspective.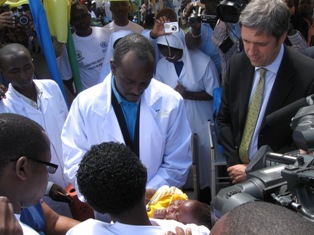 The first dose of pneumococcal vaccine in the developing world is administered in Rwanda, April 2009
While I work in Maryland, my efforts are generally focused on Africa, not Annapolis. This will be my first time meeting many of my local immunization colleagues from the city and state health departments, and it's likely many of them will be hearing about the GAVI Alliance for the first time. Fortunately our goals are not so different. All of us agree that access to life-saving vaccines should not be determined by the lottery of birthplace, and that every child deserves a healthy future, whether they are born in Baltimore or Bangalore.
Everyone can play a role in keeping kids healthy by working to immunize children in our own cities and by supporting efforts by the GAVI Alliance, UNICEF and others to make vaccines available in the developing world. Perhaps a year from now we'll look back on Thursday's meeting as the first step in linking two communities by a shared commitment to protecting all children from vaccine-preventable disease.