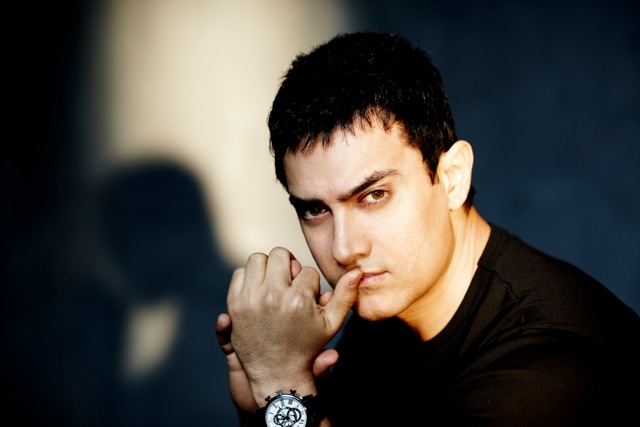 This year, the International Jury for the 61st Berlinale Film Festival reads like a momentous "who's who" of world cinema. It is a poignant lot, with a chair left vacant for judge-in-absentia Jafar Panahi, currently incarcerated in his native Iran. The jury includes Australian Oscar-winning producer Jan Chapman, Italian actress and daughter extraordinaire Isabella Rossellini, British Academy Award winning costume designer Sandy Powell and Indian cinema filmmaker Aamir Khan.
I caught up with Khan back in July and at TIFF this past September and for me, it was a world cinema lover's dream come true. Up close and personal, he is everything he appears to be in his films -- Rang De Basanti, Lagaan, Taare Zameen Par and Dhobi Ghat to name a few -- and more. He is kind, unassuming, handsome, unmistakably on time and funny. He is known in the business as a complete perfectionist. But most of all he is a Superstar, one with a capital "S," a man able to jump into the role of the villain in the hottest upcoming Bollywood sequel Dhoom 3, while also confidently holding producer's credit on his latest Aamir Khan Productions Dhobi Ghat (Mumbai Diaries) directed by his talented wife, Kiran Rao, in which he also stars as Arun. See what this mega talented man had to say about the somewhat delicate place Indian cinema holds with World cinema aficionados. Next week, I'll be posting Mr. Khan's insightful reactions to his duties at the Berlinale.
E. Nina Rothe: OK, so the Aamir Khan Productions Dhobi Ghat -- directed by your wife Kiran Rao -- was screened at the 2010 Toronto International Film Festival. Your other AKP production Peepli [Live] was the first film from India to compete at Sundance in 2010, while in 2002 Lagaan was nominated for the Best Foreign Film category at the Oscars... You've seamlessly done what everyone else in Indian cinema is struggling to do, making that elusive "crossover" hit, post Slumdog Millionaire. What do you think is the ideal project that would appeal to world audiences?
Aamir Khan: First of all, I have to say that we have such a large and healthy audience of our own in India, the fact is that none of the filmmakers have really felt the need to reach out to a world audience. And when I say really felt the need, I mean filmmakers in Argentina perhaps, or in France or Germany, different parts of the world, don't have such big and healthy audiences of their own and so they come from a situation where they really need to reach out to a world audience and an audience in the West. Because of that need to reach out, they come at it with a different energy and a set purpose in mind. I think as far as Indian films are concerned, the creative talent in India has not felt the need yet, and I hope we never do, so that we are free to make films the way we want to, and for our audiences, which is great. I have a relationship with audiences of Indian cinema, which doesn't restrict it to Indians. It's Indians, Pakistanis, Bangladeshis, Sri Lankans and people across the world who enjoy watching Indian cinema -- Bollywood -- and have been watching for some time now... So that's a great audience that I feel happy to have a relationship with. That said, I feel that mainstream Indian cinema is not always conducive or the right kind of material -- possesses the right sensibility -- for world audiences. There are a few times when it is that and I think Lagaan was one. And in the case of Lagaan we didn't push it at all. Lagaan was like a wild horse that kept traveling all over the world and we were getting pulled along. The material itself was such that it worked with people across cultures and countries and cinema has that effect. When I see Ang Lee's Crouching Tiger, Hidden Dragon, it's a Chinese film of course and I have no idea about China, but it fascinates me. It gives you a great glimpse into a different culture and it's exciting to see that. So many of us can't travel physically to so many places in the world but through cinema, you travel.
E. Nina Rothe: You used the word "Bollywood" before. How do you feel about that infamous, and somewhat controversial, term?
Aamir Khan: I don't feel good about it but over the years, over the last ten, fifteen years, I've become used to it. So it doesn't matter, it's fine. It doesn't describe any of the newer films but it's an easy way for people outside of India to understand, "Oh, Indian films, Bollywood. OK" but the fact is that Indian cinema is very varied and Hindi films are only one part of it. We have 22 languages and we make films in almost all our languages. And a lot of films are made in these other languages, Tamil, Punjabi, Malayalam. And we make different kinds of films, big mainstream films in different languages and really art-house stuff, indie kind of films being made, so there is no one kind of cinema that we make in India. But Bollywood is now stuck with us and I guess we have to live with it.
E. Nina Rothe: The projects you work on are incredibly diverse. From a true Bollywood spectacle like 3 Idiots -- one of India's highest-grossing films of all times -- to your wife's Dhobi Ghat (Mumbai Diaries) a love letter to the city of Bombay. How do you choose what you want to work on?
Aamir Khan: The truth is that I have no idea what people will like, or what will work with people, I really have no idea. But what I do have a very good idea of is what I like. So I go with what I like and what excites me, what entertains me, what engages me. And then I hope that other people will like it. Because there is no way that any of us can predict or second guess what will work with an audience. So I don't think we should even bother with that. The other important thing for me is knowing that the process is as important as the end result. You know, a film takes one or two years of your life, so what I'm doing has to make me happy and that's really key for me because I'm doing it all my life. I want to be happy while doing it. And then of course we hope that it works when it releases... So for me, that is a key thing, I have to be happy in what I'm doing, and that's how I pick my projects. There's no science to it actually. Just emotions.
E. Nina Rothe: Your achievements include writing, directing, producing and of course, acting. What is your favorite and least favorite aspect of each?
Aamir Khan: Well, producing is an easy one to focus on, I can tell you. The creative side of producing is great fun. But the financial side, or the business side, is not fun for me. It's not something I enjoy. And I have to work very hard at it, because that is a responsibility I am taking on as a producer. You know, trying to get films made, in budgets and then to try and release them well, to make sure that everyone involved earns out of their investment is a responsibility I take very seriously but it's not one I enjoy. I think as an actor... What do I not like as an actor? Let me put it this way. As a creative person or as a film person, the one thing that bothers me is when I see people working with a lack of integrity. And that bothers me all over, all across the board. If there is lack of integrity towards the work, that really bothers me.
SUBSCRIBE TO & FOLLOW ENTERTAINMENT
HuffPost Entertainment is your one-stop shop for celebrity news, hilarious late-night bits, industry and awards coverage and more — sent right to your inbox six days a week. Learn more