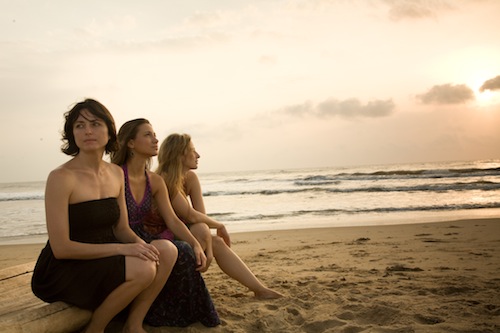 We can all agree that not much comes free these days. We may get a complimentary beverage from Starbucks for our birthday, the occasional sample from a cosmetic company trying to lure us into buying their full-sized product, maybe even some buy-one-get-one-free offer at our local supermarket, but that's really it. And as far as art, films, dance and music, it's even slimmer pickings. Culture always seems to come at a high premium in today's world, increasingly becoming intended only for the privileged few who can afford high ticket prices and outrageous museum entrance fees.
But for us lucky New Yorkers there is an upcoming film festival that promises to bring world culture to audiences for free. Yup, you read it right, the price of admission for the Dialogue of Cultures International Film Festival running from October 20th through the 23rd will be zero, zip, zilch. And the return, absolutely priceless.
I've always loved the term "armchair traveler" because certain works of art can indeed allow the viewer (or reader) to journey to distant destinations and view unfamiliar cultures without ever having to leave his or her own comfort zone. So when a film festival schedules narratives and documentaries from all around the world, including gems from the Netherlands (Bride Flight with the divine Rutger Hauer, who will be in attendance), Japan (The Sketch of Mujo), Bosnia-Herzegovina (Cirkus Columbia), Germany (Back to Africa) and Iran/Australia (My Tehran For Sale) among others, I take notice. And when that same festival uses terms like "modern nomads" and "the universal language of cinema" as their buzz words, I put the event on my must-attend list.
My Tehran For Sale is particularly poignant at this time, as the film's lead actress Marzieh Vafamehr was just sentenced this week to a year in jail and 90 lashes for starring in this Australian production. The film was shot furtively in Tehran, by filmmaker Granaz Moussavi and obviously then banned by the Iranian government for its content and themes (Vafamehr plays a stage actress who plots to flee Iran with the help of a man she meets at an underground rave). My Tehran For Sale was subsequently distributed illegally throughout the country, but New Yorkers will be able to watch it from the safety of their cinema seat.
Featured in this first edition of DCIFF -- which founder Boris Cherdabayev plans to host in a different city each year with Paris and the UAE already confirmed as the next stops in 2012 and 2013 alternatively -- are a few favorites, which include Transit Cities, Bollywood Dream, City of Life and Man Without A Cell Phone. But that's only because I have not had a chance to view everything else in the DCIFF extensive line-up, not because the other titles are any less stellar.
Ali F. Mostafa's City of Life is a film from the United Arab Emirates depicting the crude truth of Dubai, a metropolis built around the basic human instinct of greed. Work, and the immediate wealth that effort creates for all involved is what moves Dubai and I admit Mostafa's film changed the way I looked at a favorite destination. While it permanently removed the rose-colored glasses I was wearing when I traveled to the UAE, the film did create an even deeper respect for those who call the city home. And the truth always manages to set us free in the end. The film features great performances by Romanian actress Alexandra Maria Lara, Indian actors Sonu Sood and Javed Jaferi, Egyptian American comedian Ahmed Ahmed and the outstanding Canadian-Iraqi rapper The Narcicyst.
Beatriz Seigner's Bollywood Dream played earlier this year at the Hollywood Brazilian Film Festival and is the story of three Brazilian actresses who go to India to break into the film industry -- Bollywood. The film is one of the most realistic looks at modern-day India through the eyes of foreigners, and the three female leads manage to offer great insight into the Brazilian spirit and courage through their characters.
Man Without a Cell Phone is a film by Sameh Zoabi about Jawdat, a twenty-something Palestinian man living in Israel. It was a favorite at last year's Doha Tribeca Film Festival and not hard to see why. With outstanding camera angles (just watch for the scene of the five men in a car, at night, looking at pictures of scantily clad women on an cellphone to know what I mean) and great actors, Zoabi conveys the issues of generational misunderstanding, religious intolerance and navigating our ever-increasingly difficult tech world with grace and subtlety.
Finally, the US premiere of Mohammad Al Hushki's Transit Cities from Jordan will be showcased for an entire week, from October 21st through the 27th, at the Quad Cinema in the Village. This will be the only film that won't be free as part of DCIFF, but still a great bargain at just $5 a ticket. Transit Cities tells the story of a woman, Laila, returning to Amman from the US and hiding a secret from her family. While she navigates her own place in a society that no longer accepts her worldly outlook, Laila discovers that sometimes the journey home is not what we hope it to be at all, rather a voyage to the place of non-belonging that our globalized world has created in all of us, to some degree. All of us who have ever set foot outside our country, our town, even our neighborhood, in the hope of finding a better life.
To learn more about the Dialogues of Cultures International Film Festival check out the DICFF website, to reserve seats for festival screenings email your requests to tickets@dciff.net and for tickets to Transit Cities, go to the Quad website.
Top image from Bollywood Dream courtesy of DICFF, used with permission
FOLLOW HUFFPOST