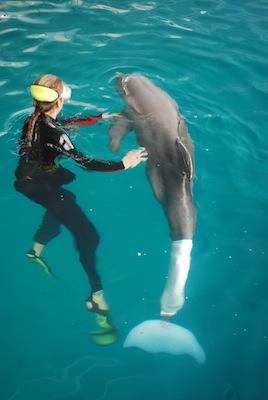 I can't help but think of the word "broken" these days, when I think of my beautiful adoptive country, our economy and the incessant sense of turmoil and discontent all around the world. "Broken" is a word strong enough to allow me to feel the hurt and indulge in some good old fashioned pessimism, while also letting through the hopefulness of envisioning that what is now injured can, and will, with time be healed.
This past weekend, the real life tale of Winter -- the wonder dolphin at the Clearwater Marine Aquarium -- conquered the number one position at the box office. It's no surprise, since Dolphin's Tale is a movie perfect for children, entertaining for the accompanying adults and makes for that rare successful combination of a true family film. But beyond the hunky talents of Harry Connick Jr., the understated marvel of Morgan Freeman and the no-nonsense beauty of Ashley Judd, the film belongs to real-life star Winter, the bottlenose dolphin with a prosthetic tail and a will of steel.
Last week, I had the honor and great pleasure of being invited to a special screening of the film hosted by Frank V. Hibbard, mayor of the town of Clearwater, Florida. Clearwater is home to the CMA where Winter resides, along with quite a few other animals rescued and rehabilitated by their dedicated staff. It does indeed take a village -- or a whole picturesque Florida town on the Gulf Coast in this case -- to create a miracle like Winter. While this dolphin who lost her tail in a crab trap has irrefutable spirit and courage, it was the message behind the film, the graciousness of Mayor Hibbard himself and the hospitality of the people of Clearwater which inspired me to sit down and write my thoughts.
Undeniably, we live in flawed times. Beyond the economic predictions and the world's general discontent, there are immediate human misfortunes that need to be addressed. Our soldiers, by the hundreds of thousands, are going to war carrying the heavy burden of a country that cannot agree on their need to fight. Then, if they are lucky enough to survive their tour of duty, they are coming home by the thousands injured and shattered. And more tragically, ashamed to show themselves in pieces to their children, friends and family.
That's exactly where a film like Dolphin's Tale becomes priceless. It teaches those around our injured heroes (which should include each and every one of us) to heal, to accept and celebrate their differences but also their courage. Like Clearwater rallied around Winter to bring her out of her predicament and make her a winner at this game called life, so we all need to rally around our troops and accept that while we may not agree with the wars, we must support them in the battles. And when they do come home "broken", we will be there to help them mend. Perhaps the most poignant moment in the film is when the little girl missing a leg says to her mother, upon first seeing Winter, "She's just like me." We are all looking for a role model to guide us through the hard times, even if that role model turns out to be a dolphin.
Dolphin's Tale is playing at a theater near you and when you are ready to meet Winter, up close and personal, Clearwater the town will welcome you with open, healing arms.
Top image of Winter with trainer, courtesy of Clearwater, Florida, used by permission
SUBSCRIBE TO & FOLLOW ENTERTAINMENT
HuffPost Entertainment is your one-stop shop for celebrity news, hilarious late-night bits, industry and awards coverage and more — sent right to your inbox six days a week. Learn more