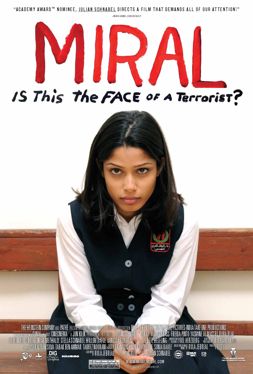 I always shy away from politics in my writing. I leave such pieces to the more capable minds of journalists and commentators whose opinion I admire. Yet for the sake of a favorite film of mine, Julian Schnabel's upcoming Miral, I'll gladly jump head first into a hot topic: the recently announced US veto of the UN Security Council resolution condemning all Israeli settlements.
I really pondered for a couple of weeks whether this would be a smart move of my part, or just a way to open a whole new can of worms, while hurting one of my favorite movies ever... But then Monday night at the UN premiere of the film -- screening in the politically charged General Assembly Hall -- political activist Yonatan Shapira pointed the finger by saying "Just two weeks ago, President Obama stood in this room and vetoed a UN resolution..." and the feelings of powerlessness in the face of this conflict without a perceivable end all came rushing back.
In the days leading up to Miral's premiere, the American Jewish Committee cried foul over the screening of the film while Israel called the UN's decision to hold the premiere there "a lack of even-handedness". Members of the AJC admittedly have never watched Miral, or read the book by Rula Jebreal on which her screenplay is based. Critics continue to misunderstand the message of peace and grace in the face of adversity that Miral holds, but thankfully celebrities such as Robert De Niro, Sean Penn, Josh Brolin, Vanessa Redgrave, Dan Rather, Steve Buscemi, Willem Dafoe, Lou Reed and CNN's Richard Quest came out to support the event on March 14th. The air inside the General Assembly was open minded and refreshingly free of conflict and disaccord.
About the recent US veto of the UN resolution "condemning all Israeli settlements established in occupied Palestinian territory since 1967 as illegal", respected Palestinian journalist Daoud Kuttab said it best, right here on the Huffington Post. He wrote "By going to the UN Security Council, the Palestinian leadership was signaling a continuation of this nonviolent path, not much different than the path taken by the courageous people of Tunis and Egypt." But it seems that in today's world, quiet courage and grace under fire don't get as much attention as violence and histrionics played out in front of the media.
Could it be that within this thinly disguised display of political and diplomatic hypocrisy lies the answer to all the negative comments directed at Miral? I've been baffled by the incomprehensible divide between the enthusiasm I witnessed firsthand at a screening of the film in Doha, Qatar -- and again last evening at the UN -- and what I have seen written about both Schnabel's film and Jebreal's novel by the same title.
While I watched this extraordinary film, both times I could not help but feel, cry, love, hope and believe like Miral, her unapologetically beautiful creator Jebreal, modern Renaissance man Schnabel and the people of Palestine -- whose soul and endurance make up the most evocative theme of Miral and give poignancy to the story. The film marks absolute perfection for me and I would not change a thing, including the choice of the melancholy song "Down There by the Train" by Tom Waits to close the story. It is a film for lovers, for dreamers, for people with hope and courage in their soul. And if you ever had to fight for something you love, you just can't help but fall in love with Miral.
But while my own sentimentality and personal trials could have gotten in the way of a totally impartial opinion of the film, at the screening I attended back in October, during the Doha Tribeca Film Festival, I realized I was not alone in my passion for Miral. After the final credits rolled and once the house lights came back on, the entire audience jumped up, teary eyed and enthusiastic, exploding in a thunderous standing ovation that lasted the better part of ten minutes.
Miral tells the story of a Palestinian girl (Freida Pinto) growing up around the 1st Intifada -- a term which in the novel Miral is poetically translated as "raising your head up, rebelling to keep your dignity". Despite the atmosphere of repression that surrounds her, Miral's winning future is secured through her father Jamal's (Alexander Siddig) unfaltering love, her mentor and teacher Hind Husseini's (Hiam Abbass) passion for education and insistence for elegance in the face of strife and her mother Nadia's (Yasmine Al Massri) self sacrifice.
Yet, even male Arab reviewers have dismissed the film, while their female Muslim literary counterparts tear into Jebreal's writing. For them, the film does not delve deep enough into the violence, the book is too much about "unorthodox Palestinian women". To me, what each critique points to is its writer's clear shortcomings in dealing with true-to-life situations and real characters, the kind who inhabit the world of grey areas we all live in, not the in-your-face occurrences we watch on TV, or see depicted in graphic images on Reuters.
Miral is a cinematic journey into a people's experience few of us are comfortable with facing, a political cause few would admit they wholeheartedly support. It is the cinematic equivalent of the UN resolution that was recently vetoed, in that it creates a very clear division, even within its seemingly moderate message. It is impossible to walk away from the story of Miral without taking a clear stand on the Palestinian struggle. The point may not be driven home with the typical screen violence or angry characters that usually inhabit stories about the occupied territories, it is instead a very personal awakening, to our own individual answer for world peace. And you can only be for it, or against it, as we now know where our current administration stands on the issue.
Like in a trial outbreak, once the offending words are out, there is no retraction, even if they don't end up on the record. The film has now pointed the finger and from there, let the doubting begin... Miral will be released by the Weinstein Company and opens in US theaters on March 25th.
SUBSCRIBE AND FOLLOW
Get top stories and blog posts emailed to me each day. Newsletters may offer personalized content or advertisements.
Learn more