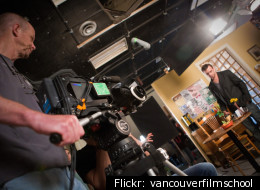 The best word to describe the upcoming Tribeca Film Festival, taking over New York City from April 18th through the 29th, is "accessible." Spread out all over downtown Manhattan, including films from all over the world, chockfull of red carpets and galas, the festival is truly an event organized by the people for the people. First started in the gloomy aftermath of 9/11 to bring vitality back to the city neighborhood hardest hit, 10 years later Tribeca has outshined all expectations and has endeared itself to film lovers as the spring festival to attend.
Yet beyond the stars, the famous organizers, the critics and world media, Tribeca is, in the words of the folks who run it, the festival that is never sold out. While single tickets have already gone on sale and most events cannot be reserved at this point, the "Rush Ticket L†ine" remains a Tribeca insider's best friend. And new this year, don't forget to check out the latest scoop on the Magnum Scene ticker, right on the TFF website.

In addition to what's screening in the theaters, there will be several cool titles and a slew of special events available through Tribeca Online -- including past gems, shorts, features and The Russian Winter, the story of John Forté from The Fugees -- as well as a whole cable On-Demand channel (1000 in New York City) devoted to Tribeca's favorite films. But as one should never forget the power of the movies at the movies, I suggest checking out these must-watch titles listed below in the theaters.
Worth the Rush Lines: A Procrastinator's Guide to the Tribeca Film Fest
"For almost one hundred years there was only one way to make a movie -- with film." Well, any movie that features Keanu Reeves and Martin Scorsese is a solid sell for me, but one that talks about the future of cinema is an absolute bible. In Side by Side filmmaker Christopher Kenneally lets Reeves do the talking and the actor (also the film's producer) interviews many of the most innovative game-changers in the world of cinema -- including James Cameron, Christopher Nolan, and Andy and Lana Wachowski -- to examine how the digital age has transformed the movies. Photo Credit: Chris Cassidy

"Buying a mirror becomes an adventure into the world of Chaabi music." To say that El Gusto is an incredible film is an understatement. First of all, Algerian-born filmmaker Safinez Bousbia created a Chaabi resurgence movement by reuniting a group of Jewish and Muslim musicians who had lost track of one another some 50 years ago in Algiers. Then she put together a film that shows the breathtaking beauty of her native country while also highlighting the resilient spirit of its most spectacular asset, the Algerian people. El Gusto is a film that simply cannot be missed! Abdelmadjid Meskoud playing mandol, facing Mustapha Thami, photo by Jakie King

"The world is worth fighting for." Just what does it mean to be a human being in today's society? That is one of the questions asked in Antonino D'Ambrosio's Let Fury Have The Hour, a documentary which combines the great power of some of today's most exciting artists and thinkers, with the spellbinding appeal of their work and music. D'Ambrosio allows people like Shepard Fairey, Eve Ensler, Wayne Kramer, Edwidge Danticat, John Sayles, Chuck D, Tom Morello and Lewis Black to teach us what it truly means to be American, while also reminding us that we are all connected in the end. Eugene Hutz of Gogol Bordello, photographed by Antonino D'Ambrosio

"Since his beloved violin was broken, Nasser Ali Khan, one of the most renowned musicians of his day, has lost all taste for life." Until TFF, I'd been running a strange and infuriating race to watch this film, always getting somewhere the day after it was screened. A shame considering it's probably the one film I've wanted to watch since before it was even made! Alright, so my statement may betray both my passions, for Marjane Satrapi's graphic novels and actor extraordinaire Mathieu Amalric (The Diving Bell and the Butterfly) but Chicken with Plums is a must watch, with a melancholic story of love lost and what life could turn out to be without music. Photo credit: Patricia Khan, Courtesy of Sony Pictures Classics

"Some secrets should have probably remained untold…" Arnon Goldfinger's enlightening documentary The Flat is a film which begins in his grandmother's apartment in Tel Aviv, upon her death, and ends up in both Nazi and modern Germany, all the while making some wonderfully important points in the process. For the granddaughter of a writer who gave up his country due to his strong anti-Hitler beliefs, the film brought to the surface some feelings I had never addressed, and raised a question I never dared to ask: Could Zionists and Nazis have shared an agenda? Photo credit: Philippe Bellaiche

"The face that launched a thousand lawsuits." If you thought a film about a painting could not possibly be as exciting as an action thriller, think again! Portrait of Wally will change your mind, with twists and turns to rival a James Bond caper, and a cast of characters that can put any detective fiction work to shame. Once again, this was a film that hit close to home and reminded me of my own family's ordeal with the Nazis, but that's where my connection ended. And a whole other fascination began, with Lea Bondi (the painting's original owner) with the plight of her relatives, with D.A. Morgenthau and last, but not least, with the great Austrian artist Egon Schiele. Egon Schiele's "Portrait of Wally" (1912) Courtesy of The Leopold Museum

"Maybe it is just enough to believe." Namir, a French filmmaker of Egyptian origins, one day watches a videotape of the Virgin Mary's apparition in Assiut. His mother, a devout Coptic Christian, sees the Virgin while Namir remains skeptical. Yet out of this family "conflict" comes the inspiration for The Virgin, The Copts and Me, a charming, thought-provoking funny film, in which we follow Namir as he discovers that you can indeed go home again, and that faith is a very personal thing, one which should never be subjected to laws and dictates. Presented at Tribeca in conjunction with the Doha Film Institute. Photo courtesy of Oweda Films

"What if only one person understands your art?" I'll preface this by saying that I'm a sucker for modern-day love stories. And if I were to choose a leading man for one of my own, after watching him in The Giant Mechanical Man it would have to be Chris Messina. Messina smolders on screen and makes living in Detroit in the dead of winter, while working at the zoo, appear SUPER cool! Jenna Fischer is the perfect female counterpart to Messina, for all you male audience members, while Topher Grace adds great comic relief, with a character he makes all his own. But remember, dinosaur minds and love non-believers need not watch this, it's strictly for the romantic at heart! Photo by Doug Emmett

"Some people say business is business. But business is not business, it's an expression of yourself." Downeast is a film that was brought to my attention by Ben Fowlie of CIFF, a cinematic insider I deeply admire for both his humanitarian principles, as well as his great taste. But what I connected with most in this documentary about one man's Don Quixotesque mission to keep a lobster-processing plant in Maine open for business, was the main subject of the film, Italian executive Antonio Bussone. While the outcome of the real story of the Live Lobster plant in Prospect Harbor Maine may not have been what I wished for in this real life tale, the film touched nerves I never even knew I possessed, and definitely has now found a new fan in yours truly. Photo by Meghan Brosnan

"Anyway You Want It." In the winter of 2008, filmmaker Ramona S. Diaz got an email from a friend titled "Best US Embassy Visa Application Story I've Ever Heard." In it, she read about aspiring Filipino singer Arnel Pineda who had applied for a US Visa in Manila claiming he was going to "audition for Journey". When Diaz researched that further, she found out that not only had he gotten the Visa and auditioned, but he had also secured the gig and was getting ready to tour with the legendary 80s band, as their new front man. Don't Stop Believin': Everyman's Journey is Pineda's success story but also a hymn to dreamers who make it happen everywhere. A great film to watch for all music lovers and those who live life to the fullest everywhere. Image © Ninfa Z. Bito

"A thoughtful profile of the fundamental contradictions of a country in transition." The beauty industry is one of the few where women can find success and empowerment in contemporary India and yet it is also where they are most criticized, by the country's fundamentalists. In Nisha Pahuja's The World Before Her, the filmmaker brings us face to face with the Miss India contestants, and the women of Durga Vahini, a wing of the Hindu fundamentalist movement, for an insightful look at a country in transition, one that will always be struggling with its opposing views of what is right and wrong. Photo courtesy of Storyline Entertainment

"A hymn to both the glory and the tragedy that comes with beauty in all forms." Trishna is Michael Winterbottom's latest and nobody can take an audience on a journey, from the comfort of their theater armchair like Winterbottom. And this film is no exception, with his exceptional portrayal of life and society in Mumbai, and Rajastan, India. He gets to the core of the caste issues faced in a country that rushes forward without thinking back, and even poked a bit of tongue-in-cheek fun at the outrageous world of Bollywood. Oh, and mark my words Riz Ahmed, who plays Jay, is the actor to watch. Photo of Freida Pinto by Marcel Zyskind

"A story that blends gory fun, friendship, love and, of course, sleepwalking cannibalism!" Eddie the Sleepwalking Cannibal is a dark comedy that winks ever so gently at the horror genre. The film stars Danish actor Thure Lindhardt who is also in Keep the Lights On at this year's TFF and whose career is about to take off internationally. While typically I'm way too chicken for horror films and need to watch violence through the cracks between my fingers, what appealed to me here was the dilemma in this story about friendship, but also about art — and how far into the abyss one is willing to go for either. Thure Lindhardt, photo by Lois Siegel

"Every heart has its own limit." In her documentary Turn Off the Lights, Serbian filmmaker Ivana Mladenovic weaves a portrait of three Roma men who are just released from prison with a voyage into their families' dynamics. A closer look reveals three very distinct and, in their own way, charismatic characters, with very different outlooks on life and their sense of survival. While some of Alex's revelations (one of the three) sent chills up my spine, this film helps to understand the challenges faced by modern-day members of the Roma culture. Photo courtesy of Strada Film
All images courtesy of Image.net and Tribeca Film Festival, used with permission.
Follow E. Nina Rothe on Twitter: www.twitter.com/ENinaRothe