With two out of three children in America not reading at grade level (see Annie E. Casey Foundation report), it's always insightful to talk to leaders within the education reform movement.
Dr. Marco Clark is an author and veteran urban educator. Superintendent of Springfield Illinois Public Schools, Dr. Walter Miton stated, "Dr. Clark offers a fresh mix of traditional and contemporary approaches to motiving troubled youth and mobilizing communities."
Recognized by U.S. Congressman John Lewis and many others, I am glad Dr. Clark could share his thoughts on how we can help our children excel.
1. You have been applauded for your ability to engage urban youth. What do you think are some keys to motivating young people?
Dr. Clark: Relationship building is key. In order to motivate young people they must first trust you. Second, you must have a clear agenda that promotes wholeness and projects future goals. Third, young people must be motivated to learn and that is achieved by demonstrating the importance of literacy and learning in relationship to future goals.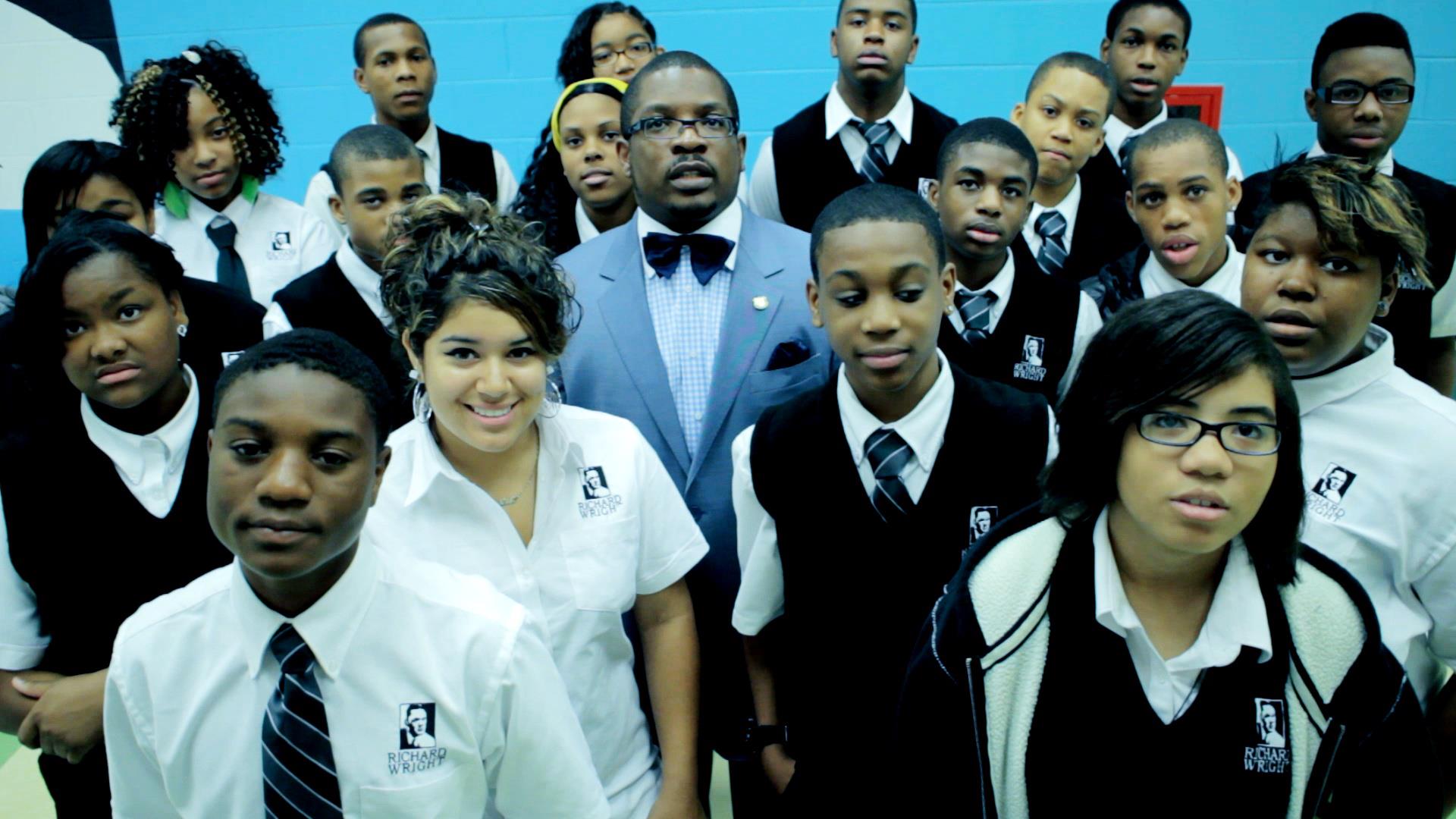 Urban education advocate Dr. Marco Clark with students (courtesy of www.richardwrightpcs.org )
Dr. Clark: I am totally convinced that the public school system is absolutely broken beyond repair. However, since the powers that exist believe that a public school system must be a part of the American culture, we must teach our kids to read. If they cannot read, how can we possibly expect them to become global competitors? I stand firm in the belief that schools which underperform should be closed and that taxpayers should not be wasting money on poor teaching, raggedy buildings or idle space which ultimately suffocates our children. These 20th century decisions in a 21st century world are leaving students with no choice and no voice in their own education.
I am a strong proponent of student choice and voice. I believe that students should have the right to attend any school they choose. In my opinion, it is a crime to force students to attend schools where learning is null and void.
3. With 2 out of 3 children not reading at grade level, early literacy assessments are crucial. Can you tell us about your support of Test Our Kids?
Dr. Clark: In my opinion, TestOurKids.com has invented the remedy to save our kids from future catastrophe because they cannot read and no one told them. It is prescriptive and designed to prevent students from moving to the next level without first ensuring that he/she has mastered the material. If we expect a 21st century student, we must have a 21st century method of instruction, assessment and prescriptive remedy for each child in need. I believe every child will benefit from being assessed.
4. Engaging parents and families can make a difference in the academic success of children. What advice would you give families?
Dr. Clark: There is no Superman that's coming to save you! I am tired of parents getting excited because a school or school district changes its leader and the kids are still failing. You can change a person and not the policies and you will get the same result. You can change the policies and not the person and you will get the same result. However, if you teach a student to read, excitement will be continuous and ever flowing. Parents must demand better and continue to be resilient until students are fully taking advantage of the tax dollars being given to them. Stop dropping the ball and complaining about the closing of a school which has been a part of the community for fifty years and kids still can't read.
Instead, demand that sports not be offered to kids until they are able to demonstrate that they are literate. Stop making excuses for why children are three and four grade levels behind and instead do something about it.
- -

We should applaud Dr. Clark and other committed educators dedicated to literacy, urban education and creating a successful future for our children.
FOLLOW HUFFPOST