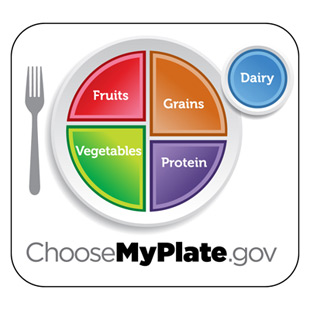 You're familiar with the food pyramid, right? Well, it's no more, so if you aren't, don't worry. (One of the highlight of my day? After the unveiling I got to meet Michelle Obama and I asked her what she ate for breakfast. Her answer? A scrambled egg, turkey sausage and fresh grapefruit. Delicious and healthy!)
The USDA has launched the new food icon, My Plate, to accompany the 2010 Dietary Guidelines (read about those here), at an event that I attended in Washington, D.C.
Honestly, I don't think the food pyramid will be missed, because America's new healthy-eating symbol -- plate(!) -- is simpler.
As a registered dietitian and the nutrition editor of EatingWell Magazine, I think that the new plate icon makes healthy choices easy. That was the resounding theme echoed by all three speakers -- U.S. Secretary of Agriculture Tom Vilsack, Surgeon General Dr. Regina Benjamin and First Lady Michelle Obama -- at the USDA's unveiling today.
If Americans make their plate look like this plate, it will propel us toward a healthier way of eating and, ultimately, a healthier nation. "I can't help but look at my own plate differently," said Michelle Obama at the unveiling. "We're implementing this in our household."
The plate delivers a reminder of what you should be eating -- at every meal -- to help you meet your daily nutritional needs. Here are 6 easy tips to make your plate match "MyPlate":
Make half your plate fruits and vegetables.
A little over a quarter of your plate should be for grains. And at least half of those grains should be whole.
Protein (as in chicken and lean beef, fish and shellfish, eggs or vegetarian sources, such as beans, peas and soy) should occupy a bit less than a quarter of your plate. Also, about 2 servings (8 ounces) a week should come from seafood.
Include low-fat dairy—or calcium-fortified soymilk.
Let the image guide you: it symbolizes what healthy eating looks like, but isn't all-encompassing. For example, there's room for treats, just keep them small in size and eat them less often.
Choose your plate wisely. A smaller plate will help you avoid oversized portions.
Wondering what a day looks like? Use the following guide to help you eat in nutritional balance. The specific amounts you should be eating every day vary depending on your age, sex and weight (to find out what you need, visit
choosemyplate.gov
), but the servings recommended by the Dietary Guidelines, shown here, apply to adults eating 2,000 calories a day.

Do you think the plate is easier to use?
By Brierley Wright, M.S., R.D.
Brierley's interest in nutrition and food come together in her position as nutrition editor at EatingWell. Brierley holds a master's degree in Nutrition Communication from the Friedman School of Nutrition Science and Policy at Tufts University. A Registered Dietitian, she completed her undergraduate degree at the University of Vermont.
Related Links from EatingWell:
SUBSCRIBE TO & FOLLOW LIFESTYLE
HuffPost Lifestyle is a daily newsletter that will make you happier and healthier — one email at a time. Learn more