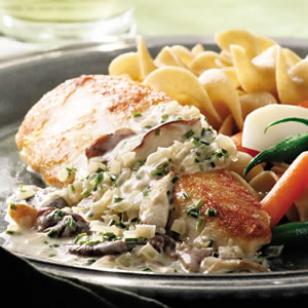 I'm one of the handful of cooks who work tirelessly in the EatingWell Test Kitchen to bring people recipes that (we hope) they'll love. We taste every recipe, and among all of us in the Test Kitchen, we have come up with dozens of our personal favorites. And so did you! We did some digging and found the 10 most popular recipes on EatingWell.com in 2010. (Check out the full list of our top 10 recipes of 2010 here!) These recipes had nearly 2 million hits and hundreds of comments among them. Check out the top 5 winners here and find out why you (and we) think they rock.
Easy Salmon Cakes
Why It's Great: This recipe was the most popular on EatingWell.com in 2010. Cooks like how easy and versatile it is. It can be made with either canned or leftover salmon, which people thought was helpful. Several commented on how the flavor was pleasantly mild (so even people who are on the fence about seafood could enjoy them).
Recipes to Try: Easy Salmon Cakes and More Easy Salmon Recipes
Chicken Breasts with Mushroom Cream Sauce
Why It's Great: This recipe seems to please everyone. Cooks commented on how the results are "restaurant quality." The chicken is moist and the mushroom cream sauce is easy to experiment with—many people enjoy trying out their own different mushroom combos. And the good news for couples: it's a recipe for two.
Recipes to Try: Chicken Breasts with Mushroom Cream Sauce and More Chicken Recipes for Two
Quick Breakfast Taco
Why It's Great: Quick breakfast ideas are always a hit and this one is no exception. How can you beat a taco for breakfast in 15 minutes? Some cooks (who had a few extra minutes to spare) added additional ingredients like peppers and diced ham to jazz it up.
Recipes to Try: Quick Breakfast Taco and More Quick Breakfast Recipes
Barbecue Pulled Chicken Why It's Great: Slow cookers have made a comeback. We love them in the Test Kitchen, and apparently so do you. This Barbecue Pulled Chicken recipe is simple to pull together and makes enough for leftovers if you're cooking for a small group. This was a hit at potlucks and even cooks who swore by pulled pork were impressed by the tenderness of the chicken.
Recipes to Try: Barbecue Pulled Chicken and More Easy Slow-Cooker Recipes
Hamburger Buddy Why It's Great: We love comfort food in the Test Kitchen. This recipe is a riff on a popular boxed dinner with some added veggies and less sodium. We seemed to hit it out of the park with this one—cooks like to fall back on this comforting dish again and again. And with 100 comments so far, some have shared with us how they made this dish their own by adding additional ingredients and flavors.
Recipes to Try: Hamburger Buddy and More Healthy Ground Beef Recipes
What is your favorite EatingWell recipe?
By Hilary Meyer

Hilary Meyer is assistant editor for EatingWell Media Group. Hilary spends much of her time in the EatingWell Test Kitchen, testing and developing healthy recipes. She is a graduate of New England Culinary Institute. More from EatingWell:
SUBSCRIBE AND FOLLOW
Get top stories and blog posts emailed to me each day. Newsletters may offer personalized content or advertisements.
Learn more