THE BLOG
Why Only A Loser Would Want Someone To Fail
We may not always agree with others, but why would we want them to fail? What makes us want to put someone down? There must be another way!
Rush Limbaugh has repeatedly said he wants President Obama to fail, as well as his administration and its agendas for economic and healthcare reform. Yesterday, Limbaugh had the audacity to warn the British Prime Minister that if he keeps "slobbering" over President Obama, he will "come down with anal poisoning and may die from it." This past Monday he said, "If Obama fails, America is saved."
Limbaugh has also ridiculed the work of Secretary of State Hillary Clinton. He has insulted her, called her a mannish lesbian, and said: "The scary thing is that she is TWICE the man Obama is."
There are times when we may need to release our frustration at such mistaken views, and using humor is one of the best ways. The DNC attempted to do this when they rolled out its anti-Limbaugh billboard.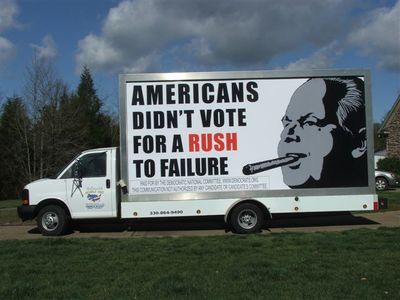 Meanwhile, Rep. Michele Bachmann (R-MN) is calling for a revolution and warning against the imminent dangers of tyranny under Barack Obama. Sean Hannity agreed with her: "You are not overstating this case, Congresswoman... And I can tell you, all around this country, on 535 of the best radio stations in this country, people are saying "Amen," "Hallelujah," "Where have you been?"
(We noted that tyranny means the cruel use of power, an oppressive government, and absolute power vested in a single ruler. Do you think it's possible Bachmann was confused and actually talking about the last administration?)
Former Vice President Dick Cheney uses fear tactics to scare and confuse people and make it appear that Obama is failing. Yet on CNN Sunday, General David Petraeus rejected Cheney's recent comments and said the US is no less safe under Obama.
Such blatant disregard for the people's choice of president, combined with the feverish desire that Obama and his policies fail--even though if they do, as Limbaugh mistakenly wants, then we all suffer--can only come from the voices of those who have already failed themselves.
When people are stuck in a negative mindset then they need to attack others in order to feel good. Only when we are down ourselves do we want to drag others down with us. Misery loves company, as it is lonely on its own. Hate breeds hate: hate yourself and you invariably want to find fault in others. Only if we are uncomfortable in our own skin will we want to get under someone else's.
When we are in a strong and healthy position, with a genuine regard for ourselves, we naturally extend that regard by wishing others succeed; when we feel comfortable with ourselves we will love and respect others.
One of our greatest attributes is the ability to take joy in another's success. Mudita is a Sanskrit term meaning sympathetic joy, when we feel joy in response to another's well-being and happiness. It is seeing the good in another person, rather than focusing on what is wrong.
Now, in essence, this sounds very easy and obvious--seeing the good and feeling joyful for another's joy--but someone else's good fortune may be at the expense of our own (they got the job but we didn't--can we still be happy for them?), or may highlight our own lack of good fortune, or challenge our self-worth and value.

Mudita confronts us with those places that are wrapped up in our ego, such as jealousy, envy, judgment and greed. Jealousy isn't going to get us anywhere other than into further pain and suffering, but how often do we wish someone does not succeed, as their success simply highlights our own sense of failure?
We judge others in comparison to our own beliefs and preferences, but it is possible to respect their choices, even if they are different to our own. Greed and self-centeredness takes us out of the present; it stops us from appreciating what we have and from being present right now.
Mudita asks that we let go of envy and comparison by seeing the other as ourselves, that there is no difference: we all experience the human condition, we breathe the same air, and we all want to be happy. Releasing judgment means stepping outside of our limited view and seeing the inter-connectedness between us all.
As mudita takes root, so we genuinely wish others be well. We actually want them to be happy! We want them to be free from suffering. We want them to succeed at whatever they do. Our happiness and their happiness are no different; we experience a deep joy in their well-being.
So what do you think of people who want someone to fail? Can you take joy in someone else's success and happiness? Feel free to leave a comment below.
If you would like to receive notices of our columns, simply click on the Become a Fan button at the top. Enjoy your week! See you next Thursday!
***
Ed and Deb Shapiro are authors of over 15 books, and lead meditation retreats and workshops. Deb is the author of the award-winning book YOUR BODY SPEAKS YOUR MIND. Their latest book, BE THE CHANGE, How Meditation Can Transform You And The World, with a Message From The Dalai Lama and a foreword by Robert Thurman, will be published in October 2009 by Sterling Ethos. They are corporate consultants, and the creators of Chillout daily inspirational text messages on Sprint cell phones. See their website: www.EdandDebShapiro.com.

This Blogger's Books and Other Items from...