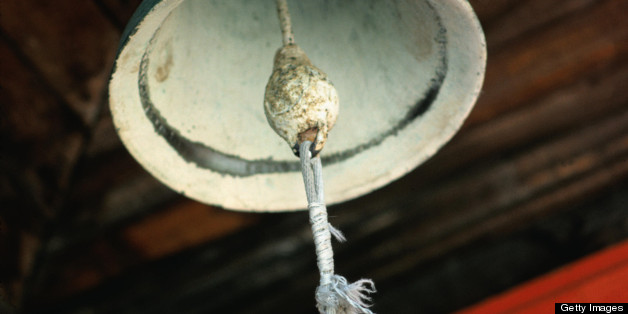 Getty Images
This week two powerful events occurred that directly involved my community and my continued devotion to meditation/mindfulness.
The first -- a local elementary school in Ohio dramatically ceased their two years of mindfulness practices because of parental concern. It seemed the basic issue was the use of a Tibetan singing bowl. And I must add that another possible reason was some recent press (a big article in December) highlighting their increased test scores/decreased behavioral issues, which then brought attention to their teaching of attention.
Then there's the second event which is local, national and global... the bombings at the Boston Marathon.
Upon hearing the news of these combined stories, one of my meditation participants stated, regarding the school, "Glad it was a bell and not a bomb." This quote has since been literally ringing in my ears.
The "ringing"... well, in my eyes, every issue/challenge in our world is related, no matter how local or global. The bombings, as the news screams it, can be seen as a "horror." Or we can look in great empathy at those who passed or were hurt and allow ourselves to question how we, on some level, have assisted in creating this scenario. And then we must choose how to move forward.
Here is my choice. I believe that this incident, which occurred at world's most well-known racing event with people pushing their bodies to amazing heights and masses cheering and rallying, is challenging us to bring back our connection to life -- to look adversity in the face and see more. To see how we can rebuild and repurpose. How we can take something tragic and bring the sense of lightness, tradition and fun back without forgetting or discarding. Can we do that? Can you do that?
How does this happen? Simply put, we search out the stories of hope and caring --the ways this event can bring us together, not apart.
And, the elementary school -- after having proven success in helping their young students, can they continue to move forward and realize that doors may seem to be closed but others will open? And at the end of the day, it is wonderful to contemplate how they were working to create what I would call a "new breed" of young people, people who would never have the heart to bomb or to hurt anyone at this magnitude.
This school had the guts to look inward and to try something new as our world continues to hurt itself and show us in our faces over and over again that something needs to change. I give this school such kudos and then think of the other schools that have suffered such heartbreak and adversity.
So, I give Boston my heart. And, I whole-heartedly support Warstler Elementary in everything that they did accomplish and how they decide to move forward.
My call to you, please think about encouraging mindfulness or simple techniques of awareness in your town, in your schools, in your community. It is time to do something that, to some, seems radical -- but can truly be done at levels that everyone can be okay with (chimes instead of Tibetan bells, for example).
I desire to hear the sounds of peaceful bells ringing versus blasts, cries or sounds of pain. How about you?
FOLLOW HUFFPOST