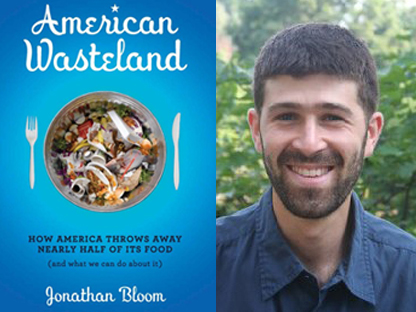 Listen to this podcast on Edible Radio.
Growing Home host Marla Camp, publisher of Edible Austin, talks to award-winning journalist and food activist Jonathan Bloom.
Bloom is a freelance journalist and food waste expert who created the blog Wasted Food and has written on topics related to food and the environment published in the New York Times, Washington Post, Boston Globe, Newsweek and Variety, among others. His new book, American Wasteland: How America Throws Away Nearly Half of Its Food (and what we can do about it) is a masterful investigation of how we waste approximately 40% of all the food that we grow or raise in this country with suggestions for how we can make simple changes in the ways we buy and eat food that will change this unsustainable equation. With its timely message and first-rate reporting, American Wasteland won the 2011 IACP Book Award in the "Food Matters" category. On this episode of Growing Home, Jonathan tells us how to discover where all this good food is falling through the cracks and how we can recover it--every day!
SUBSCRIBE TO & FOLLOW THE MORNING EMAIL
Start your workday the right way with the news that matters most. Learn more