The story starts in the beautifully appointed room occupied by a lady of leisure. Slowly -- very slowly -- she is rolling up her silvery stockings and tying them, just above the knees, with a pink ribbon. Is she aware, you wonder, that you and me are spying on her, staring up her skirts and salivating over every square inch of the shimmering silk and taffeta of her and her companion's dress?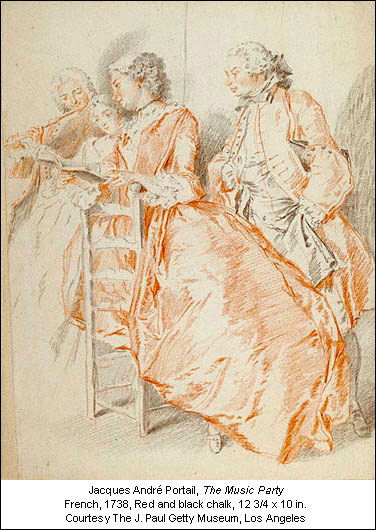 Even the staunchest of rednecks would be seduced by the luxury and indulgence of the life of the rich and famous of 18th century Paris -- so you, enlightened readers and listeners of this program, prepare to be enamored as well. Going through the new exhibition at the Getty Center, dedicated to life and luxury of the Parisian elite, it is difficult to refrain from wanting to touch the diamonds and gilded bronze, cool marble and polished wood of hundreds of exquisite art objects borrowed for this exhibition from dozens of museums around the world.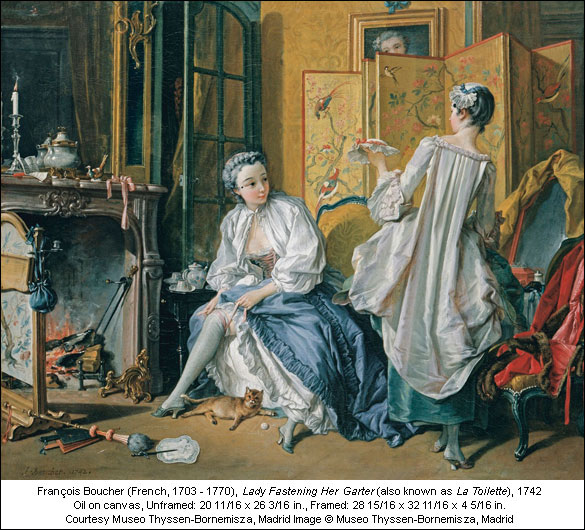 There are paintings and drawings depicting the daily routines of the French aristocracy, permitting us a privileged glance at the rituals of their activities in the morning, daytime and evening. There are sumptuously illustrated books they read, as well as an intricately decorated harpsichord and ornate microscope, hinting at their various interests. And, boy, how about this amazing, princely bed with a canopy hanging 14 feet above the floor? Just imagine a properly dressed host or hostess reclining there in late morning or early afternoon while going through the intricate ritual of receiving and greeting visitors.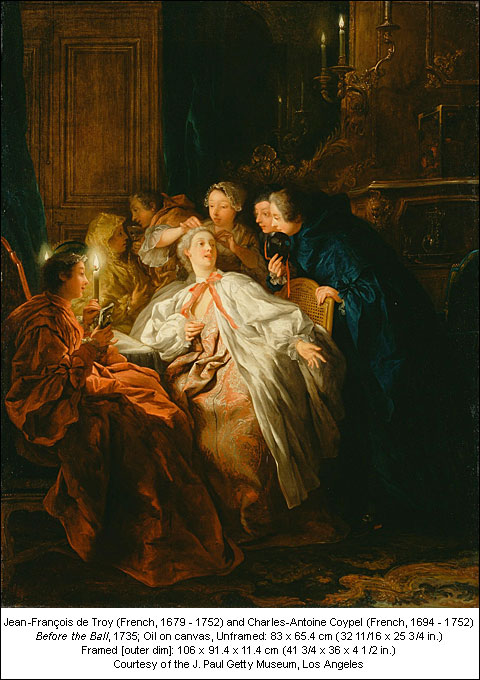 There is only one qualm I have about this thoroughly researched and well-organized exhibition and that is that it's too scholarly, too restrained in its design and presentation. It's as if the curators subconsciously resisted the very idea of luxury, which, ironically, is precisely the subject of the whole exhibition. Paging through the generously illustrated catalog, we see many of these artifacts photographed inside period rooms with beautiful silk on the walls and Aubusson rugs on the floors. But here, in the exhibition, these same objects are mostly presented in a rather isolated fashion. For example, the rare 18th century silver toilette set definitely doesn't look its best against the white enamel surface of a display cabinet. Why not show it against a richly decorated and period-appropriate fabric from the museum's textile collection? And what about this slightly off-putting presentation of the beautiful dresses on mannequins with what looks like chopped-off heads?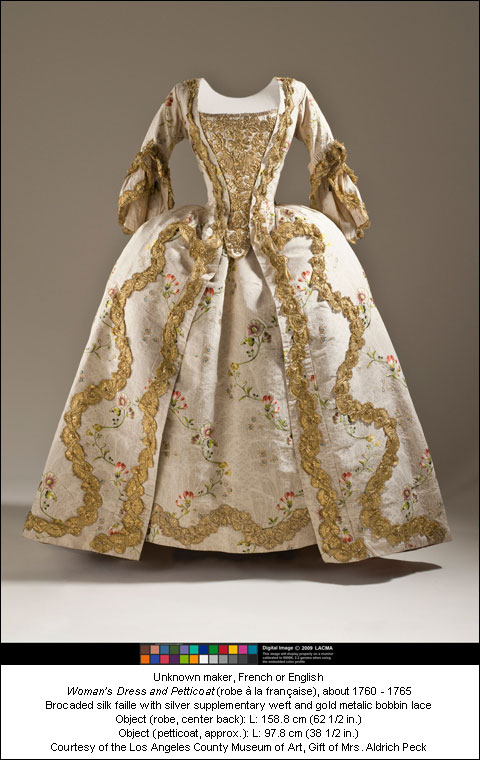 If you want the experience of full immersion into the guilty pleasures of the private lives of Parisian elite, pathetically unaware of the Revolution looming on the horizon, you need to go across the plaza to one of the Getty pavilions with its permanent exhibition devoted to French art.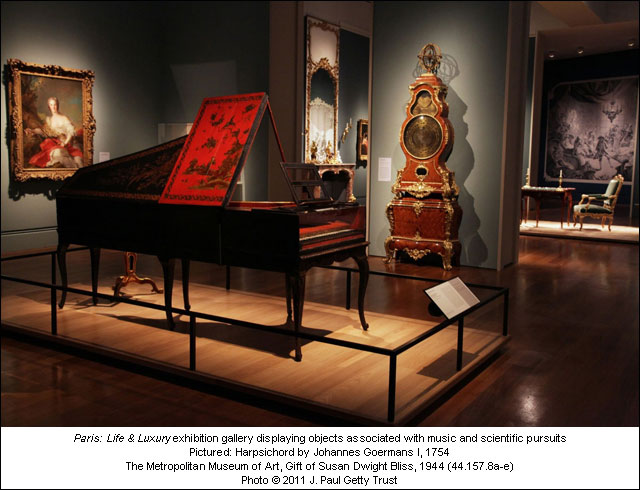 Last week, I was talking about another museum exhibition here in L.A., Art in the Streets at MOCA, with galleries bursting at their seams with the dangerous energy of urban city life. Now, with the Getty's new exhibition, we Angelenos have the chance to experience both extremes, the way Russians in the countryside, during the winter, love to sit in the steam room and then, still naked, run outside and jump into freezing water. Here in L.A., with these two exhibitions, you can do the same: first, get hot with Art in the Streets and then run across town to the Getty for the much cooler experience of Life and Luxury in 18th century Paris. But please remember, you are not in the Russian countryside anymore, so running naked is not an option.
Paris: Life & Luxury
April 26-August 7, 2011
The Getty Center, Los Angeles
Art in the Streets
April 17-August 8, 2011
MOCA's Geffen Contemporary, Los Angeles
Banner image: François Boucher (French, 1703 - 1770), Lady Fastening Her Garter (also known as La Toilette), 1742; Oil on canvas, Unframed: 20 11/16 x 26 3/16 in., Framed: 28 15/16 x 32 11/16 x 4 5/16 in.; Courtesy Museo Thyssen-Bornemisza, Madrid Image © Museo Thyssen-Bornemisza, Madrid
If you'd like to share your thoughts on today's show, you can post your comments at KCRW.com/arttalk.

To listen to the complete show and hear Edward's charming Russian accent, visit Art Talk on KCRW.
SUBSCRIBE TO & FOLLOW CULTURE SHIFT
Every Friday, HuffPost's Culture Shift newsletter helps you figure out which books you should read, art you should check out, movies you should watch and music should listen to. Learn more