Remember when this summed up Chicago?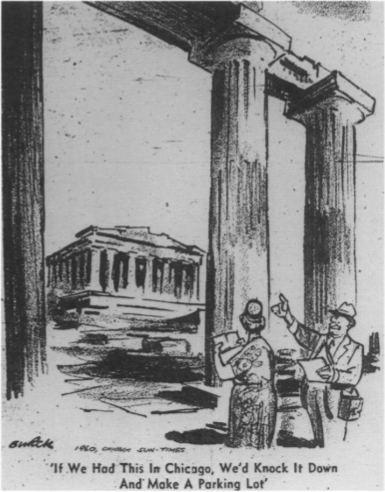 (Chicago Sun-Times, 1953)
We don't want to be like that anymore. We have learned the value of our history, right? We have a mayor who promotes local culture and beauty and Chicago as a tourist destination, right? We are America's "architecture homeland."
Ludwig Mies van der Rohe and Walter Gropius are, along with Le Corbusier, the three fathers of Modern Architecture. They changed the way the world looks. Chicago is lucky to have some of Mies' original works, such as the Illinois Institute of Technology, with its world-renowned masterpiece, Crown Hall. We also have a large campus designed with great involvement from Walter Gropius. Gropius founded and Mies later joined the influential German design school, the Bauhaus, before emigrating to America in the 1930s. How interesting that their works and thought are reunited in the 1950s on the South Side of Chicago.
Now, Mayor Daley and the city want to tear down the buildings that Gropius was involved in designing. We know he was a consultant to the local architects. New evidence is coming to light that Gropius may have been very involved in designing, along with the local firms, eight or more of the buildings at Michael Reese Hospital.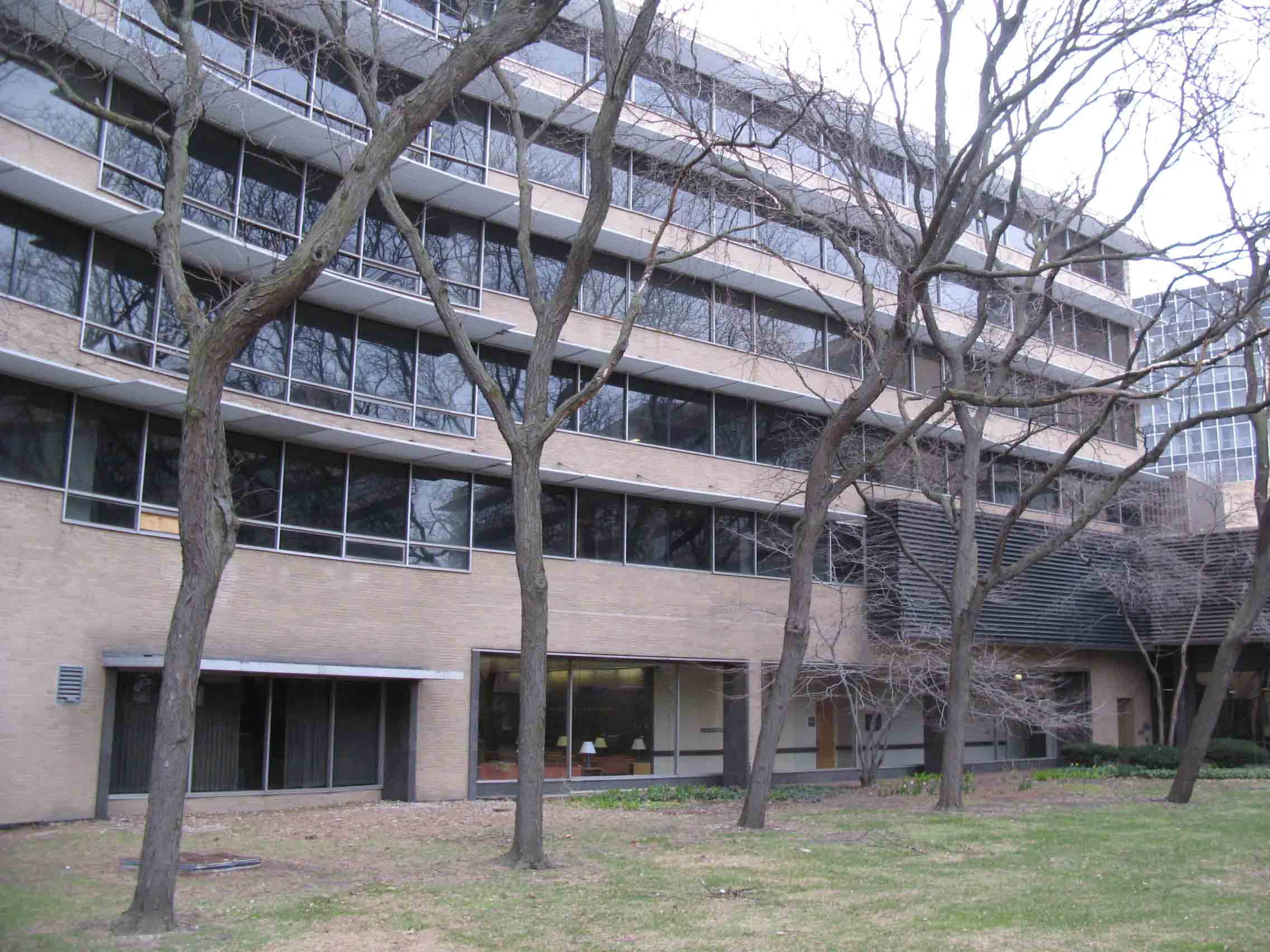 These buildings form the campus of Michael Reese Hospital. The Mayor wants the land for his Olympic Village Plaza. Great! These buildings, adaptively reused, would make a wonderful Olympic Village, with history. Even the landscape there is historic. I've written about it, with more photos and video, here.
Mayor Daley wants to be America's Green mayor. Good for him. But he has got to back it up with action. The best way to promote sustainable, environmentally responsible architecture is to adaptively reuse buildings where possible. The Michael Reese campus is the perfect place. What's there is historic and international, and restoring it would leave a great Olympic legacy: A story of German architects finding a home in America, and doing great work, after World War II. At Michael Reese the work was even for a Jewish organization.
The Mies building that would come down is a little brick structure designed and built to mark the southwest corner of the IIT campus, among other things. Metra wants to yank it down to put up a rail station. They have vacant land to the south and the west, and moving it south would make it more convenient for the many White Sox fans who will use the stop. But the rail company wants to put it right where a little brick building with two long brick walls built by Ludwig Mies van der Rohe stands. More information and photos here. If Mies said, "Less is more," he did not mean of his own work.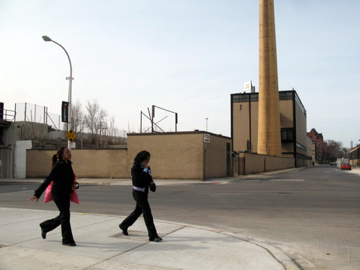 The walls and building by Mies to be torn down start at the tracks on the left, make the corner, and then run all the way to the power plant.
Dear Metra, do the right thing. Either move your station to the west side of the tracks, closer to U.S. Cellular Field, or to the south side of 35th Street, saving baseball fans from having to cross that street, busy with traffic at game time. Or, keep the Mies buildings, and work the station around them. That does not look difficult. You could even work with IIT to put up an information booth in the station about the worldwide importance of Mies van der Rohe. You'll have a station incorporating historic architecture. "Win-win," as they say. Isn't this better than tearing it down?
A note, in jest: If Chicago is going to tear down works by Mies and Gropius, then I think it's only fair that Cambridge, Massachusetts, knock down the only building in America wholly designed by Le Corbusier, the Carpenter Center. Let's knock down all those modernists. Before people come around to really appreciating them.
Edward Lifson blogs about cities, buildings and beauty, at Hello Beautiful! He loves a lot of contemporary architecture, and understands the profit to be made in demolition and new construction. He just wants to keep the best of the old, and believes that great cities are layers of their history, demonstrating who the people were who lived there during a series of eras.
SUBSCRIBE TO & FOLLOW THE MORNING EMAIL
The Morning Email helps you start your workday with everything you need to know: breaking news, entertainment and a dash of fun. Learn more