THE BLOG
Chicago Debates -- The Malling of Chicago
Right after Thanksgiving the shopping gets wild. Where will you shop? In the malls? In the city, in the suburbs? Does Chicago need more malls, or is this great city getting suburbanized?
Think about it:
On the North Side: By Wrigley Field -- Addison Park on Clark. A $100 million, mixed-use development slated to go up across the street from Wrigley Field.

Downtown: Block 37, aka 108 N. State. Nearly three acres of mostly chain stores, movie theaters, food stores and restaurants.
On the South Side: A 150,000 sq. ft. Walmart Super Center planned to anchor Pullman Park.
We could go on and on. In the twentieth century, Chicago was proud to be the "City of the Century". But is Chicago becoming the "Suburb of the Century" in the twenty-first? Are big box retailers eating up our neighborhoods? Can you live well around here without a car? What's happening to our public transit? Is the land of Sullivan and Wright becoming generic Anyplace, USA? Do our developers deaden us with banal, bland buildings? Are we becoming less of a city in which to stroll?
The Chicago Architecture Foundation (CAF) will debate these topics and ask for your input on December 1st when they kick off a series called Chicago Debates.
It's all free.

No-holds barred, thoughtful, lively, solution-oriented conversations. The first debate will take place Wednesday, December 1, at Goose Island Brewery in Wrigleyville from 6 to 7:30 pm.
Enroll here.
The Malling of Chicago: Good or Bad?
The debaters will be:
Ben Joravsky - Journalist, Chicago Reader
John Lahey - Chairman and President, Solomon Cordwell Buenz
Chris Robling - Principal, Jayne Thompson & Associates
Linda Searl, FAIA - Chair of the Chicago Plan Commission
Jonathan Fine - Executive Director, Preservation Chicago
Edward Lifson - debate moderater

Each of them will take a strong position -- pro or con -- on: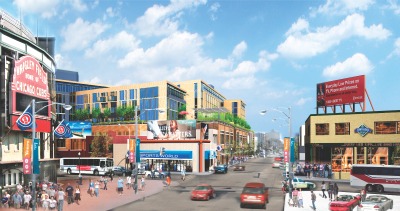 Malling the North Side: Addison Park on Clark -- A $100 million mixed-use development across the street from Wrigley Field, at Addison and Clark. Some local bar, theater and restaurant owners have lambasted the project, saying it will "suburbanize" the neighborhood, and some of those current residents will have to move to make way for a new eight-story hotel, 135 residential units, national chain stores and other retail space, and 399 underground parking spaces. They say Wrigleyville is already hip and cool and this could ruin it. The developer says this "public transit-oriented and environmentally sensitive development" will "help improve an underutilized, open asphalt parking lot at the center of the neighborhood; widen area sidewalks; increase open and green space; and is projected to create several hundred jobs during construction and ongoing operations." Furthermore it will "address the critical need for modern hotel space" in the area, according to the developer's website. After early renderings were criticized, the developer altered the design and reduced the height of the buildings, but the Tribune's architecture critic says it's still "no design home run." Are you Pro or Con?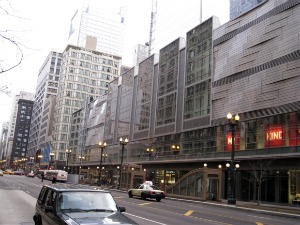 Malling the Loop: Block 37, aka 108 North State Street -- bordered by State, Randolph, Dearborn and Washington streets, the North Loop "Block 37" encompasses an entire city block in the heart of downtown. Years ago this nearly three acre plot of land was once about as urban as could be- with independently owned shops, movie theaters, food stores and restaurants. Then it was empty, some said cursed, and the city missed the tax revenues that such a central parcel could generate. After several false starts, a mall was born: a multi-story shopping mall, and the ground-level open to the street studios of WBBM-TV. Architecture critics have called the still-unfinished project a major disappointment.

Many of the stores and restaurants are the same as those found in any mall anywhere. Inside is a skylit atrium, with escalators as in any suburban shopping mall, but also with views of the city, with landmarks such as the Picasso sculpture across the street in Daley Plaza. Movie theaters are planned, and the roof will be accessible. Luxury hotel and residential towers could be built above the mall, when the economy picks up.
What would have been a grand urban move -- a Chicago Transit Authority "superstation" underneath, to take travelers on express trains to O'Hare and Midway airports has been mothballed for the foreseeable future. The center does connect to the underground pedway and to the CTA Red and Blue lines. Once it's complete it'll have a green roof and seek LEED (the U.S. Green Building Council's Leadership in Energy and Environmental Design (LEED™)) certification.
Maybe this plot should have remained a park? True, it generates taxes and downtown activity, and more tenants will move in as the economy improves, but some say that as built, Block 37 will always lack a truly urban edge. Are you Pro or Con?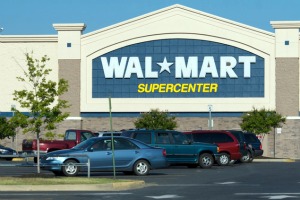 Malling the South Side: Walmart - A 150,000-sq. ft Walmart Super Center that sells groceries. It is planned to anchor Pullman Park, a 180-acre residential, commercial and retailing complex near Pullman at 111th and the Bishop Ford Freeway. The project could employ hundreds of people including many community residents.
Pullman is currently one of the poorest neighborhoods in Chicago, with few no retail or recreational facilities. it's what's called a "food desert," residents must leave the area to shop, even for necessities such as groceries. "Pullman Park" would give the residents local shopping options. And Walmart has agreed to pay a higher starting wage than it normally does, although still lower than what many Chicago aldermen and labor leaders wanted; Walmart will offer a $8.75/hr starting wage in Pullman. The improved tax base should improve public education, public health and human services in the area.
The project comes with a master plan of parks for recreation, more retail including another big box, also discussed are a hotel, a school, and hundreds of housing units including affordable housing, all to be phased in over the next ten years. Sustainability is heeded. The buildings will have "green roofs". The parking lot will be landscaped, with permeable pavers. The site will have zero storm water runoff, with three retention ponds.

Walmart has been trying to increase its presence in Chicago for several years. This store could be the first of many new Chicago Walmarts, which would change the face of retailing in Chicago, and put greater pressure on smaller stores. Are you Pro or Con?

We'll ask for audience participation all through the debate. You'll get a chance to vote on who makes the more convincing argument. It's your forum.

If you care about our city, be a part of the debate. If you care about the quality of life here, be a part of the debate. For no-holds barred, real, thoughtful, lively, solution-oriented conversations, be a part of the debate. We're losing our Mayor, but we'll maintain the mojo.
Be a part of the debate.
Chicago Debates. Wednesday, December 1, at Goose Island Brewery in Wrigleyville from 6 - 7:30 pm. Sign up now. Make your voice heard.
Edward Lifson blogs at Hello Beautiful!