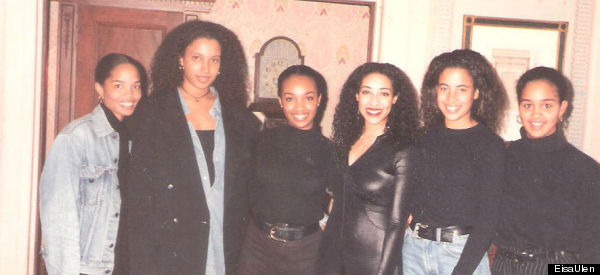 I do not want to write in the past tense. I must use the past tense not only because I am writing about the past, but also because I am writing about right now. This present. This presence. My sister. Our dear, lovely, amazing, wonderful, smart, sharp sister. Who is now gone from this earth, and yet so very present. A presence.
As I stood in JFK and heard Nikki say, "I can't even believe I'm telling you this and you're at the airport," I felt the last moment of my personal stability tick tock away. In the next breath she told me about Erica. Our Erica. Our sister Erica. A sound came out of me, and I cried, and I didn't care that others were watching me as this sound came out of me and I cried. And I have been unstable ever since.
But this is not about me. It is about our girlfriend. I am supposed to communicate to the world what she meant to us. I do not think this is possible. She is - was - too too far beyond words. How am I to communicate her love, expressed with a simple brush of cheek against cheek? The delight in her smile, the way she gazed at our children, the ones Aisha, Rachel, and I brought into this world and our circle, and whom she loved so deeply simply because they, of course, were her children, too? How can I tell you, The World, what she meant to us all? How I am crying right now as I type this because it hurts too much to write about her this way?
I do not think I can communicate how she made us feel. So, I will try to share what. What we did, and how we did it, and when we did it, and with whom. I will try to express friendship that spanned over two decades. That was supposed to last a lifetime.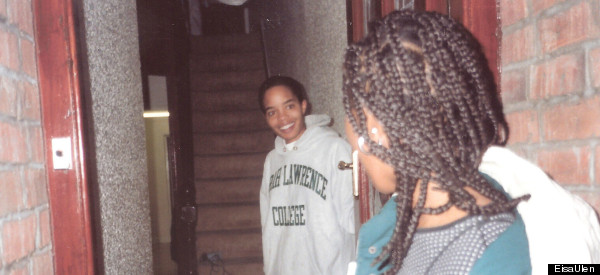 As I pulled pictures to go with these words, I remembered how bright and beautiful she always was. How it all came together. I remembered where it all began.
This is one memory: We are at Alfred's Ocean Palace, and Alfred's Ocean Palace is a wooden shack on the beach. Aisha, Rachel, Erica, and I lie together on a bed and talk. I remember feeling beautiful, with all of them, together like that, in this shack on the beach.
Nikki and Jane have run outside, through the parking lot, to the only guest shower on the property, a pipe with a spigot and one knob set on cold. Cinder blocks surround the pipe and reach up toward the open sky. We have all run to that shower for 2 weeks now, trying to bathe at that precise moment when it is too late in the day to swim or sunbathe, but well before it is night. When the sun is low but the air is still warm. This is the only time our bodies can take the cold that shoots from the spigot as it blasts salt and sand from our skin.
Aisha, Rachel, Erica, and I lie together and wait for them, and we talk. I do not remember what we talk about. This was 22 years ago. I only remember the feeling. It is warm and right. It is beautiful. We are beautiful, all of us, together. We talk and laugh but we are quiet, too. For long stretches we just lie there in the silence at dusk. We are somewhere between day and night. We are somewhere between girl and woman. This will last forever, I think. This is sisterhood. I know I felt that then. I felt, 'Yes. These are my sisters.'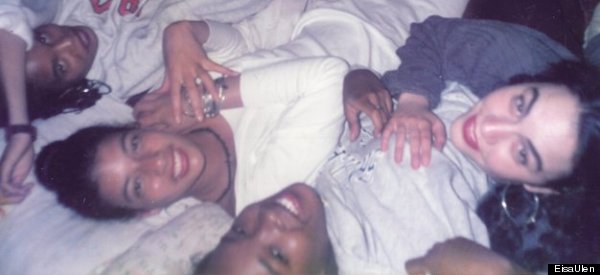 Many years later, Rachel will have a baby. She will have a girl. She will name her Jamaica. She never has to explain to any of us why she chooses this name for her daughter.
On the return flight from the island, the plane shook and bounced and rattled, and I was wide awake and in prayer. I was never good at flying. Erica reached out from her sleep, reached out from the folds of the blanket that was wrapped around her like a chrysalis. She reached out to hold my hand. She kept me safe like that.
And she kept me safe like this: I remember when I was about to jump on a moped with a friend, and I was putting on my really cute shoes, and she said, "Eisa, are you going on Gree's moped tonight?" And I said yeah and kept chatting to Aisha and she said, "Eisa, put on your sneakers." And I was like no way, and I kept chatting. And she said, "Eisa, you don't need to ride on a moped with sandals." And I finally stopped chatting and said why not? And she said really fast and a little louder, "Because anything could happen on that bike and you need to be ready and you can't do shit in those sandals." And I was like, whatever Erica. And she got real low and said, "Eisa, I want you to wear your sneakers." And I looked her in the eye and said no. And she stamped her foot and said, "Eisa, take those sandals off and put your damn sneakers on now." And I got real quiet after that and for, like, a second, nothing happened.
I have a picture of Gree and me on the moped that night. I am smiling and safe. I am also wearing my Tretorns.
I remember her at Oxford, showing Aisha and me her room, her friends, her life there.
During that same trip to Europe, Erica and I danced at a concert at Hammersmith Odeon. We were at Jazz to Pop to Soul. Or Jazz to Soul to Hip Hop. Or something like that. This was 21 years ago. Anyway, we were backstage with the Hip Hop groups who performed that night, and I was starving. I had not eaten much since landing at Gatwick, racing to the hotel to meet Erica, and heading into the London streets. I was eating oranges. There was a bowl of oranges in the greenroom, and I was eating orange after orange after orange. So I remember those oranges. And partying with my girl. Both memories are sweet.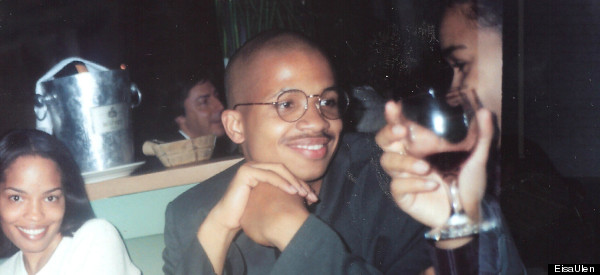 I remember walking through the flea market on West 4th here in New York to buy those prairie print dresses we actually looked pretty good in.
I remember sitting in her dorm room at Sarah Lawrence every Thursday at 8:00 sharp. Nikki would drive us to get KFC, and we would go to Erica's and turn on NBC. And Erica would eat chocolate chip cookie dough from the log. Raw. The whole thing. She did that every week.
But there are more memories to help you see her, who Erica was. Aisha says, "I remember many trips to Red Lobster with Erica because she loved their cheesy bread. I remember her asking me if I would read her first few draft chapters of Bling and feeling very honored that she really trusted me and respected my opinion. We became even closer friends after I had my children because Erica loved kids and had a natural way with them."
But this doesn't really express how important Aisha was to Erica. Rachel called Aisha Erica's lifeline. She was right. Aisha was Erica's lifeline. I think The World should know that.
When Erica went away to Oxford, she called Nikki and told her all about her life, filling her in so Nikki almost felt like she was going to Oxford, too. "She would tell me where she would ride her bike to go get her hair done," one of the most important details to share with a sister. When Erica was coming back to Sarah Lawrence, she called Nikki and said, "I'm coming back. And I wanna live with you." Nikki didn't hesitate. "Done." They were suitemates, sharing two rooms with a bathroom to join them, their senior year.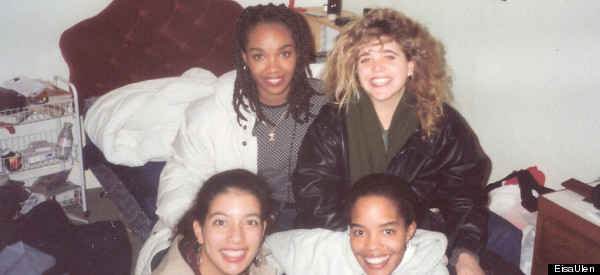 Does this express the time spent talking together about politics, celebrity gossip, guys, world events, fears, hopes, and - yes - hair? Does it express the depth of emotion when Nikki says, "Being an only child, she's always been my sister."
A fierce sister. Tatiana said,
"The thing I admired so much about Erica is that she deferred to no one. Shortly after Miramax optioned her first novel Bling, she called me at The Hollywood Reporter, and we were talking about the deal's press coverage. I was able to get a photo of Erica in the paper -- a beautiful one, natch. But she was outraged that Variety ran a photo of Harvey Weinstein instead of her. 'It's not like he wrote the book,' she deadpanned. And I just had to laugh. She was right, of course. Most people would have been satisfied to take second billing to an Oscar winner. But not Erica. And that was the kind of hutzpah that so defined her for me."
But this doesn't tell The World how Tatiana came into our circle after we'd all graduated, and how we named her an honorary Sarah Lawrence alum even before she married a guy who did go to college with us. And this story also doesn't tell how Erica and Tatiana would banter. All the time. How they cracked each other up, and admired each other's snazzy one-liners.
I could tell The World what Rachel remembers, which tells so much about our Erica:
"You and Aish were taking your junior year away. I was basically on my own. I signed up for "Slavery, Civil War, and Reconstruction." There were a few white peeps in the class but mostly it was women of color. Erica was a freshman and obviously I noticed her. Strong and quiet. Beautiful. Maybe a little intimidating, though she was two years my junior. Remember I was one of the only white girls in a class with a pretty charged topic. One day, we were two of a few left in the room. I was pulling my curly hair back into a pony tail and fussing with the little wisps of hair that stuck out above my ears. Pressing them back, wishing they'd grow. Erica was quietly, intently watching me. I noticed and finally, bravely offered 'I have these pieces of hair, I just can't get them to stay down. They don't grow. It's so annoying.' Erica said, 'So, you're saying you have breakage.'
Breakage? I never heard of it. What a revelation!
I answered, 'Yes, I do.'
To which Erica said in that inimitable Erica straight-faced way 'that's very Black of you, Rachel.'
After that we were friends."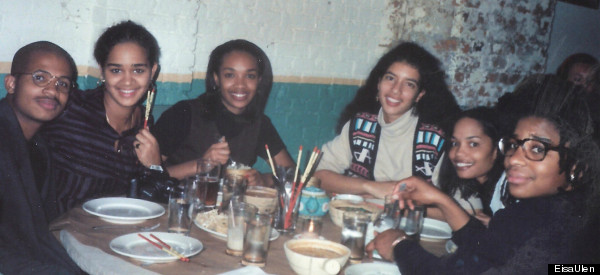 I wish I had space to describe to The World the beat and pulse and energy of Hip Hop in the 80s, when Erica and Rachel would be in the city dancing. The way you dance with your girl in baggy jeans and jackets and knapsacks and feel, know, you are in a moment together. A moment as big as Hip Hop in New York in the 80s. The way they rolled liked that through the city.
The city was about 30 minutes away from where we all lived together in college. And we all did live together there. Going to Sarah Lawrence with less than 999 other undergraduates was kinda like growing up on one 1,000 person family estate. It was like living with family. Erica treated her girls like family.
Just a few years ago, when Aisha and Erica started Diego Garcia they had a sale at Aisha's house in the Hamptons. Camille happened to be visiting that weekend, and she bought one skirt but agonized over two dresses. Camille was freelancing back then and could only afford one. She made her choice, regretted not having the resources to buy both, and went for a swim. When she came back, Erica had folded the dress Camille couldn't afford and placed it on her bed.
It was the sweetest gesture but not a total surprise. Does it tell The World how she gave without gush, without pomp or expectation?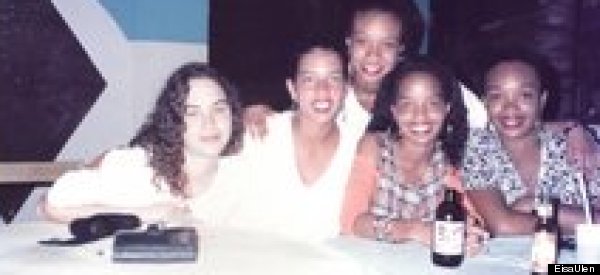 And she gave us all The Lobster Theory, a treatise on womanhood that she developed during her year at Oxford, two decades before the publication of Feminista. Erica typed it and printed it and stapled it together and mailed it, Par Avion, with hand-written notes to us all. When I read it, I told her what I thought. "You're a really good writer, Erica," I said on the phone. "Really good." I can tell you we will always have The Lobster Theory of Love, but I can't tell you the actual Lobster Theory. (I just can't.)
So I will ask you to stay with me as I tell you, The World, this story, this memory. I think it might be all I have left to give you:
We sped down the Hudson River Parkway, away from the rolling lawns and stone buildings of our tiny suburban college and into the night, into the flashing lights, and the blasting air of the city. I drove, flipped from BLS to KISS, and pressed harder on the gas pedal, fueled by the Friday night master mix and the hot air of righteousness fogging the windows of Nikki's Ford Festiva.
We were on our way to CBGB's to confront the lead singer of a certain rock band. He had been dating Rachel, had stopped dating her, and had her belt, a really nice belt. We were determined to get it back. To get him back. You know.
It was about the belt but, like, it wasn't.
Anyway, we roared into the city, strode backstage (not a difficult thing for us at all), and I do remember my finger and neck moving back and forth. He was penitent, even pensive. He swore he would send Rachel the belt.
We showed him.
After the show we girls sat in the car eating St. Marks pizza. And then, this happened:
A taxi driver and his fare got into a fight, the cab U-turned on 3rd Avenue and hit the taxi double parked next to the Ford Festiva, which hit us, and the fare pulled the taxi driver out the window of the taxi and threw him on the hood of the taxi that had banged into us, and also threw him on the hood of the Ford Festiva, and hit him, a lot, and we screamed, a lot, and for a long time this lasted, and then the fare strode off, and eventually the police came, and the police officer told me to just stay in the car while he wrote a report (which we found out later was a false report with no contact information and eventually figured the taxi driver must've given up that night's money to pay off the cop), and then after all that it started to snow, and I was like, 'There is no way I am gonna drive us back to Sarah Lawrence,' and so I walked to a pay phone and Sky-Paged the DJ of a certain Hip Hop group with my code, and he called me back on the pay phone, and I was like, 'Yo, you gotta come get us now!' and within minutes he and Randy drove over from Chung King, and I followed his black car with the red; black; and green flag on the antenna to his black on black on black apartment, and me and my girls ended up picking out afro wigs for a big part of that night before we settled in enough to really crash and sleep until the next morning when we drove back to school in a busted up Ford Festiva that would never get properly repaired since we would never be able to file an insurance claim with the fake report the cop wrote out.
And after all that, Erica just said, "Told you you shouldn't go."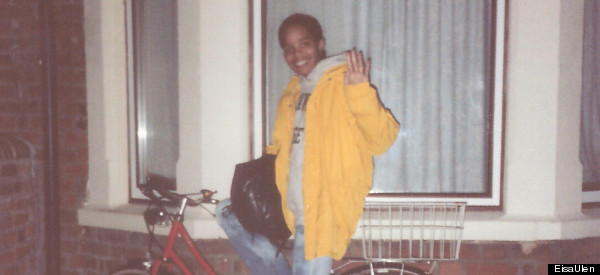 See, it was Aisha, and Rachel, and Nikki, and I in a Ford Festiva. Erica refused to go with us. When we pow-wowed in her dorm room about how we just HAD to get the belt back, Erica, in her infinite wisdom, told us this: "Like, I don't get it."
And when we tried to convince her that this was our mission, that we just had to accept it, she simply said this: "You shouldn't go. This is stupid." And when we were all like, "We are going" she was like, "Whatever." And she rather dramatically shook her duvet and got in the bed.
She was right, of course. The guy never even sent Rachel her belt.
And so even though Erica wasn't in the car with us, the story is incomplete without her. Her "Told you you shouldn't go" the next morning has echoed these 22 years since and will sound on a lower frequency in my brain for the rest of my life.
It was a hall-of-fame, classic, wild, crazy, bananas college experience. And so of course she was in the car with us, the whole way there and back, even though she was the only one with sense enough to know not to be.
Erica was always smarter than us. Than all of us put together.
I like to think of us all rolling together like we did that night we went after Rachel's belt. Rolling into the decades waiting for us up ahead. Erica won't ever be in the car with us. Not ever again. But the story, our story, will never be complete without her. She will always be riding with us. Somehow. Her presence guiding us, wisely, into our uncertain future. Her voice will echo in the stories we will remember and tell when we reach that future. We'll conjure her name, our energy willing her presence back to us. Erica will be with us that way. Always.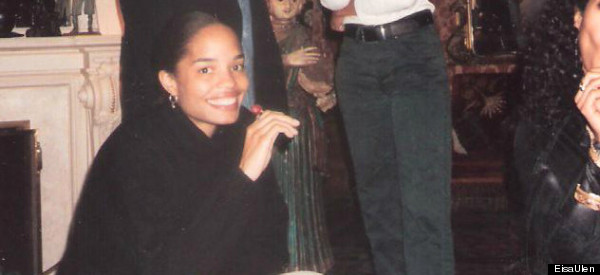 Editors Note: In addition to Eisa's words, Erica's dear friends Aisha Salmon, Rachel Loeb, Ni'Cole Prescott, Camille Lowry, Tatiana Siegel, and Jane Malloy all contributed thoughts and memories. Lastly, we'd all like to thank Kevin Powell for connecting HuffPost with Erica's friends and helping to make this post possible