Since this is my first post, I'll share a little background info with you. I've recently started a business called First Helpings: Family to Table Cooking, offering private, at-home cooking lessons for parents and kids together. Since I'm never one to measure or follow directions while I cook, I had to do some testing for First Helpings to create recipes that my clients could actually follow. "First Helpings: Taste Testers" is my way of documenting and sharing my recipe testing process. Here goes...
For my first round of taste tests for First Helpings I employed some of my oldest friends. We went to sleep-away camp together from the time we were 10, and let me tell you: they like to eat. It seemed appropriate that I have childhood friends offer their discerning palates to select my best version of mac n' cheese.
While browsing the aisles of Whole Foods, I came across whole wheat macaroni and whole wheat bread crumbs. While I hadn't really thought about it before, I decided that I'd have to experiment with these whole wheat options for mac n' cheese. I also wanted to incorporate a vegetable to add some nutritional value to this otherwise not-so-healthy dish. I thought about broccoli or carrots, but decided on sweet peas because they were the right size and a beautiful, bright green color. Time to head back to the kitchen and get testing.
For the several versions of mac n' cheese I planned to make, I prepared one giant pot of bechamel and added lots of cheddar, grueyere, and fontina cheese to it.
To make a bechamel, you melt butter and whisk in equal parts flour. Whisk constantly till it becomes a beautiful golden brown and then add cold milk. Stir for a few minutes until the mixture thickens. Voila -- a bechamel! Adding cheese to this technically makes it a "mornay" sauce, but we won't get into that now.
From this cheesy deliciousness I began to experiment with different variations. Using the whole wheat macaroni I made one mac n' cheese with sweet peas, and one with sliced tomatoes. Using the plain macaroni I made a version with truffle oil, one with chulula (my absolute favorite hot sauce), and then a traditional. For all my mac n' cheese I put a bread crumb topping for crunch (whole wheat bread crumbs with the whole wheat pasta and plain with the plain).

My tasters were pleasantly surprised to see that the whole wheat versions were actually tastier. The nuttiness of the whole wheat pasta paired really beautifully with the cheesy, gooey sauce. Even more surprising (and exciting), the sweet pea mac n' cheese was the favorite overall! Go vegetables! The peas held their texture and color in the dish, and when you took a bite, their sweetness popped in your mouth. Of course the truffle, chulula, and traditional versions were also delicious, but we decided on "Sweet Pea Mac n' Cheese" for First Helpings' menu.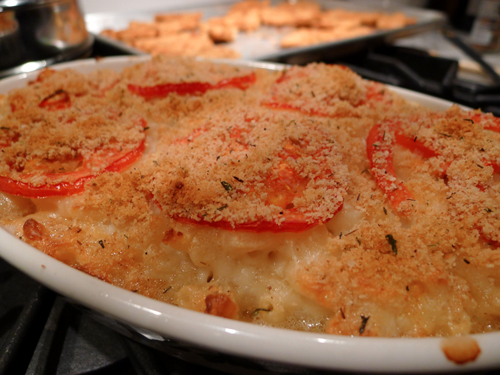 1 lb whole wheat elbows
1 quart whole milk
8 oz cheddar cheese, grated
8 oz gruyere cheese, grated
4 oz fontina cheese, grated
1 cup butter
1 cup flour
2 bags frozen peas
1 tsp butter
2 tbsp whole wheat bread crumbs
Preheat oven to 400
Bring a pot of salted water to a boil, drop peas in. Once the water is back at a boil, remove the peas and rinse in cold water to stop cooking. Set aside.
Melt 1 cup butter
Whisk in 1 cup flour, keep whisking till golden brown
Add milk and stir to medium thickness (3-5 mins)
Stir in grated cheese off heat
Cook pasta (cook for half the time suggested on the box)
Add pasta and peas to cheese sauce
Pour into a greased baking dish
Melt 1 tsp butter, toast 2 tbsp whole wheat bread crumbs in the butter
Sprinkle on top of mac n' cheese
Bake on top rack till bubbling (about 20-30 mins)
SUBSCRIBE TO & FOLLOW LIFESTYLE
HuffPost Lifestyle is a daily newsletter that will make you happier and healthier — one email at a time. Learn more