I didn't meet Jamie until after she died.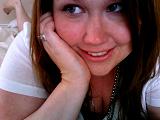 Think life is certain? Guess again.
Jaime was a blaze of florescent colors until she stepped off a curb and sprained her ankle. The blood clot from that minor accident traveled to her brain and killed her.

Jamie Dyer Dordek was 32.
I got to know Jaime through her family, friends and her wonderful blog before I spoke at her memorial service. Even though Jamie only got 32 years to cram her life into, she lived her life full out. There wasn't a person in that room whose life hadn't become more vibrant because of The J Woman. I couldn't help falling in love with her myself.
Jamie reached out. On line. Standing in line. Traveling. At home. With Andy. At work. Her smile and laughter couldn't be contained by physical space. She made the planet Earth a better place for being here.
So here are tips for living...Jamie Style.
Jaime had the guts to love bacon and hate water chestnuts, melon and olives. Do you eat food you don't like? With people that don't inspire you? Cease and desist. Life is short.
Water chestnuts are garbage. They make absolutely no sense whatsoever. Tasteless, obtrusive and disgusting. Melon I at least kind of understand. It's sweet, people like sweet. I consider it unnecessary filler. Olives make the most sense to me. I see why people love them. They're salty and can have real depth of flavor. I just happen to think they are also incredibly foul. Luckily, they are the kind of ingredient that one can simply pick out of an otherwise great meal. --JD
Tip: Give yourself what you love, love, love! It's your life. Pick out the olives.
2) Love it, Like It or Don't Look
Jaime was comfortable in her own skin. She was a big girl dashing about in a skinny-girl-hyper-hip world. Did she moan about her thighs? No. Did she focus on the small stuff? No.
I realize how unimportant most of the crap we worry about is. Do people like me? Do they want to hear what I have to say? Am I cute enough? Am I desirable enough? Jesus, Mary and Joseph, a person could go crazy. So, I say, Do what makes you happy. Unless pleated pants make you happy. In that one small case, do what makes me happy.
Everything else is yours.--JD
Tip: Love it, like it or don't look.
3) WWBD?
"Life goes better with...bacon!" was Jamie's motto. Having grown up on a farm in Kansas I know what a pigpen smells like. I don't get near things pig related. Not so for our Jamie. She surrounded herself with all things bacon. She had bacon band-aids, bacon mints and her prized possession a folder the WWBD "What Would Bacon Do?" folder. In a bind? Spin the arrow to discover the sage wisdom of bacon to guide your decision-making. (I was so curious that I had to get one for myself.)
Tip: Find your bacon. Fill your life with what you love, love, love and leave the rest.
4) The Diet Coke Friendship Test
Jaime made friends...everywhere. And I do mean everywhere. She even made friends in business. (A huge tip for anyone in business.)
Pick your friends because they make you laugh. They look up to you and you can look up to them. Who cares what they look like or what social strata they belong to? If they can make diet coke fly out of your nose or pee your pants a little, they're keepers in my book.

I decided to pick my friends on how they made me feel. I found my chosen family based on actual emotion. I've never looked back.--JD
Tip: The Friendship Equation
They Admire You plus You Admire Them plus Diet Coke Runs Out of Your Nose Laugher= FRIEND
5) Make It Blaze, Baby
Jamie lived full tilt. She made a difference. Her family and friends say that the world isn't as colorful without her.
Now, it's our turn. Now, we are her hands. We are her smile. From this day forward how can you make a person next to you smile or laugh? Or give away that last pair of pleated pants?
Eli Davidson is a nationally recognized executive coach and motivational speaker. Her book, "Funky to Fabulous: Surefire Success Stories for the Savvy, Sassy and Swamped", (Oak Grove Publishing) has won three national book awards. Eli is a reinvention catalyst, who can transform your professional and personal life from Funky to Fabulous with her ten, trademarked Turnaround Techniques that create rapid and remarkable results. Check out her blog at http://funkytofabulous.blogspot.com/

*Follow HuffPostLiving on Twitter and become a fan of Huffington Post Living on Facebook*
This Blogger's Books and Other Items from...
FOLLOW HUFFPOST