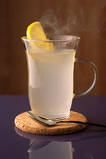 Well, the past two weeks have been a little crazy. To say the least.
I found out last week that I am doing another book and that this one will be about gluten, dairy, soy, nut and egg-free comfort foods. I'm so excited and testing recipes like crazy at the moment. So forgive me if this week's blog post isn't the most over-the-top recipe that I've ever posted. The kids finished school, so I had either holiday pageants or birthday parties every day last week, and, on top of it all, I had a wicked cold accompanied by a fever.
So, late last week, in the middle of it all, my sweet neighbor came downstairs with a big mug in her hand. I thought that it was a cup of coffee and that she had come to hang out, but no! It was actually a mug of hot lemonade that she had made just for my sore throat. It was so sweet, and I don't think that anyone else has ever done something so nice for me. What my neighbor didn't know was that my mother used to make me the same thing when I was little, so I was even more touched by her gesture.
Funnily enough, the hot lemonade also seemed to work. By the next morning, the fever had broken and my throat didn't hurt nearly as much. So, I thought that I'd share this with you. 'Tis the season for giving and getting and also, it seems, passing around nasty colds. If you end up with one, here's a little something that will have you up and running in no time.

Hot Lemonade
Juice of 1/2 Meyer lemon
2 teaspoons honey (my friend swears by New Zealand honey)
water to the top of the mug
Pour the lemon juice into a tall mug and stir in the honey. Pour in boiling water to fill the rest of the mug to the top. Stir the lemonade until the honey is completely stirred in and serve immediately.
SUBSCRIBE TO & FOLLOW THE MORNING EMAIL
The Morning Email helps you start your workday with everything you need to know: breaking news, entertainment and a dash of fun. Learn more