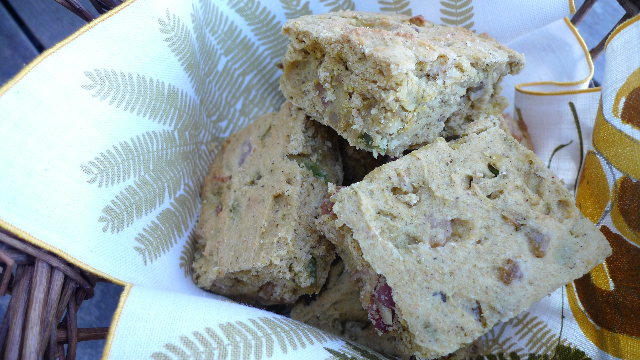 That's right. That's not a typo. I really meant to say "stuffing cornbread" and not cornbread stuffing.
Sometimes, we with food allergies often have to get to our favorite dishes in roundabout ways. For example, I can't just eat a batch of chocolate chip cookies. I have to use some bean flour and flaxseed to simulate the flavor that I remember from childhood. Fortunately, it works, and I don't have to feel deprived or different than anyone else at the table.
However, a chocolate chip cookie is one thing and Thanksgiving dinner quite another. A menu laden with gluten, dairy, soy, nut and eggs, the Thanksgiving feast can be like sitting down to a minefield for those of us who have reactions to certain foods. I haven't had stuffing since I was diagnosed six, nearly seven years ago. What a drag. Stuffing has always been one of my favorites, but because of the wheat and eggs, I have avoided making it for years. Not anymore.
Last year, I developed a recipe for corn muffins that I just loved (as evidenced in my near inhalation of an entire batch of them the night before Thanksgiving). So, this year, I got to thinking: why not just mix the stuffing ingredients right into the corn muffin batter and spread it into a pan rather than crumbling the corn muffins and trying to find a way to bind them? It was a stroke of genius if I do say so myself.
This "Stuffing Cornbread" is moist and sweet -- yet also savory. Sage-y and with tender pieces of sauteed celery, onion and bacon mixed in, your taste buds will not believe that it isn't Stove Top.

Stuffing Cornbread:
4 slices soy-free bacon
2 ribs celery, chopped
1 small onion, chopped
1 tablespoon poultry seasoning
dash pepper
1/2 teaspoon salt
2 cups cornmeal
1 1/3 Chinese Rice flour or superfine rice flour
1/2 cup potato starch
1/4 cup sorghum flour
1/2 cup sugar
3 teaspoons baking powder
1 teaspoon baking soda
1 1/4 teaspoon xanthan
1/2 cup canola oil
2 tablespoons unsweetened applesauce
1 cup chicken stock
1 cup water
2 tablespoons cider vinegar
2/3 cup golden raisins
1) Preheat the oven 425 degrees and grease a 9x13" pan or a 13"paella pan with canola oil. Set the pan aside.
2) In a skillet, cook the bacon over medium-high heat until it is crispy. Remove the bacon to paper towels to drain, reserving the pan drippings. When it is cool enough to handle, crumble or chop the bacon. Set aside. Saute the celery and onion in the bacon grease until the onion is translucent and the celery has softened. Stir in the salt and pepper. Remove the pan from the heat, stir in the poultry seasoning and let the vegetables cool slightly while you are preparing the cornbread batter.
3) In a large bowl, thoroughly whisk together the cornmeal, Chinese rice flour, potato starch, sorghum flour, sugar, baking powder, baking sugar, and xanthan. Pour in the canola oil, applesauce and chicken stock. Stir the cider vinegar into the water and add it to the batter. Stir the batter until the ingredients are thoroughly incorporated and no dry bits remain. Fold in the bacon, sauteed vegetables and golden raisins.
4) Pour the batter into the prepared pan, smooth the top with a knife and bake the stuffing cornbread for 22 minutes or until the top is golden and a toothpick inserted in the center comes out clean. Remove the cornbread from the oven, let cool slightly and serve warm.
Although the stuffing cornbread is best eaten immediately, leftovers may be stored in an airtight container for up to three days.
Serves 12