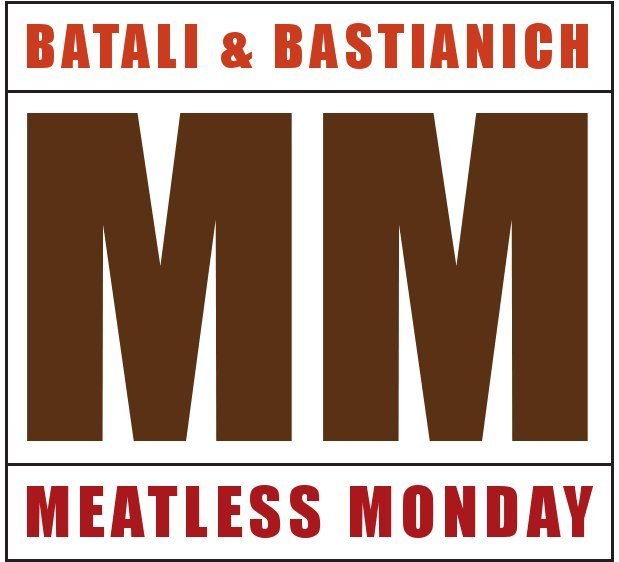 Mario Batali and Joe Bastianich are joining the Meatless Monday campaign!
On average, Americans consume 8 ounces of meat per day -- 45% more than the USDA recommends. Going meatless once a week can reduce your risk of chronic preventable conditions like cancer, cardiovascular disease, diabetes and obesity. It can also help limit your carbon footprint and save precious resources like fresh water and fossil fuel. Mario and Joe are just two of the big names in food that have decided to join the campaign; celebrities and leaders such as Michael Pollan, Al Gore, Sir Paul McCartney and Gwyneth Paltrow are backing the movement and the entire city of San Francisco just signed on to participate.
Every Monday, our restaurants will offer a choice of vegetarian entrée (pasta, pizza, etc.), especially in honor of Meatless Monday.

Batali's Meatless Mondays
Pizza with Joe's Dairy smoked mozzarella, roasted eggplant, yellow squash, zucchini, marjoram and chilis.

Bon Breads focaccia drizzled with basil oil and stuffed with grilled eggplant and peppers. Finished with basil from Hydrogreens in Pahrump, NV and fresh mozzarella. Garnished with a small salad of mixed greens coming from Quail Hollow farms in Overton, NV.

Strachino is a cheese typically found in Lombardia and the words refer to a "tired" cheese since the maker only uses the milk from the evening after the cow has been out all day. This milk is typically slightly richer and with a little more pronounced lactic tang. The cheese that we use is the crescenza cheese from Bellweather Farms in California. The sauce is a mixture of all the spring "lilies" that we can get our hands on. They may include spring garlic, spring onions, cippolini, ramps, garlic, chives, etc. (all onions coming from California except the ramps and the garlic chives and chive blossoms, which come from Penguin Produce in Sandy Valley, NV), all cooked slowly in Luigi Guffanti butter until tender. The dish is garnished with toasted filone bread crumbs and chive blossoms.

Ramps (various locations, all east coast) charred alla piastra with olive oil, salt and pepper. Topped with Di Stefano Burrata made in Baldwin Park ('burb of LA) and fett'unta with bread made locally at Bon Breads. All topped with the newest 2009 vintage of Cappazanna olive oil.

Roasted Paffenroth Farm's beet salad with chive cuajada (yogurt, minced chives, lemon, red onion), salted honey almond granola from Hawthorne Valley Farms and pea tendrils from Bohditree Farms.

Bavette with Ramps (from Rick Bishop of course!), Breadcrumbs and Pecorino

Pizza topped with Burricota, peperonata, olive taggiasche & oregano.

Sweet and Sugarsnap Pea Cappellacci. "Hats" are a classic dish in Ferrara, where you'll find them filled with a range of different things, in this case, peas from Blooming Hill Farms.