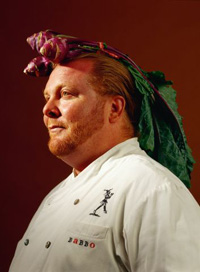 Mario Batali photograph by Melanie Dunea
The restaurant industry accounts for 10% of the U.S. economy. Americans spend approximately forty-eight percent of their food budget on food consumed away from home ($1,078 per person annually), dining at over 945,000 restaurants.¹ The average restaurant produces 50,000 pounds of garbage per year, typically close to 95% of which could be recycled or composted.² The Restaurant industry consumes 1/3 of all energy used by the retail sector (in the US, and the average food service facility uses 300,000 gallons of water per year.
In our restaurants, from the more casual Otto Pizzeria to fine dining at Del Posto, we have addressed some of these issues: we have banned bottled water, we have a full scale recycling and composting program at each of them and all of our chefs have personal relationships with the local farmers. Our steakhouse, Carnevino, in Las Vegas, NV, the city of excess, is located in the largest LEED-certified silver building in the world. In that restaurant we have introduced water saving measures, recycled paper and toilet paper, energy conservation initiatives, recycling and composting -- you name it. And our restaurants are buried deep within a hotel. Where there is a will, we know there is a way:
Behind The Scenes Of Mario Batali's Comprehensive Restaurant-Greening (PHOTOS)
On the wall between Osteria and Pizzeria Mozza in Los Angeles, GreenScapedBuildings of San Diego, CA, designed and installed a 12-foot vertical garden. Also known as a living, or green wall, they are self-sufficient vertical gardens that are attached to the exterior or interior of a building. They differ from green façades (e.g., ivy walls) in that the plants root in a structural support which is fastened to the wall itself, plants receive water and nutrients from within the vertical support instead of from the ground, and in our case, are edible! We planted: Golden sage, Purple sage, Hon tsai tai, Italian parsley, Parsley, Filbert scented geranium, Lady Plymouth scented geranium, Pink spice scented geranium, Charity scented geranium, Chicory, Correnta spinach, Lime mint, Variegated peppermint, Spearmint, Chinese celery, Rosemary, Red rib Italian dandelion, Red lettuce, Green lettuce, Bull's blood beets, Pansy

Standard candles are made of parraffin, which is made from petroleum, which is a non-renewable resource. At Carnevino Italian Steakhouse we use LED Electronic/rechargeable "flicker candles." These flame-less battery candles do not produce emissions, are energy efficient, and reusable!

The paper industry is the third greatest contributor to global warming emissions. We estimated that for every 650 pounds of paper we switch to 100%-recycled, 50% PCW paper (that's approximately two restaurants' business cards for a year), we save four fully grown trees, 1604 gallons of water, one million BTUs of Energy, 97 pounds of solid waste and 333 pounds of greenhouse gases. Add to that, nearly all of our restaurants print their menus on 100% recycled paper. We're still doing the math….

We installed water-efficient faucet aerators on all of our kitchen hand sinks as well as low-flow pre-rinse spray valves at all of our dish stations. The aerators use only a half-gallon to one-and-a-half gallons of water per minute and they maintain a uniform water flow and spray pattern. This simple step will reduce the water consumption of our sinks by more than half. We have also have numerous Energy Star appliances, including our ice machine and dish machine, which use less energy, save money, and help protect the environment.

As an environmentally-friendly alternative to the waste associated with the manufacturing, transport and disposal of conventional bottled water, we installed the NATURA™ water system and discontinued using bottled water. The NATURA™ system is a countertop machine that triple-carbon filters and UV-sterilizes water, which we then serve in reusable carafes (which don't end up in a landfill).

Otto, Del Posto, Lupa, Osteria Mozza, Pizzeria Mozza, Enoteca San Marco, Carnevino and B&B Ristorante all have full scale composting programs (including their waste grease!) In places like Vegas where it is harder to find commercial carters to properly dispose of your organic matter, our chef has forged relationships with local farmers who pick up his vegetable scraps!
1Consumer Demand for Ways to Fit Quality Meals Into Hectic Schedules Shape Restaurant Trends in 2008, National Restaurant Association survey. 2007.)
2U.S. EPA, Municipal Solid Waste Handbook. 1997.

Follow HuffPost Food on Twitter and Facebook!