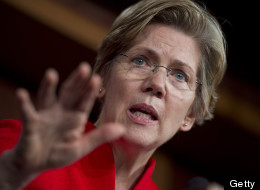 Ever notice how anger helps a man command a room, but it often has the opposite effect for women?
While the former comes off as passionate, the latter is often remembered as emotionally erratic, an outcome predictable enough to make any woman angry. (Can someone say vicious cycle?)
But there may be a way out, if a new book by John Neffinger and Matthew Kohut is any indication. In Compelling People, the authors posit that what makes individuals captivating is their ability to communicate both strength and warmth, but they recognize that it's a fine balance -- and that balancing act is trickier for women.
As a passionate feminist writer who covers gender in politics, this wasn't news to me. It's hard to remember in the wake of Sydney Leathers, but before Anthony Weiner went into complete and utter auto-destruct mode, he was highly regarded by voters for his audacity and unflinching boldness. I remember working in a non-profit organization in D.C. where my coworkers would huddle up at lunch to watch the emboldened congressman ripping Republicans to shreds on the floor over a law for 9/11 heroes, or women's reproductive freedom or public funding for NPR. The more he lost his temper, the more he rose in stature to us.
When Senator Claire McCaskill showed half the amount of competitiveness and confidence during the 2012 general election, she was told that "she was very aggressive" and that she used to be much "more lady-like." It was a similar story in 2008, when Hillary Clinton, a front-runner for the democratic presidential candidacy, was called "too angry to be elected president" by a prominent Republican. A look back at Clinton's years as First Lady and as a U.S. senator shows that she was met with even more vitriol for being assertive.
In their book Compelling People, Neffinger and Kohut cite a study that showed that Hillary Clinton "has been the butt of more jokes than any other human being, living or dead." Surprisingly, the woman nicknamed "Chillary" by comedians and politicians alike climbed in the polls after the Lewinsky scandal "because a significant part of the public sympathized with her as an aggrieved yet loyal wife, even if she did not outwardly radiate warmth." This poll trend sends a troubling message about what it means to be a prominent, powerful woman. Could it be that the only way to get the public's sympathy if you're a strong woman is to be cheated on?
In the public's eye, anger doesn't look as appealing on women as it does on men. Although John Neffinger and Matthew Kohut argue that compelling people must exude strength and warmth to get respect and recognition, they explain that gender stereotypes make this role harder to navigate for women. Because strength is traditionally associated with masculinity, strong women are seen in a negative light.
Neffinger and Kohut's research explains why someone like Elizabeth Warren has been called "unnecessarily aggressive," with a YouTube that is actually titled "Why Is Everyone Afraid Of Elizabeth Warren?"
This double standard is even worse for women of color, who are already too often boxed into the category of the "angry black woman." For evidence, one need look no further than to Michelle Obama's rather neutral response to a heckler, which was grossly exaggerated in the media.
The media freely admits to this imbalance. On "Morning Joe," Joanna Coles, Cosmopolitan's editor-in-chief, noted that sexism is obvious in the way that the media tells stories "Male congressmen, male senators are always described as 'stating' something in the House. Women senators and congresswomen are always described as 'complaining.' Women are emotional; men are somehow stoic," she said.
In other words, a man is angry because he cares, while a woman is angry because she's an emotional wreck.
As Neffinger and Kohut point out, men who are angry don't only get more respect, status and better job titles -- they also get higher pay Despite the fact that men can use anger to achieve status, women may need to be calm in order to come off as rational. You know, so that people don't think they're PMS-ing, or whatever.
So, what's the solution?
John Neffinger and Matthew Kohut think it's not up to women to conform by replacing strength with warmth, but rather to increase their expression of both. They cite Oprah Winfrey and Ann Richards as masters of this fine balance.
Although our culture is still largely uncomfortable with angry women, there is some light at the end of the tunnel. For instance, we are becoming more comfortable with Hillary Clinton's impassioned speeches, like the one she gave at the Benghazi hearing. Even Elizabeth Warren's impatience with the government shutdown had seemed to at least correlate with her steady climb in the polls. In an interview, John Neffinger told me he is hopeful because Warren has an "ability to tear hypocrites's argument to pieces with a lilting folksy cadence and a friendly smile." All of the pictures being shared of her within her base "pointing angrily with her brow in full furrow" is a sure sign that she has managed to "appeal to everybody."
If Neffinger is right, maybe we've all calmed down about angry women. I certainly hope so, because as Elizabeth Warren well knows, there's plenty for all of us to be angry about. We'll need strong, warm, passionate women like her to help lead us out of the mess we're in.
What do you think? Can women navigate this emotional double standard? Should they? Let me know on Twitter and Facebook
Compelling People is on sale at Amazon or at any local bookstore.
Also On HuffPost:
Iconic Images Of Women Throughout History
Anne Hutchinson (1591-1643) was a reformer in the Massachusetts Bay Colony who accused Puritan ministers of making salvation dependent on good works rather than divine grace. She alleged that God communicated directly to her -- an allegation that resulted in her being put on trial, convicted for blasphemy and banished from the colony. In challenging the religious hierarchy, Hutchinson also challenged traditional gender roles.

Harriet Tubman (c1820-1913) was a former slave and "conductor" of the Underground Railroad who helped escort over 300 slaves to freedom.

Susan B. Anthony (1820 - 1906) was an early leader in the Women's Suffrage Movement and co-founder of the National Woman Suffrage Association. She played a pivotal role in women gaining the right to vote.

Tess Billington, a British suffragette, during a protest at the House of Commons.

Emmeline Pankhurst (1858 - 1928), a British suffragette, is arrested during a protest outside Buckingham Palace.

The women pictured are Annie Parram, 104, Anna Angales, 105, Elizabeth Berkeley, 125 and Sadie Thompson, 110. According to a Washington Post article, the 1916 convention was the fifty-fourth gathering of former slaves and ran from October 22nd to November 6th. President Wilson is listed among the invited speakers.

Gertrude Stein (1874 - 1946) was an American expatriate writer, famous both for her avante-garde prose and for her Parisian salons. She is photographed here with her partner Alice B Toklas (1877 - 1967).

Suffragettes in London march to protest the first arrest of a suffragette.

Margaret Sanger (1879 – 1966) was an early advocate of legalizing birth control. She was the founder of the first North American family planning center and was instrumental in the genesis of the first oral contraceptive, or "Magic Pill."

Amelia Earhart (1897 – disappeared July 2, 1937) was an American aviator and the first female pilot to fly solo across the Atlantic. She disappeared during an attempt to circumnavigate the globe in 1937.

Eleanor Roosevelt (1884 – 1962) was the wife of President Franklin D. Roosevelt ad the longest serving First Lady in U.S. history. During her time as First Lady, she broke precedent by giving speeches and writing a newspaper column. After FDR's death, she championed human and women's rights.

Hattie McDaniel became the first African American to win an Academy Award when she took the Best Supporting Actress statuette home for her portrayal of Mammy in Gone With The Wind.

Rosie the Riveter is a fictional icon created during World War II and meant to represent the women who took over factory work -- typically a male domain -- while men were fighting overseas.

Rosalind Franklin (1920 – 1958) was a British biophysicist and X-ray crystallographer who was instrumental in the discovery of DNA.

Rosa Parks (1913-2005) was an American Civil Rights activist, most famous for refusing to give up her seat on a bus to a white passenger in Montgomery, Alabama in 1955.

Ruby Bridges (born 1954) was the first African American child to desegregate an elementary school when she walked into William Frantz Elementary school in New Orleans, Louisiana in 1960.

Wilma Rudolph (1940 - 1994) was an American runner and Olympian. She became the first American woman to win three Gold medals at the 1960 Rome Olympics.

Rachel Carson (1907 - 1964) was a biologist, ecologist and writer. She authored Silent Spring which examined the effects of pesticides on the environment. She is credited with helping to launch the environmental movement.

Betty Friedan (1921 - 2006) was a leader in the second-wave feminist movement. She authored The Feminine Mystique in 1963 and founded the National Organization for Women (NOW) in 1966.

The Third World Women's Alliance was formed to highlight the problems faced by women of color, particularly the destructive connection between race, sex and exploitation.

Gloria Steinem (b. 1934) is a journalist, activist and feminist icon. She was a leader of the feminist movement of the late 1960s and 1970s and co-founded Ms. Magazine. CORRECTION: An earlier version of this caption listed Steinem's birth year as 1954. She was born in 1934.

Billie Jean King (b. 1943) ranked number one in the world in women's tennis for five years, wining six Wimbledon championships and four U.S. opens. She is perhaps most glorified for beating Bobby Riggs in the "Battle of the Sexes" in 9173.

Julia Child (1912 - 2004) was a chef, cookbook author and television host. She pioneered cooking shows on TV and brought French cooking into American kitchens.

When Sandra Day O'Connor (b. 1930) was appointed to the Supreme Court by President Ronald Reagan in 1981, she became the first female Justice. She served on the Court until 2006.

Maya Lin (born 1959) is an architect and artist, best-known for designing the Vietnam Memorial after she won a national competition at just 21.

Sally Ride (1951 – 2012) was an astronaut and broke barriers in 1983 when she became the first American woman to fly in space.

Maya Angelou (born 1928) is a poet and author. She recited her poem "On the Pulse of Morning" at Bill Clinton's inauguration in 1993.

When Ellen Degeneres (born 1958) came out to TIME Magazine in 1997, she made history by becoming the first openly gay star on TV.

Madeleine Albright (born 1937) became the first female Secretary of State when she joined the Clinton administration in 1997.

Condoleeza Rice (born 1954) served as the first female National Security Advisor and then the first African American woman Secretary of State during the George W. Bush administration.

In her 2008 candidacy for President, Hillary Clinton (born 1947 ) In the won more primaries and delegates than any other female candidate in history, though she ended up losing the primary to now-President Barack Obama. She went on to become Secretary of State.
Follow Elizabeth Plank on Twitter: www.twitter.com/feministabulous