In his first month as President-elect, Barack Obama has remained silent on the issue of poverty. Across more than 30 public statements since election night, Obama has made no direct references to the plight of the poor (defined as use of the term: poor, poverty, or low-income).
This lack of attention is surprising from a President-elect whose campaign put out a position paper entitled, Fighting Poverty, which described Obama as a "lifelong advocate for the poor." Citing Obama's work as a community organizer, as well as his legislative advocacy for anti-poverty programs such as the Earned Income Tax Credit, the position paper promised: "As president, Barack Obama will continue to fight for meaningful opportunities for low-income Americans to join the middle class."
And it is true that, as a candidate, Obama brought up issues of poverty in about 20 percent of his speeches. This attention to poverty peaked in January 2008 (the final month of John Edwards poverty-focused push for the Democratic nomination). But, it then declined.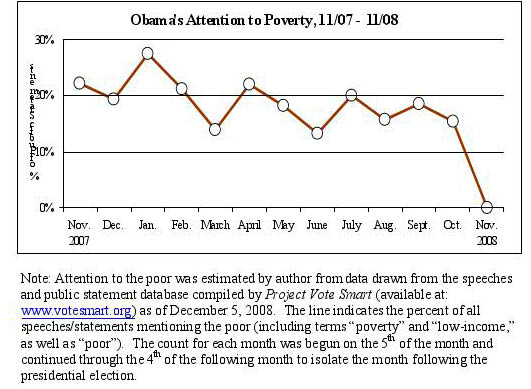 A smaller up-tick occurred in late spring during the final throes of the Democratic primary battle between Obama and Clinton, and then again in July as Edwards once again advanced this issue by undertaking a nation-wide poverty tour. On the day Edwards completed his poverty tour, Obama gave a high-profile speech on poverty in Anacostia in which he stated: "This kind of poverty is not an issue I just discovered for the purpose of a campaign. It is the cause that led me to a life of public service almost 25 years ago."
Reporting on Obama's Anacostia speech, the Washington Post noted the marked increase in Democratic candidates "vying for the anti-poverty mantle." And they interpreted this as evidence that "growing economic inequality is an increasingly important issue for Democrats after many years of pitching proposals toward the middle class."
I find little evidence to support this optimistic claim. Although Obama has spelled out a poverty agenda consistent with his campaign proposals and has placed poverty advocates in key administration posts, his post-election discourse has focused primarily on the middle class (in 35 percent of speeches) and, to a lesser degree, the uninsured (in 6 percent of speeches). His current policy priorities neglect much of the anti-poverty agenda. The last time Obama mentioned food stamps was in mid-October. I had to go back to September to find a public mention of Earned Income Tax Credit (9/14), Minimum wage (9/20), Child Tax Credit (9/23), or Pell Grant (9/20) programs, to August to find attention to the issue of child care (8/23) and much further to hear anything about the TANF welfare program (6/15).
More troubling, this silence stands in stark contrast to a near-constant stream of new policy reports - each highlighting another reason to be concerned about how the poor will possibly weather this financial crisis. The Center for Budget and Policy Priorities projects dramatic increases in the number of poor Americans - including a prediction that nearly 2 million additional children will be living in families in deep poverty (less than 50 percent of our already meager poverty line). The Department of Agriculture reports record-setting Food Stamp rolls of more than 30 million Americans. A joint study by the Federal Reserve and the Brookings Institution documents the spreading of poverty into the suburbs where new pockets of concentrated poverty are clustering. And finally - this week - we received an official acknowledgment of the recession we knew we were experiencing.
I know that Obama and his transition team are hard at work crafting a solution for our financial mess. And that - of course - is an essential component of any effort to minimize poverty. But, facing the reality of our deep economic crisis also requires expanding the political discourse, pushing the issue of poverty back on our nation's agenda, and actually talking about those who are suffering the most.
Elizabeth Rigby, Ph.D. is an Assistant Professor of Political Science at the University of Houston and a Research Affiliate at the National Center for Children and Families at Columbia University. Her work examines the politics of poverty and inequality across a range of child and family programs, including Food Stamps, early childhood education, and Medicaid/SCHIP. She can be reached by email: erigby@uh.edu or her website: www.polisci.uh.edu/faculty/erigby