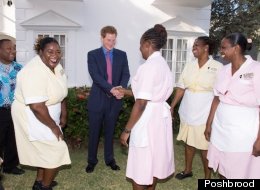 As part of Prince Henry's recent tour of Jamaica to mark Her Majesty the Queen's Diamond Jubilee, His Royal Highness stayed at the Royal Family's favorite resort, Half Moon, located in Montego Bay.
Prince Harry specifically requested a stay at the resort, which has become a family tradition. The dashing young Prince spent the night of March 7 at Half Moon, relaxing in one of the resort's private Royal Villas.
To celebrate Prince Harry's stay, the Caribbean resort and Royal favorite is now offering travelers 20% off its four, five, six and seven bedroom villas, each of which boasts a private swimming pool, golf carts to explore the resort and the services of a personal butler, cook and housekeeper. The Royal Summer package requires a minimum stay of four nights from Monday, April 16 to Friday, November 16, 2012 and also includes round trip airport ground transfers from the Sangster International Airport in Montego Bay.
Posh family travelers should remember that Half Moon has its own Dolphin Lagoon and Children's Centre.
Here is a snapshot of Historical Royal Visits to Half Moon, Rose Hall, Jamaica:
Prince Harry meets some of the Half Moon staff.

His Royal Highness, Prince Charles, The Prince of Wales and HRH The Duchess of Cornwall visit Half Moon in 2008.

Her Majesty Queen Elizabeth II and His Royal Highness Prince Philip, The Duke of Edinburgh, visit Half Moon in 1994.

The Prince of Wales visiting Half Moon's Rose Hall in 1966.
Follow Elizabeth Thorp on Twitter: www.twitter.com/Poshbrood