If you are sitting at your desk wishing you were on safari, you are probably visualizing yourself sitting in a Land Rover taking a photo of a lion or an elephant that is just inches away.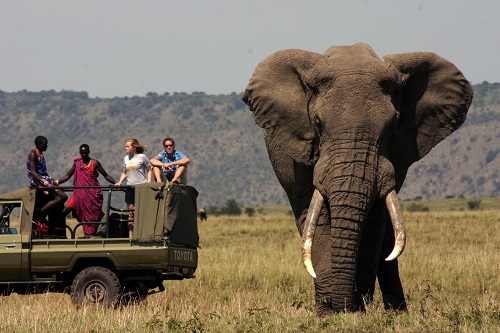 Bull Elephant at Serian Mara Camp, Kenya (Photo courtesy of Serian Camps)
Do not get me wrong, game drives are a great way to see animals while on safari and are guaranteed to be a highlight, but on a 14-day safari they can get old. Here is a list of exciting alternatives to game-drives that will still give you great access to animals.
1) Bush Walks & Walking Safaris
Getting out on foot is all about the small things you might miss in a vehicle; identifying scat, following tracks, looking at insects, smelling wild sage, learning how termite mounds are made. You might see some large game as well: elephants, giraffes or buffalo, and being on foot will give you a unique perspective on their size. Walking is also an incredible opportunity to take in the sounds of the bush; you don't realize how loud the vehicle is until the engine is off.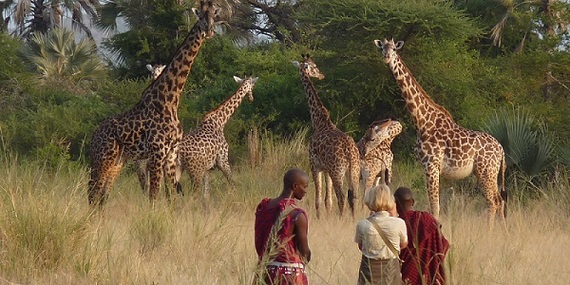 Bush Walk at Chem Chem Safari Lodge, Tanzania (Photo courtesy of Chem Chem)
Bush walks are offered across East and Southern Africa and finding a property that offers walking as half-day activity is fairly easy. You often cannot walk inside national parks so you may need to stay in a property in a private conservancy or concession. Properties in Kenya and Zambia have particularly good walking programs. Multi-day walks are harder to come-by, but they do exist. We love the multi-day programs with the Maasai in Kenya offered by Alex Walker and Maasai Trails.
2) Horseback Safaris
A safari on horseback is an incredible experience because you are able to get so close to the animals. While wild animals may be nervous of human beings on foot or in a vehicle, they are more relaxed around horses because they disguise your smell. Traveling on horseback also allows you to explore beyond the reach of roads and offers many of the advantages of walking such as the silence. There are many horseback safari options in East and Southern Africa, offering everything from lessons and one to two hour rides to 10-day horseback camping adventures in the bush. Kenya and South Africa have lots of properties that offer a few hours of horseback riding and there are excellent multi-day trips in Kenya, Tanzania Botswana, South Africa and Namibia. Find more here.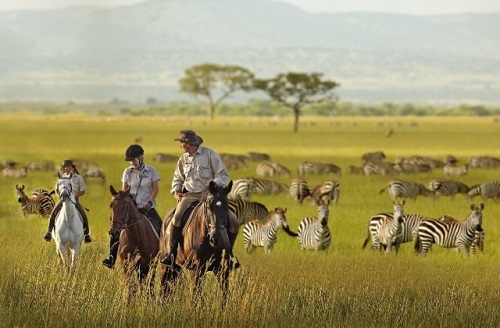 Horseback Safari at Singita Grumeti Reserve, Tanzania (Photo courtesy of Singita)
3) Camel-Back Safaris
Similar to horseback safaris, camel-back safaris disguise the human scent and allow you to get closer to wild animals, and their height gives you a unique perspective. If a camel back safari appeals to you, the Laikipia Plateau of Northern Kenya is pretty much where you have to be. Some of our favorite properties that offer camel safaris are Ol Malo, Sabuk and Sosian. Many of these properties also offer overnight camel or horseback fly-camping safaris as well.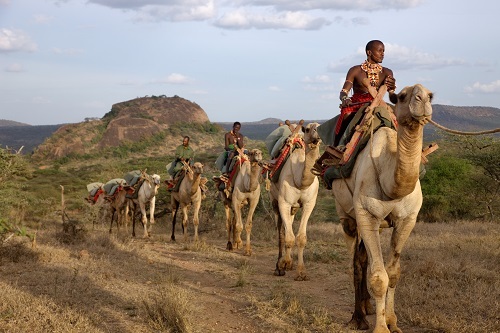 Camels at Ol Malo, Laikipia, Kenya, (Photo courtesy of Ol Malo)
4) Elephant-Back Safaris
Like horses and camels, elephants disguise human scent and offer an incredibly unique perspective on the bush. Also you are on an elephant! Unlike camels, you need to be in Southern Africa specifically South Africa, Botswana (at Abu Camp) or around Victoria Falls in Zambia and Zimbabwe to experience an elephant-back safari. Find out more here.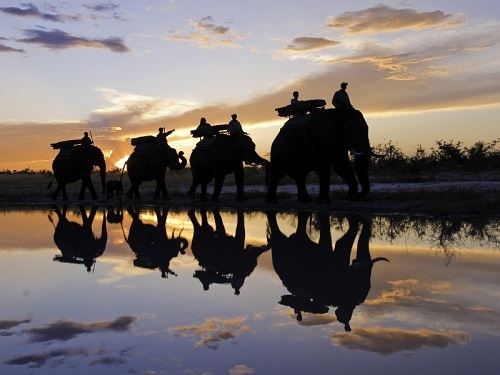 Abu Camp, Okavango Delta, Botswana (Photo courtesy of Wilderness Safaris)
5) Canoes and Mokoros
Getting out on the water is a great way to see the smaller plant and animal life Africa has to offer. It is a particularly good activity for birders. Canoeing is offered by properties along the Zambezi in Zambia while mokoros (a dugout canoe steered by a "poler") are specific to the Okavango Delta in Botswana. Crocs and hippos are a real danger when canoeing so you will need an excellent guide! This is less of a concern with mokoros as they are typically used in channels and flood plains too shallow for hippos and crocs because the pole needs to be able to touch the bottom to propel the boat forward. There is a multi-day canoe trip offered by Great Plains Conservation on the Selinda in Northern Botswana when water levels allow.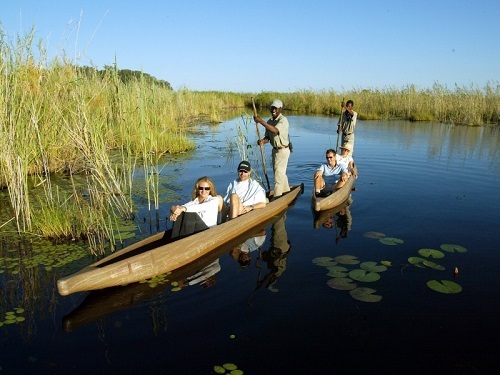 Mokoro at Little Vumbura, Okavango Delta, Botswana (Photo courtesy of Wilderness Safaris)
6) Hot Air Balloons
The best way to take in the vastness and scale of East Africa's wildebeest migration is from a hot air balloon. Kenya and Tanzania are the easiest places to build a hot air balloon ride into your safari, but ballooning is also offered at Soussusvlei, Namibia and in Kafue National Park in Zambia during August and September. A good hot air balloon ride ends with a champagne breakfast!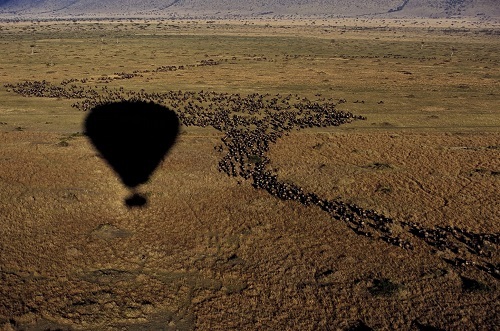 Hot Air Balloon Over the Migration, (Photo courtesy of Serian Camps)
7) Helicopter
It is not a cheap option but a week long helicopter trip over Northern Kenya and Ethiopia with Tropic Air is a once in a lifetime experience. If you don't have the budget for that, you can take a ride that is anywhere from 15 minutes to an hour over Victoria Falls and actually get some game-viewing in as you pass over Mosi-oa-Tunya National Park, in addition to stunning views of the Falls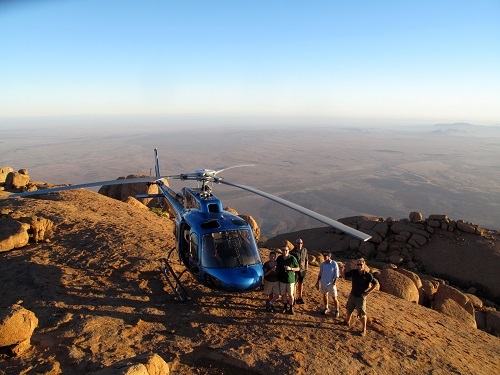 Tropic Air Helicopter, Ethiopia (Photo courtesy of Tropic Air)
One of a kind...
8) Micro-Light
On a recent trip to Zambia I did a micro-light flight over South Luangwa National Park. In addition to being really fun it was a great way to see game because it flies much lower than a plane, helicopter or hot air balloon. The only place you can experience a micro-light is at Tafika Camp in South Luangwa and Tafika Camp's owner John Coppinger has to be around for the flights to happen because he is the pilot.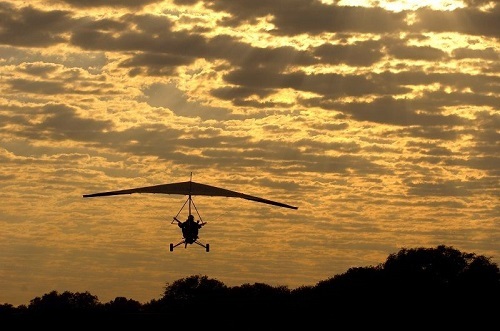 Micro-light at Tafika Camp, South Luangwa, Zambia (Photo courtesy of Remote Africa)
9) Bi-Plane
Like the micro-light a bi-plane is a great way to see game because it moves slower and flies lower than a plane or a helicopter. If you want to see elephants from the seat of a bi-plane Lewa Wildlife Conservancy in Kenya is the only place you can do it and the only pilot you can use is Will Craig, one of the founders of the Conservancy. If this is something you want to do, be sure to mention it early on in planning your trip.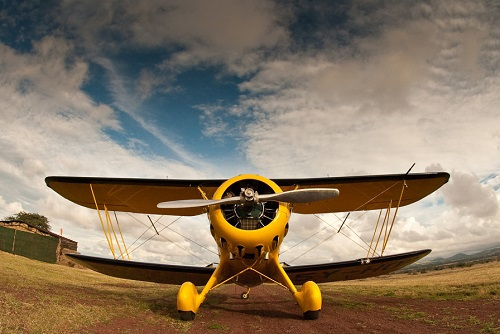 Bi-Plane at Lewa Wildlife Conservancy, Kenya (Photo courtesy of Bush & Beyond)
You can't do every activity in a given country or property but if something on this list sounds perfect for you, you can definitely find a way to build it into a trip.
SUBSCRIBE TO & FOLLOW LIFESTYLE
We're basically your best friend… with better taste. Learn more