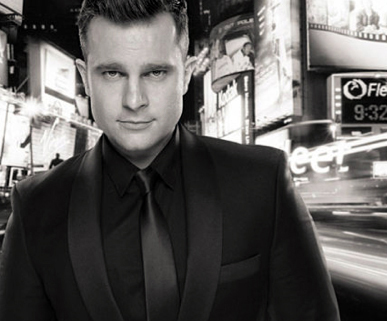 David Campbell spent the first 20 years of his life in Australia. But the Adelaide native found his milieu more than 8,500 miles away in New York City -- with music from Broadway shows, to be precise. While Campbell's interest in music is very natural, what makes his interest in Broadway music and musicals somewhat surprising is the fact that Campbell is -- quite literally -- a child of rock 'n' roll.
He explains, "My father, Jimmy Barnes (with him below left), is a massive rock and roll star in Australia. I was born in 1973, when my parents were each 17 years old. They weren't married so I was raised by my grandmother, my mother's mother and, until I was a teenager, I thought my mother was my sister. My grandmother brought me up with American movie musicals and the music she loved, swing and Broadway show songs. I was a child of the 80s, but at home I was raised on Sinatra, Sammy Davis, Jr., and her favorite, Nat King Cole."
For 10 years, beginning in 1973, Jimmy Barnes was lead singer with the Australian rock band Cold Chisel which had 14 hit albums. When that ended Barnes continued as a solo artist and racked up more than a dozen solo hit albums, including nine that got to #1, thus giving him the highest number of hit albums of any Australian artist . He is still touring today.
"Like Springsteen, my father was a working class hero of Australia. I was living in Battery Park in New York when Amadou Diallo was shot 41 times by police who thought his cell phone was a gun. Springsteen wrote about that because he's not afraid to hold up the mirror and say 'this is not right.' That's how my father is in Australia."
It probably would have been easy for Campbell to go the way of so many children of celebrities, crashing and burning early on. He says, "I think I had a different upbringing than a lot of people who have a famous parent. Because I wasn't brought up with him, my sense is that my life was a bit more normal than many. I didn't know Jimmy Barnes is my father until puberty was hitting."
Finding out, he recalls, his reaction was mixed. "I walked a very strange line with the knowledge. I was loving it and wanting to be a part of it but, as a teenager, with hormones and anger, it wasn't easy. I didn't want to be him. I wanted to forge my own independence. For a while I lost my identity. It was a very confusing time. Remember, I also thought my mother was my sister.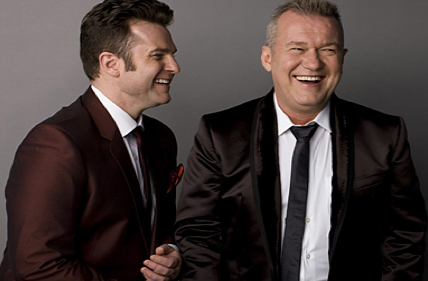 "What's very strange is that, while I was never brought up with him, we're exactly alike in so many ways -- our mannerisms, our cadence, the way we sing. It's incredible how genetics can work and that makes it really interesting as well. Now that he's a grandfather we connect much more deeply."
After high school, Campbell moved to Sydney "to join a band. I was a child of the 80's and I tried the rock 'n' roll thing but it didn't work out. So, I got into acting."
By the age of 22 he'd sung at the Sydney Opera House and, in 1997, played the lead in a revival of Les Miserables in Sydney. Campbell first came to check out New York City on February 26, 1993. "I arrived the day of the first bombing of the World Trade Center," he recalls. "It was quite a shock, but I loved the city."
That love of the city, of Broadway, shaped a big part of Campbell's career ambition. "We were so brought up with American culture, apart from the local shows, all the great musicals were imported from Broadway. So we knew the work of all the great American songwriters and composers. I don't think I saw an Australian movie until I was in my teens. One of my first memories was of seeing Oliver! when it got released. We're so inundated with American culture we took it on. Of course, then we had to really look to find the music we wanted. We had to hunt for stuff. We didn't have the web, we had to write away to order from catalogs. It was always a great hunt. Today, I love my technology."
Those hunts yielded the music of John Raitt (father of Bonnie) who, Campbell says, "is my favorite Broadway singer of all time. I love Peter Allen and would have liked to see Ethel Merman for the voice.....and the camp and the hilarity. I'd also like to see Johnny Mathis live in concert.
"My musical heroes have set such a high bar."
In New York, Campbell found cabaret success first in 1996 at a small Greenwich Village club Eighty Eight's. In late 1997 he became the youngest performer to play the fabled, now closed, Rainbow and Stars, the fabulous room atop Rockefeller Center. He did some theater in New York, too, including Babes In Arms at the City Center's Encores series and, in 2000, the lead in a never-produced 1955 Sondheim musical called Saturday Night. He also played the Cafe Carlyle and, a couple of months ago, at Feinstein's at the Regency.
Back home, Campbell has had the opportunity to play a classic Raitt role, that of Billy Bigelow in Carousel and has also been the lead in Andrew Lloyd Webber's Sunset Boulevard and Stephen Sondheim's Company. In 2001 he starred very successfully playing ill-fated Aussie rocker Johnny O'Keefe in a biographical play called Shout!, named after the Isley Brothers' song O'Keefe turned into an Australian best-seller.
David Campbell's first albums, recorded, in 2006 and 07 were The Swing Sessions (1 and 2), with numbers like Mack the Knife, Mr. Bojangles and One For My Baby. Good Lovin' was his blue-eyed soul effort, boasting songs like You've Made Me So Very Happy, You've Lost That Lovin' Feeling (with Jimmy Barnes) and Suspicious Minds.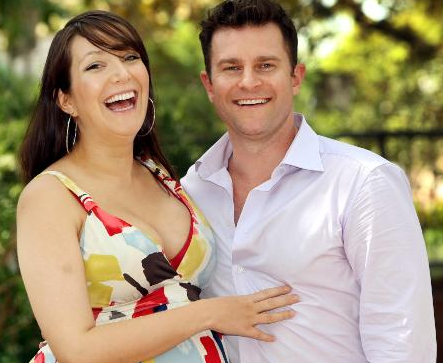 Last year Campbell released a CD called On Broadway working with famed Broadway musical director Rob Fisher and, in April, a live DVD of his stage piece, The Broadway Show. Like any student who excels in a given topic, Campbell knows his Broadway stuff. The show is peppered with nuggets of information that add interest, putting songs like Frank Loesser's Guys and Dolls opener Fugue for Tinhorns into context. His closing number is an Al Jolson medley in tribute to the fact that "even a century later" Jolson is still influencing performers. (I must note that the DVD is both entertaining and educational. I'd always thought that it was Judy Garland who had the original hit You Made Me Love You but, no, it was, we learn from Campbell, actually Al Jolson who recorded the song when it was new in 1913.)
Campbell and his wife Lisa (above) have a son, Leo. Their company, Luckiest Productions, produces his shows and tours. 2011 is also the third year that David Campbell will serve as Artistic Director of the Adelaide Cabaret Festival, a 15-day celebration of worldwide cabaret performance. Each year it opens on the Queen's Birthday Weekend in June and, this year, will run June 10-25. It draws talent and audiences from around the globe. The 2011 line-up won't be announced until April but, last year, Bernadette Peters, Liz Callaway and Natalie Cole were among the performers.
Although he does have some dreams yet to be fulfilled, David Campbell is a happy man. He says, "People never assume you're happy doing what you do because you do it so much they think you get tired. The fact that I can tour around and be happy is great.
"I'd love to do a run on Broadway. It'd be a dream come true to do that. I do a lot of different things. My original home is doing musical theater and doing Broadway. I've had a lot of success and I've been very fortunate -- touch wood -- but I'd like to do more."
Meanwhile, he relishes the life he lives. "Last year I opened for Tom Jones when he toured Australia, He is amazing, a-mazing. The fact that I can tour with Tom Jones, talk with Stephen Sondheim and with Jerry Lewis -- well, I'm living a dream."
One senses that, with his talent and drive, David Campbell will not soon awaken from that dream.
To get a taste of David Campbell's style, check out this clip from his DVD, The Broadway Show:
And, to see Campbell and Jimmy Barnes work together, you can watch them perform You'll Never Walk Alone:
Photos: David Campbell by Pierre Baroni; David Campbell and Jimmy Barnes, Sydney Morning Herald, Lisa and David Campbell, Angelo Soulas, The Daily Telegraph
FOLLOW HUFFPOST