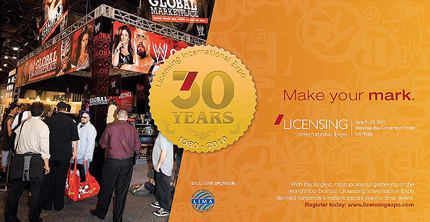 Remember the first time you bought a t-shirt with a band's logo emblazoned across the chest? Or the logo of your favorite soft drink? How about a pair of designer jeans with the designer's name on the back pocket? A Spiderman lunchbox? Did you have a Star Wars figure in your collection? If you had any, or all of these or, in fact, any similar product that demonstrated your preference for a certain brand then -- even if you don't exactly know how the name or logo got on the object you bought -- you are aware of licensing even if the process of getting licensing products to market is a mystery.
Now, if you are like me (or like I was until a few days ago) you really don't care. As long as you can buy that High School Musical lunchbox for a kid who loves the show, it doesn't matter to you exactly how how the product was tied into the High School Musical brand. But, I learned that the world of licensing is a fiercely competitive one, with almost every brand you can think of involved in licensing as a method of increasing brand recognition. I learned this last week at the Licensing International Expo that was held at the Mandalay Bay Convention Center here in Las Vegas.
Walking into the exhibition hall, everything you see is familiar: Disney is right at the entrance and, just behind them is Skechers (this year entering the new arena of TV production with a show on Nicktoons). You see the Cartoon Network, the BBC, all of the major movie studios and a range of movie and comic book characters (Marvel is a big presence). If you move away from the center of the exhibition hall, you'll find a booth devoted to Elvis and Muhammed Ali. Look! There's Buzz Aldrin and, over there, is Tony Curtis -- both here in person. Aldrin, at 80, has a watch brand and a line of "Rocket Hero" products. Curtis, 85 on June 3, has licensed his art, cardboard figure of himself, a line of painted horse figurines. Those proceeds will go in part to the Shiloh Horse Rescue and Sanctuary, founded by Curtis and his wife Jill.
How did all this get started? According to Steven Ekstract (left), group publisher of Advanstar Communications, the company that manages the expo and publishes the trade magazine Global Licensee! , "Licensing began in the 1930s when Walt Disney invented Mickey Mouse and, when he was approached to put the character's likeness on products, he also invented licensing. In the 50s we had Howdy Doody and The Lone Ranger.
"In the 1960s," Ekstract added, "the fashion guys -- Oleg Cassini, Bill Blass -- began to license clothing and perfume. Andy Warhol licensed his art. Today, a lot of licensing is coming out of movies, especially from tentpoles (films that serve as the primary support of a studio) and sequels. Warners has the Green Lantern and Disney owns Marvel and all those characters."
Asked what the next big thing in licensing is, Ekstract is quick to answer. "Sports leagues. The NBA will be big because basketball is an international sport today. There are 12 professional teams in China. Baseball is very big in Latin America." And, now, he says, that the burgeoning middle class in countries like India and China want what we have in the United States in sports, entertainment and fashion. Ekstract points out that, in sports, the US, the United Kingdom and France all have exportable brands. "Except football," he says. "That is the one sport that doesn't translate well to other countries."
In addition to brands wishing to be licensed, companies that market brands to be licensed were also at the expo. One with the most intriguing client list is Manhattan-based Brandgenuity.
Adina Avery-Grossman, a company managing director and one of the four founding partners, says that "it takes five skill sets to successfully develop a strategy to market a brand." First, there's sales. Next you need good legal advice, people to develop products, the licensees and, finally, the retail expertise."
Brandgenuity's client list includes the World Poker Tour, Atari, Food Network, Pabst, Harlequin Romances, Juilliard, MGM Studios, It's Always Sunny In Philadelphia, Rodgers and Hammerstein and Really Useful Group, Andrew Lloyd Webber's production company whose property includes the Phantom of the Opera.
To get the most for a brand in the world of licensing, Avery-Grossman says, "We look at the brand from every angle. What is it about? What do people who like the brand expect from it? Where can it go? We study the brand and ask these questions to develop a strategy."
She and Michael George, the Really Useful Group head of merchandising and licensing, agree that musicals -- in theater , movies and on TV -- is experiencing a real revival of interest. "Look at the popularity of Glee and High School Musical," she says. "And Broadway is doing so well.
"Also," she adds, "look at Lyric Culture, the fashion line featuring song lyrics. They're huge."
That Phantom is, after more than a generation on stage, still hugely popular is evidenced in many ways. Not the least of these is the attendance at Phantom Fan Week last autumn at The Venetian in Las Vegas, where a new production of the show, 95 minutes long, opened in 2006. Fans attended the event from across the US and Canada, Europe and, even China.
"Now," Michael George says, "Love Never Dies, the sequel to Phantom is playing in London and will open on Broadway in 2011. There are so many [licensing] possibilities."
What trademarks can we expect to see more of in the future? Well, LIMA, the industry licensing trade group, reports that, even at $5.2 billion in 2009, revenue is down 8.7 percent from 2009, so we can expect more characters from every entertainment segment. The licensing future is full of movie sequels and remakes (Gunsmoke, The Thing, Star Trek, Kung Fu Panda and the thirtieth anniversary of Star Wars, among them.
"Licensing," as Steven Eckstract points out, "has limitless potential."
SUBSCRIBE AND FOLLOW
Get top stories and blog posts emailed to me each day. Newsletters may offer personalized content or advertisements.
Learn more